Replacing kitchen facades is a great solution for practical owners
Are you tired of an old kitchen set or want a change in the most important room in the house? Or maybe the furniture has long been worn out under the influence of steam, grease and water and has lost all its attractiveness? Then conduct a thorough inspection of the headset – if the furniture cases are still capable of performing their functions and do not require restoration / replacement, then it is quite possible to change only the facades – this is a practical and economical solution in most cases.
Buying new furniture is always associated with tangible financial costs. But replacing the facades of the kitchen will allow you to design the room in a new way and at the same time remains a budget solution. In addition, you may not keep the previous stylistic design, but replace, for example, smooth glossy doors with classic facades with moldings or milling. This will make your kitchen design fresh and relevant again..

How to choose the right material for new facades
Replacing kitchen facades most often on your part only requires preliminary planning of design, material and color selection (as a rule, specialists will take care of the rest). The durability, functionality and attractiveness of the headset depend on what material the door is made of. Naturally, this also affects costs. There are several solutions – more or less popular and budgetary:
Replacing facades with chipboard products is considered the most budgetary procedure. The material made on the basis of resin and wood chips is considered quite capricious, but it is still very durable. The service life of such furniture is about 10 years, but provided that the purchased products had certificates of quality and hygienic safety. Otherwise, almost a year later, the chipboard will begin to swell or crumble, and the protective film will deteriorate..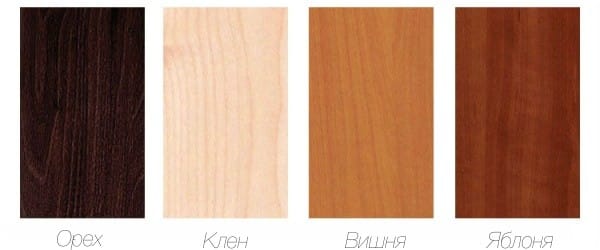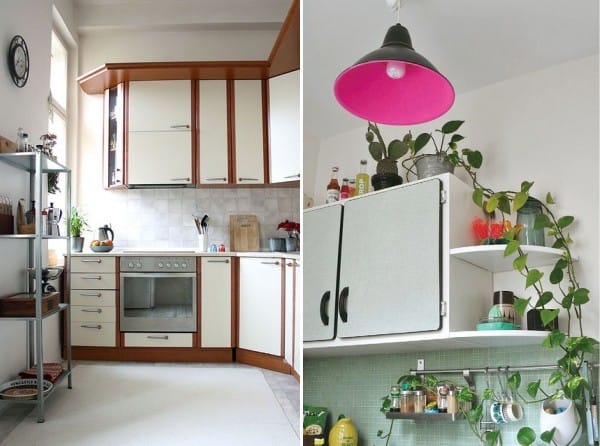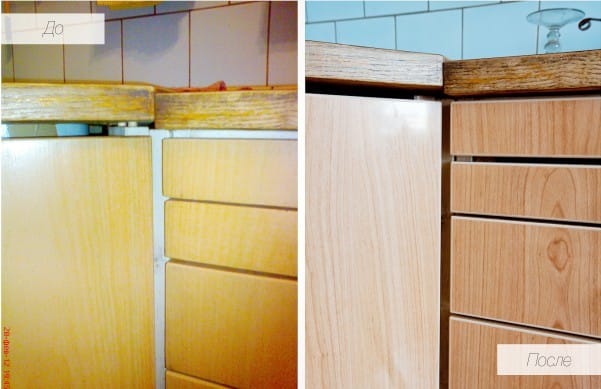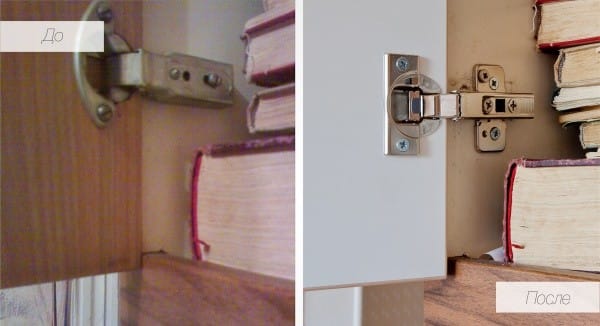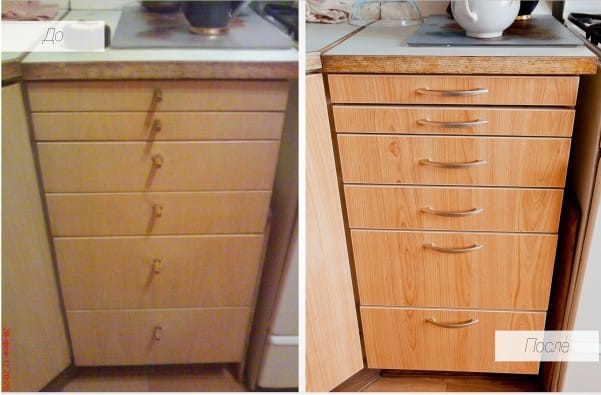 Have you decided to change the facades by installing MDF doors on the furniture? They will last about 7 years.

MDF is an artificial material that is quite attractive in appearance – it is much lighter and cheaper in comparison with natural wood. Such designs will become a real decoration of the headset – after all, you can order MDF with photo printing or material with an unsurpassed glossy effect.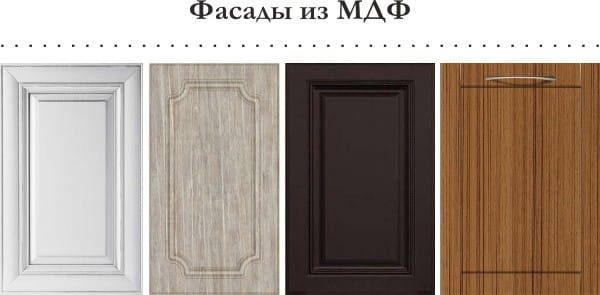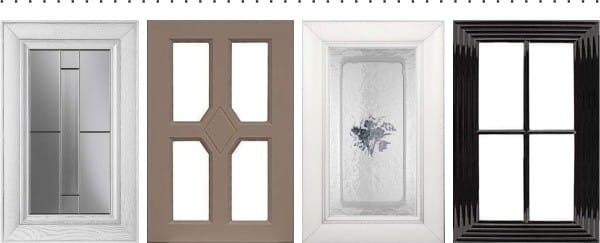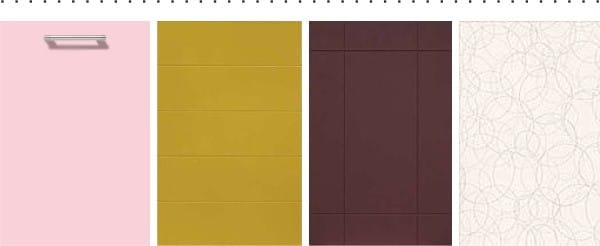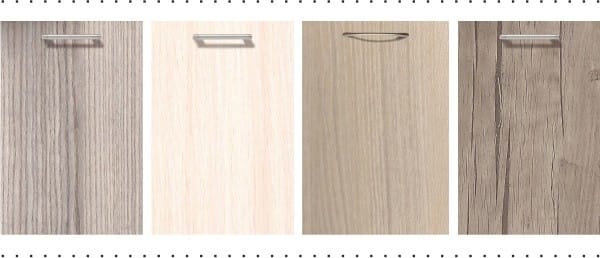 Among the advantages of the material are the stability of fasteners, and resistance to many external influences (moisture, temperatures, mechanical wear), and immunity to bacteria, and ease of care (you can not only wash, but also clean with mild abrasive agents).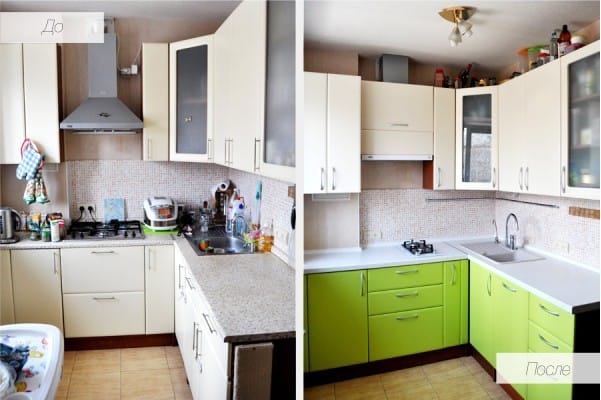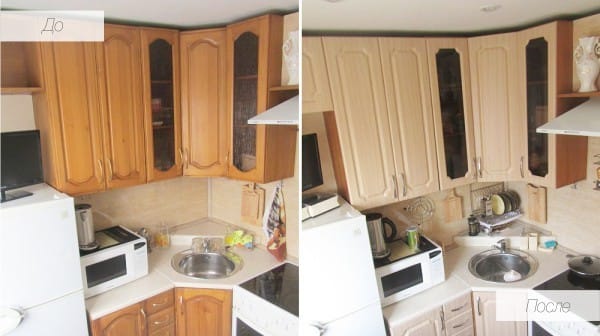 Replacing kitchen facades with modern plastic is also an excellent solution, since it is a wear-resistant material that remains in its original form for a long time..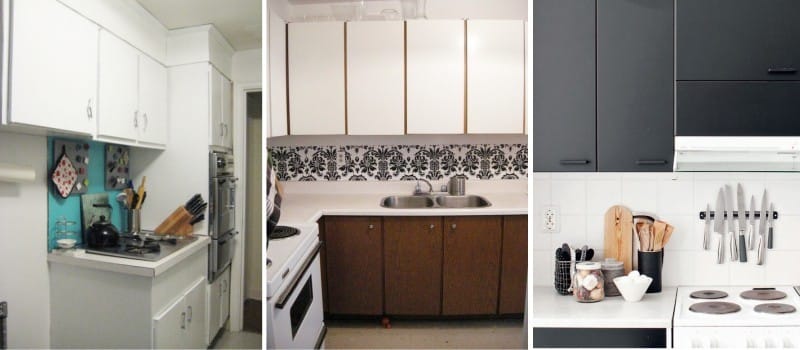 The facades of kitchen furniture do not have to be blind – they can be made of glass or with glass inserts. Often for classic the headset is chosen by decorated glass – with thematic patterns, or with abstract patterns, and for a modern Scandinavian style kitchens transparent or semi-matt white glasses are suitable. Glass can also be tinted, colored, corrugated. Among the advantages of such facades is resistance to external pollution and chemicals..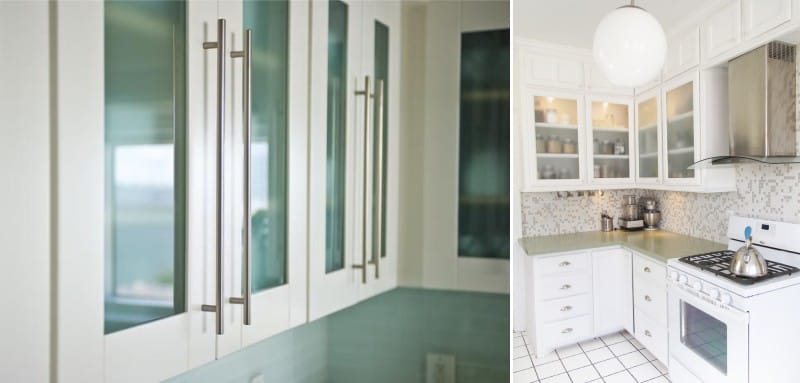 Advice! In a house where there are children, you can use an alternative – plexiglass. Its main characteristics are light weight and resistance to mechanical damage..
If the budget allows, then a great option is solid wood facades. If such products are too expensive, then they can be replaced with veneered structures that fully preserve all the nobility of the wood texture..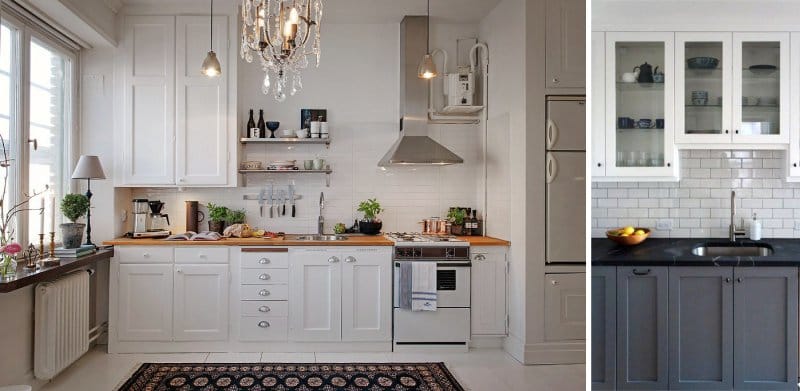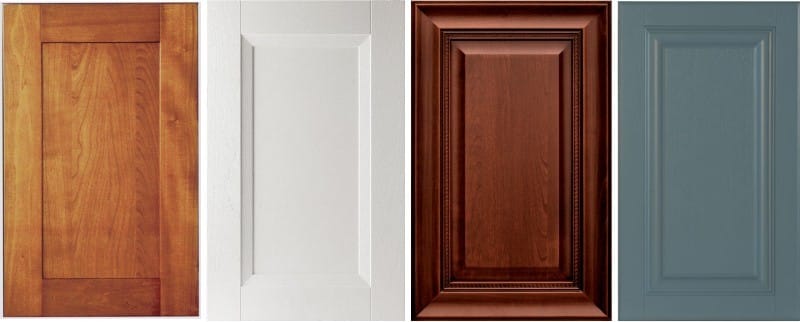 Replacing the facades of kitchen furniture also requires the choice of texture. So, the option with a protective glossy film will look attractive, but at the same time keep the budget. Matte painted surfaces are presentable and stylish, but they require special care, without which their surface quickly becomes stained..
Frame fronts, allowing you to combine two or more materials on one door, can become an impeccable decoration of the headset. Moldings and cutters on furniture facades can be very different, you will have plenty to choose from.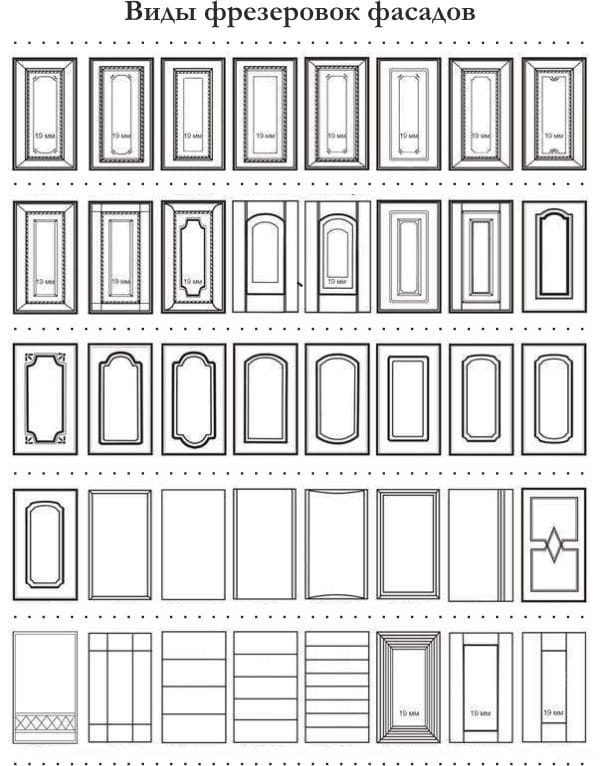 The frame color of the old kitchen does not match the new facades?
What if the color of the body of your headset differs from the color of the desired fronts? It doesn't matter. Inside, the frame will be visible only when the doors are opened, and in addition, the body can be repainted, renewed with a self-adhesive film or sheathed with veneer.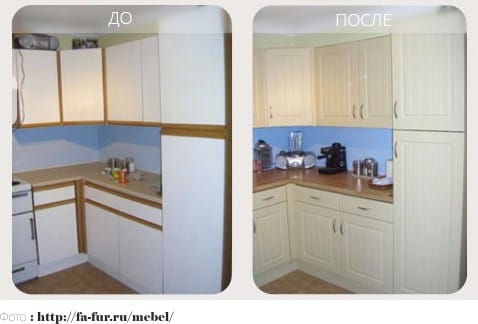 Advice! If in doubt which color of the facades will exactly match the existing frame, then feel free to choose white. Rest assured, it matches any body color. In addition, light shades visually enlarge the space and add light to kitchens located in the shady side..
Stages of work
Most craftsmen recommend not to carry out work on replacing furniture facades with their own hands, but to involve specialists at all stages (from calculation to dismantling and installation). Although, if your kitchen is of standard size, in good working order and does not have complicated door closers, then you can update the kitchen yourself.
The required dimensions of the furniture fronts are calculated quite easily: to determine the height from the height of the cabinet, 3 mm are subtracted, and to determine the width – 4 mm from the corresponding size of the cabinet.
After that, the work is carried out in the following sequence:
Cabinet doors are milled for hinges;
They are attached pens, why a preliminary marking is performed in accordance with the selected fittings;
The prepared parts are hung on the body – for this, a foot is attached to the walls, which is sold complete with hinges;
The element suspended on the foot can be adjusted vertically and horizontally with special screws.
How to care for new facades
In order for the renovated kitchen to retain its attractiveness for a long time, it is necessary to provide the facades with the correct (depending on the material) care:
Facades made of chipboard, MDF do not leave greasy stains on the surface, and therefore regular wet cleaning will be enough;
Structures made of solid wood should be protected from direct sunlight and cleaned with a soft cloth with chlorine-free products;
For glass, liquids are used that do not leave streaks after washing, but abrasive powders, scrapers or brushes are not used;
Stains on laminated, varnished doors can be removed with chamois or any other dry soft cloth.
And for any kitchen fronts, the use of aggressive acids or alkalis for cleaning is not recommended..