How to decorate a Japanese-style kitchen interior: tips, ideas and photos
The good thing about the Japanese style is that, due to its neutral color scheme and laconicism, it is perfect for decorating both spacious and small kitchens, both for southern "and poorly lit" northern "rooms. And since the Japanese style is laconic, it is, moreover, not so difficult to implement in the interior. In this article, we will tell you how to decorate a Japanese-style kitchen with your own hands with the help of a small design guide and a selection of inspiring photos. But let's make a reservation right away that we are not talking about mats and real shozu partitions, but only about an adapted version of the Japanese style, which is so loved in our country and all over the world..
Features of the Japanese style
Basically, the Japanese style is the same modern minimalism, but more sophisticated. Let's list its key features:
Finishing, furniture and decor are mainly made of natural materials: wood, bamboo, stone, natural fabrics, etc.;
Natural colors without bright accents. Basic colors: white, beige, pearl, ocher, brown, dark brown, black and green;
Symmetry, proportionality and correct geometry of forms;
Minimalism in furniture and decor, strict organization of space (yes, Japanese style requires perfect order and double cleaning);
Functionality of furniture and appliances;
Good natural and artificial lighting;
Ethnic decor items.
Finish: walls, floor and ceiling
Walls
It is best to decorate the walls of the kitchen in the Japanese style:
Decorative plaster;
Paint in a light neutral color;
Sheathe with wood panels;
One of the walls can be turned into a kind of shoji by installing a Japanese-style sliding door instead of a partition or a swing door.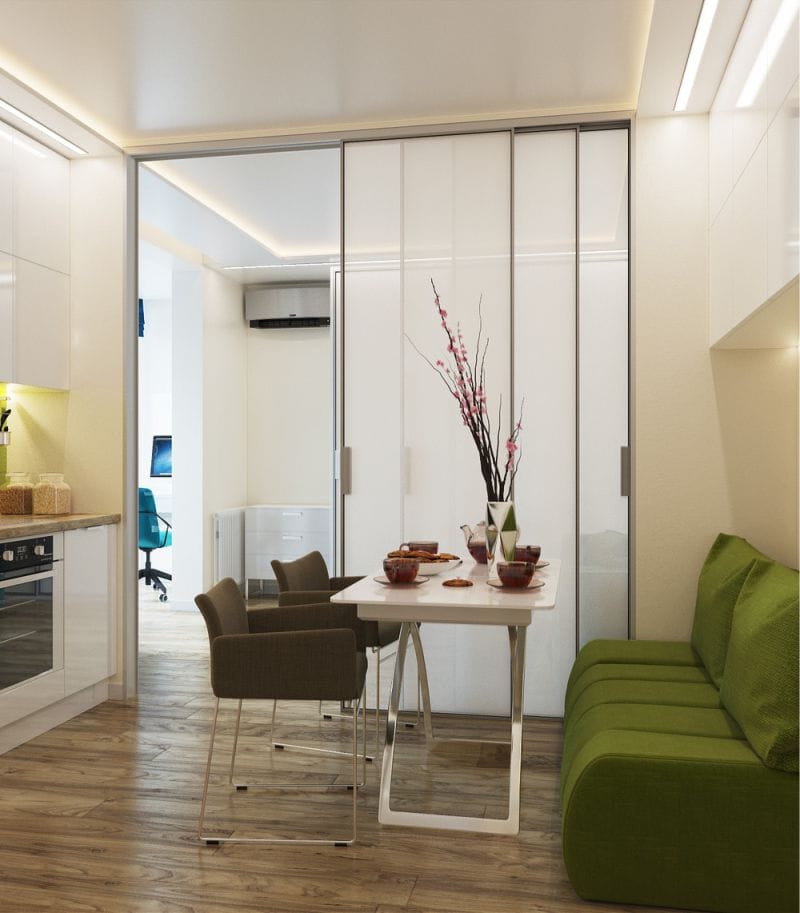 The apron can be finished with stone mosaics, large tiles, stone, for example, marble, as well as skinned with a photo print on a Japanese theme as in the following photo.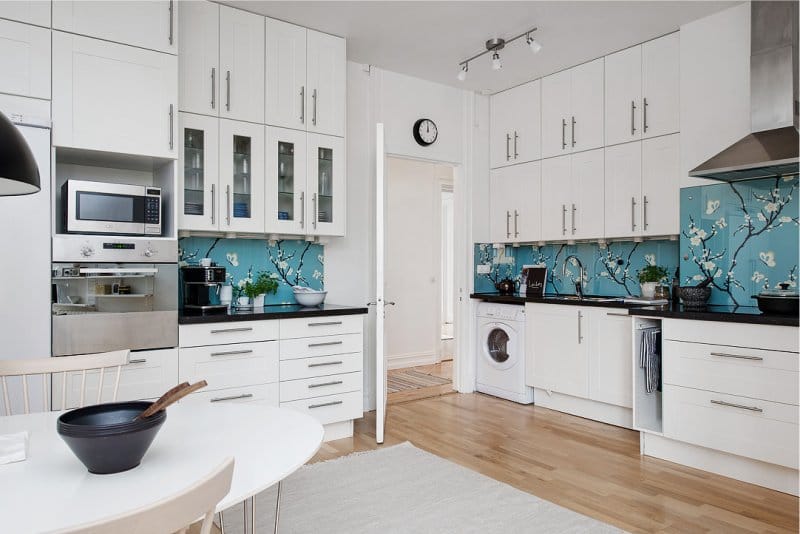 Floor
The ideal Japanese-style floor is dark, polished and always wooden. However, if a floor or parquet board doesn't fit into your budget, then consider a square tile like the one in the photo below. Squares in white and brown tones will support the theme of the Japanese house.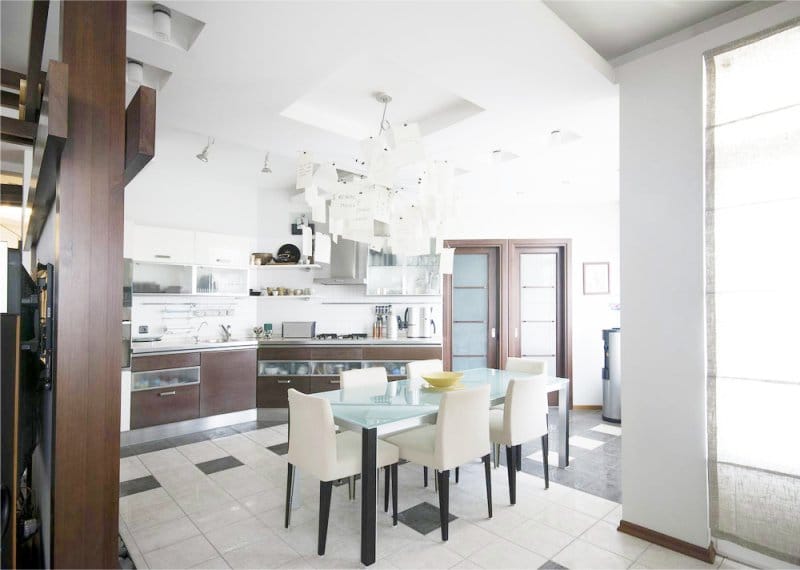 Ceiling
A Japanese-style kitchen is one of the few cases when two-level ceilings and various suspended structures look as organic as possible in the interior. Other great ideas include wood paneling, wood beams, wallpaper ceilings, or photo-printed stretch ceilings.
For examples of Japanese ceiling design, see the following selection of photos.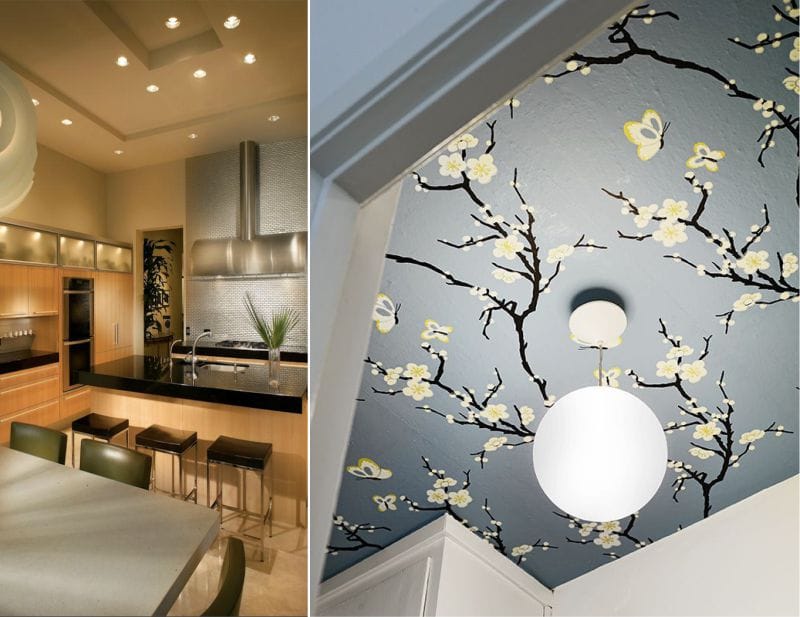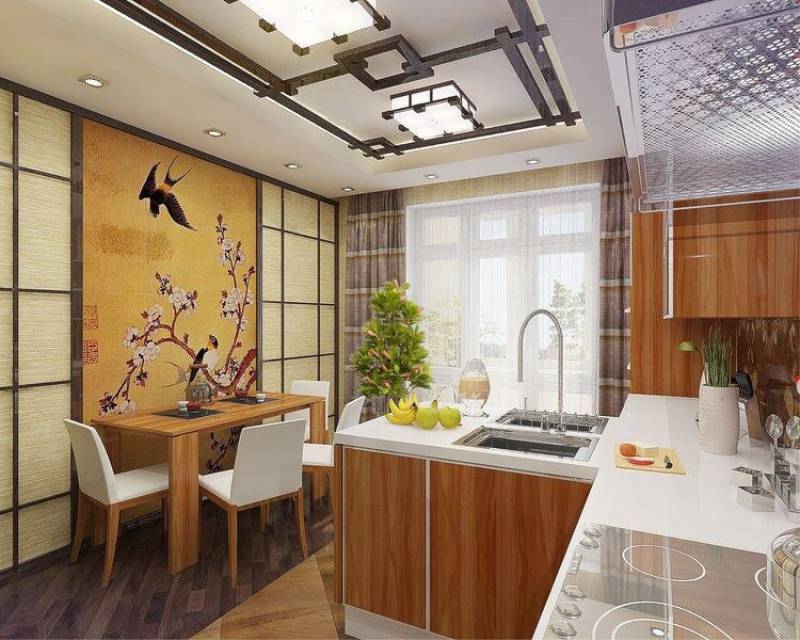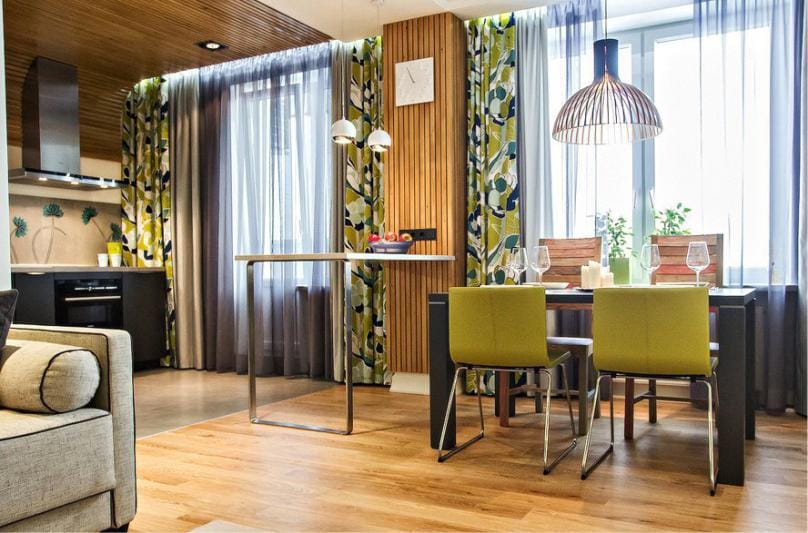 Furniture: kitchen set and dining group
Kitchen furniture in Japanese style is certainly wooden and has strict geometric shapes..
The kitchen set should have solid glossy or simply polished fronts without panels, and best of all – even without handles. However, frosted glass inserts will be quite appropriate.
In a spacious kitchen, the dining table can be massive – with a wooden, stone, metal frame and a solid worktop. But if the kitchen is small, then large furniture should be preferred light structures made of metal or wood with a light top, such as glass. As for chairs, these are perhaps the only pieces of furniture that can be streamlined..
Below we present to you a large selection of photo examples of furniture in the Japanese style..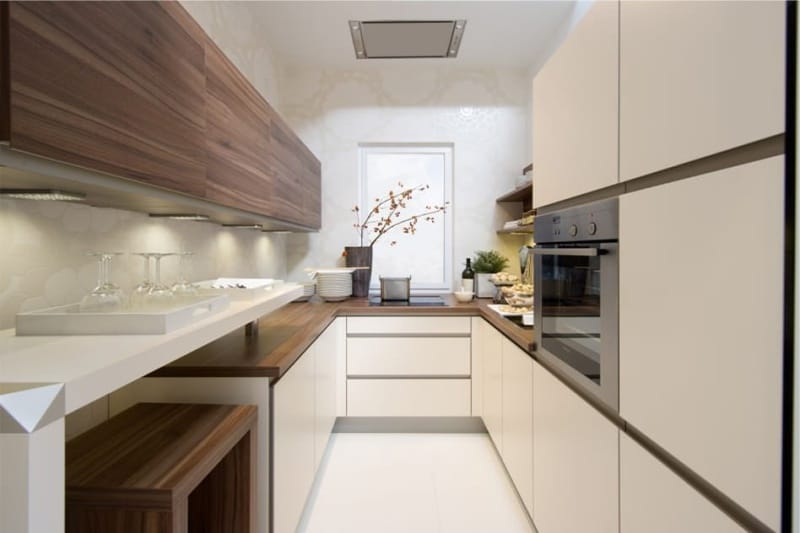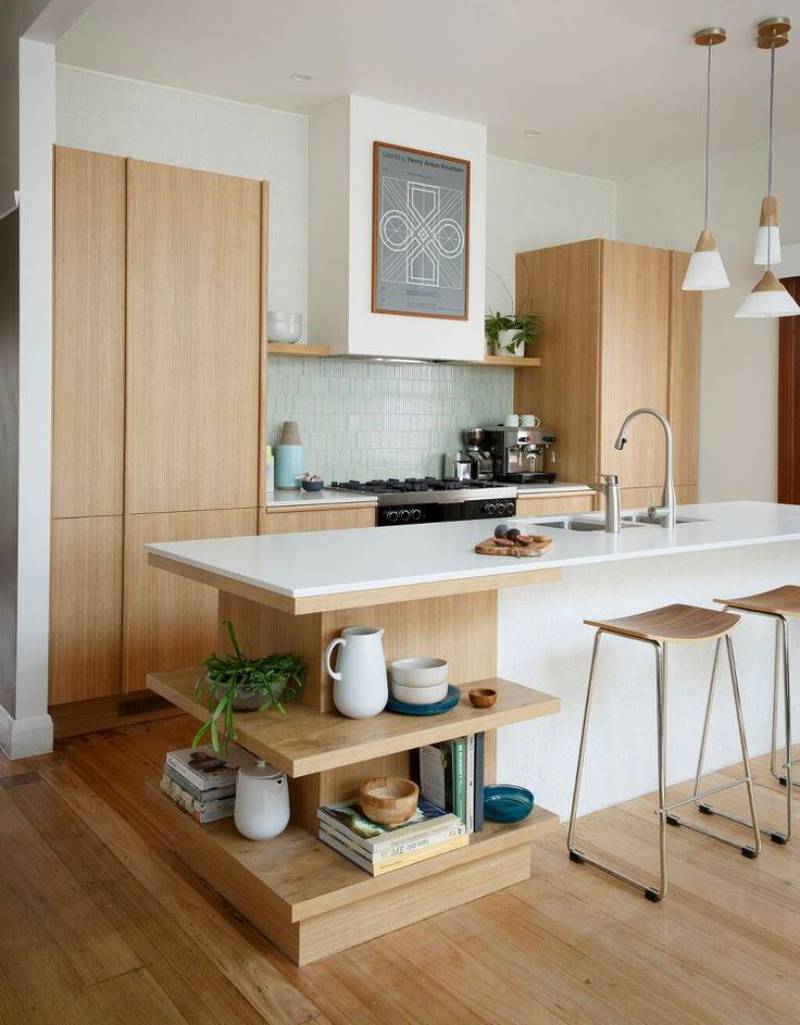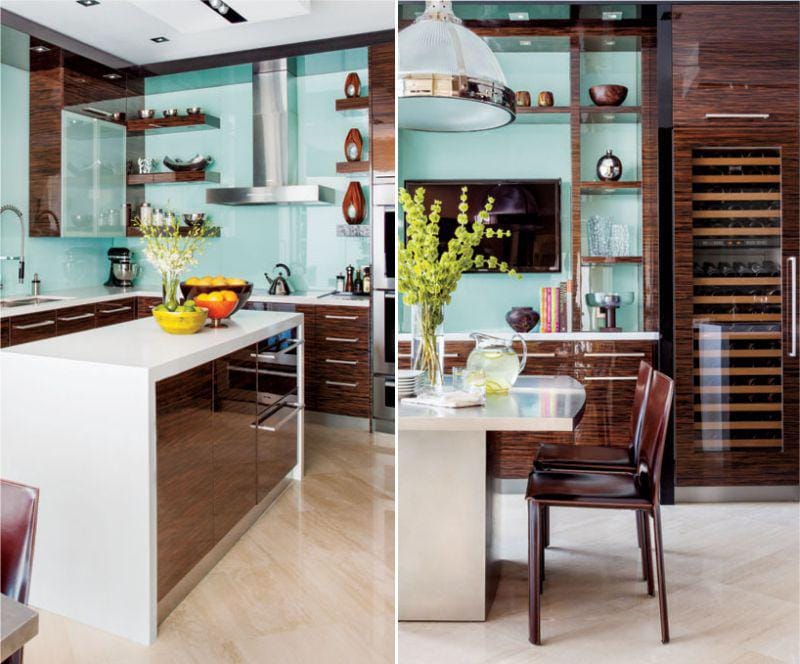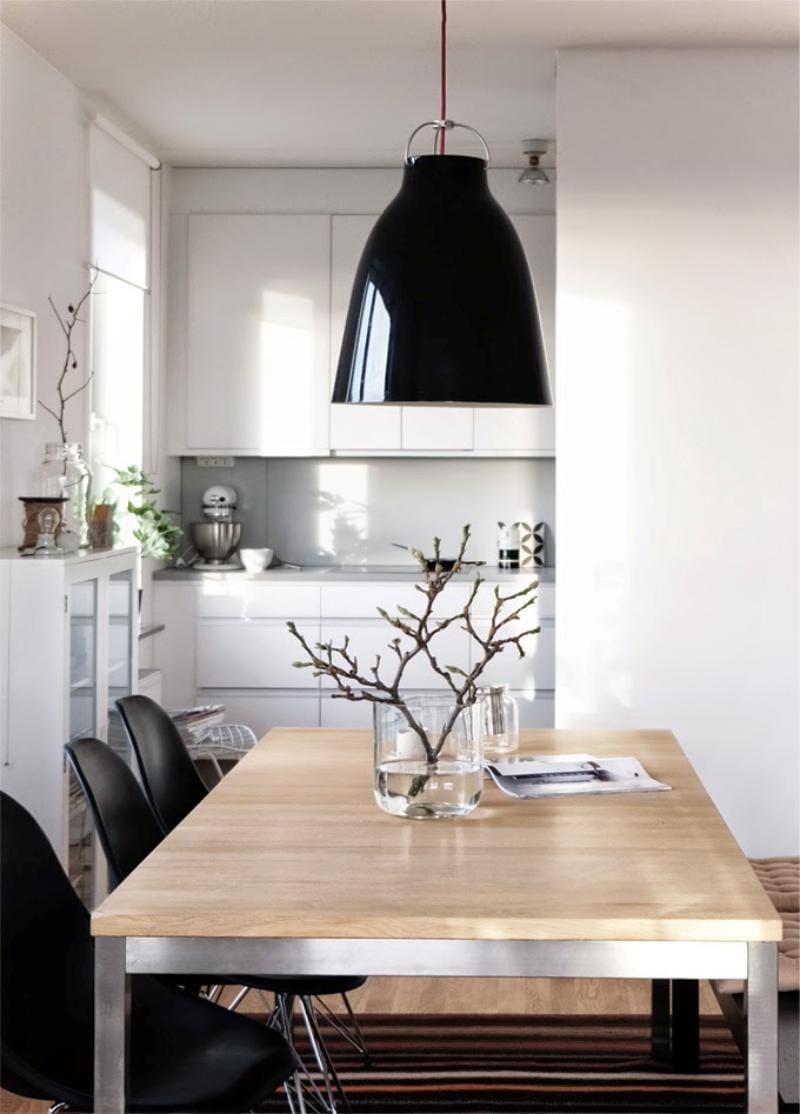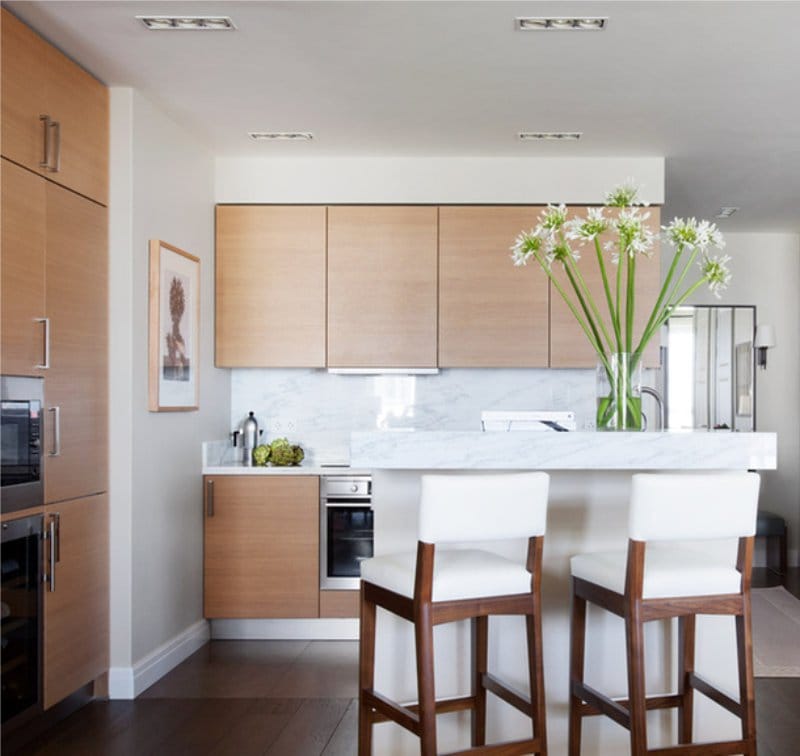 Decor: lighting, curtains, accessories
Japanese kitchen lighting
Artificial lighting in the Japanese-style kitchen should be as uniform and diffused as possible, therefore, in addition to the central chandelier and furniture lighting, it is advisable to install spots around the entire perimeter of the ceiling. When it comes to lighting design, here you can choose between minimalist and eco-style lamps, such as woven bamboo or jute, made from wood, straw, rice paper and even tree branches. Ideal shade shape – spherical, square or rectangular.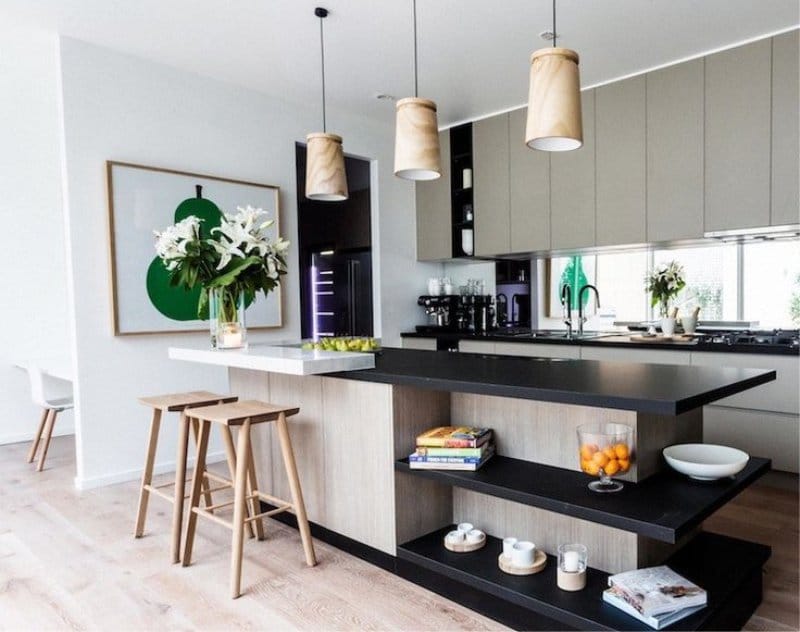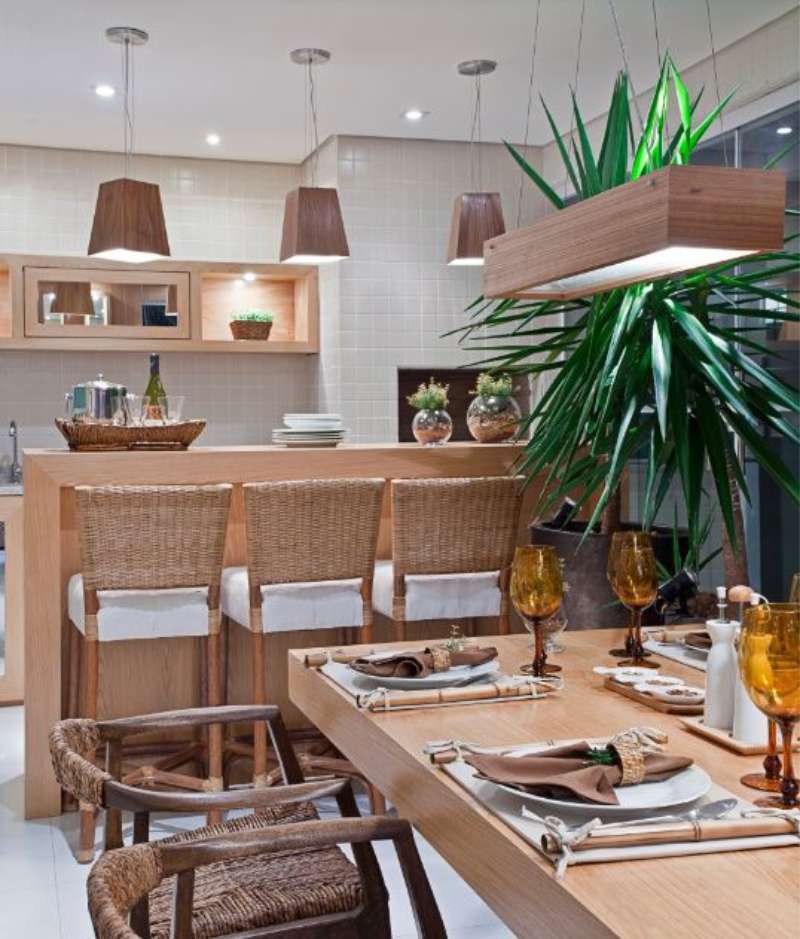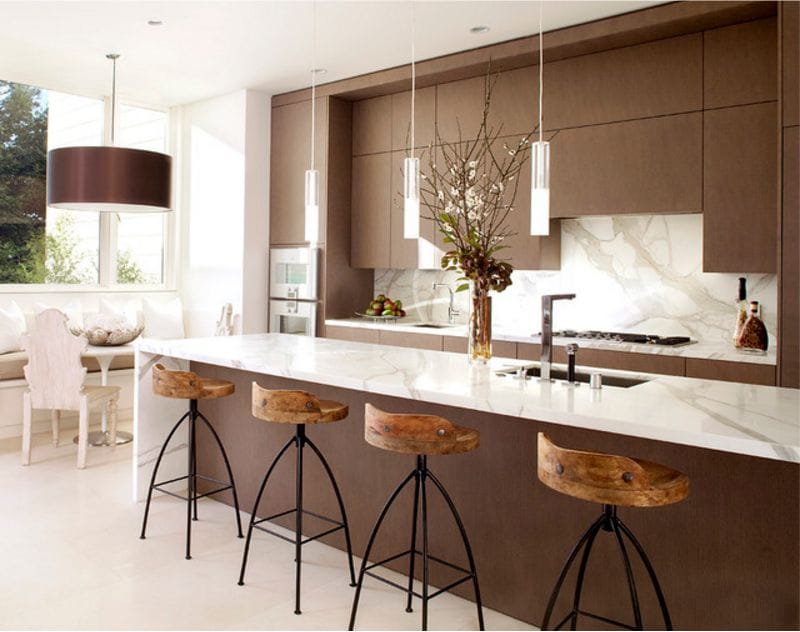 Curtains
Typically Japanese types of curtains are panel (which is also called "Japanese") and roll of bamboo. However, you can choose from roman blinds, roller blinds and wooden blinds. Classic curtains in a natural color or with a Japanese pattern on the fabric will also be good, provided they have a strict style..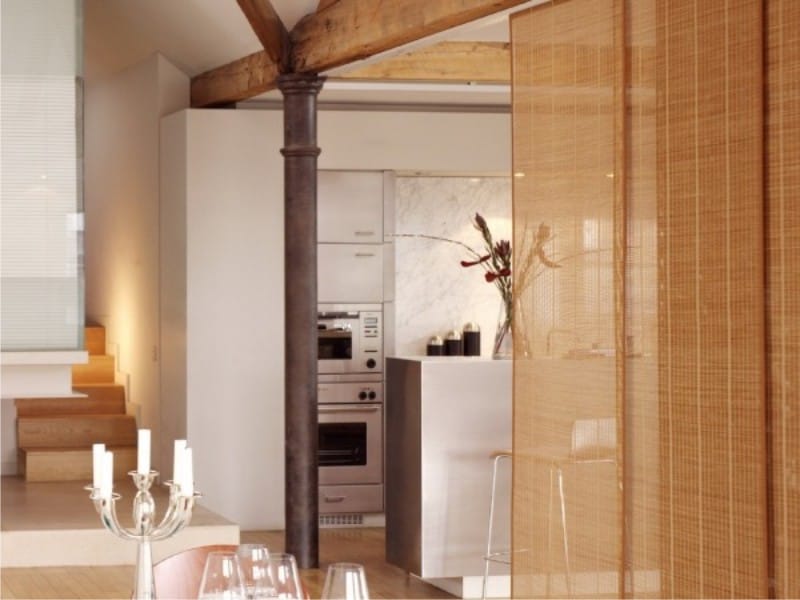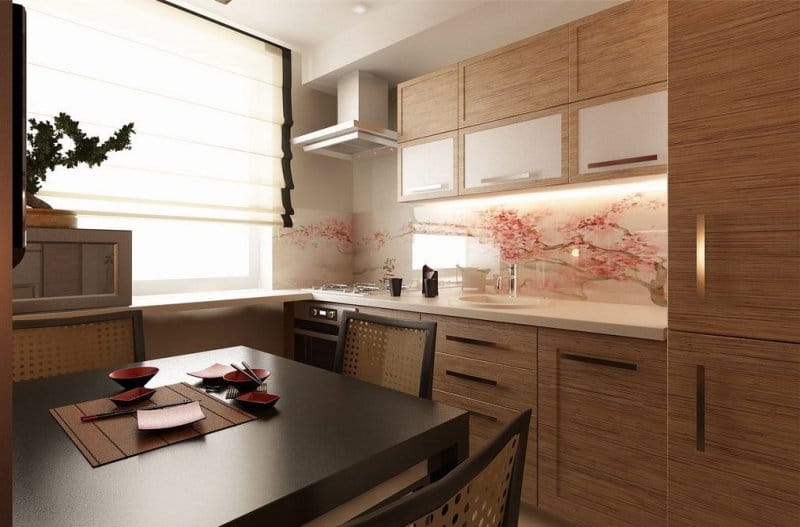 Tableware and decor
In reference Japanese houses, decor is present at a minimum, but it is assigned the most honorable role of personifying the traditional values ​​of the family. The "decor" for the patriarchal Japanese is a scroll with a calligraphic wise quote, a Japanese print and a vase of ikebana. All of this is stored in a small niche called the tokonoma. In the modern interpretation of the Japanese dwelling, it is not necessary to organize a tokonoma, but the principle of decoration remains the same – there should be few decorations in the room..
Plants are the only thing that can be a lot. Living potted trees, bonsai, bamboo, orchids, as well as decorative ikebana and sakura branches will make the kitchen design lively and the air clean..
Porcelain, ceramic and glass vases – they can be placed not only in a niche, but also on a table, on the floor, on a kitchen set or shelves.
Laconic pictures and photos in beautiful frames, engravings and scrolls with hieroglyphs, images of samurai and geisha can act as wall decor. However, try not to get carried away with japomania, so as not to overload the interior..
Cutting boards, fruit dishes, knife holders, cup holders and other kitchen utensils should also maintain a Zen atmosphere in the interior. Bamboo accessories work best with this task..
Pay attention to the selection of Japanese-style dishes and utensils, as well as purchase cast iron and clay teapots, small cups for tea ceremonies, beautiful sushi sets, Japanese Santoku chef knives and other symbols of Japanese cooking. Authentic accessories will make your kitchen a real dream for any Japanese fan.
For examples of Japanese-style kitchen decor, see the following selection of photos.