Today we will tell you how to create a country-style kitchen design in an ordinary city apartment from scratch: what finishing materials are suitable, what a rustic kitchen set should be like, how to choose furniture, curtains and decor.

But before we start, let's define what we mean by the word "country", because there are two main approaches to understanding it:
Country style as the general name for all country styles of different countries. In the context of the interior, they can be classified as follows: French Provence, Alpine chalet, rustic, Tuscan, American, English, Scandinavian, Mediterranean and, of course, Russian country;
Country as an exclusively American (or English) style of a country or country house.
In this article, we will summarize the concept of country and consider all of the above rustic interior styles a little bit..
Rustic cuisine – how to create and sustain a country style?
How to combine the charm of rural life and the functionality of a modern city apartment in the interior of a typical kitchen? What must or should be considered when creating a country-style kitchen?
All "rustic" styles from English shabby chic to Russian country are related:
natural materials in decoration, furniture, textiles and decor;
light rudeness, simplicity, wear, a touch of antiquity is appropriate;
preference for a natural color palette without bright accents and contrasts;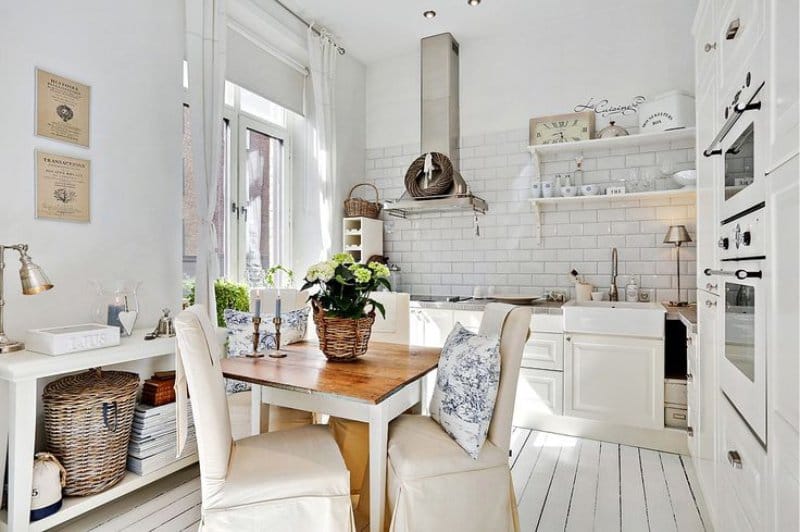 furniture, seemingly (or in fact) handmade, sewn, painted, decor items knitted by their own hands or by the hands of a grandmother;
in a rustic interior, traditional ornaments, patterns, plant and floral motifs, peas and a cage are appropriate;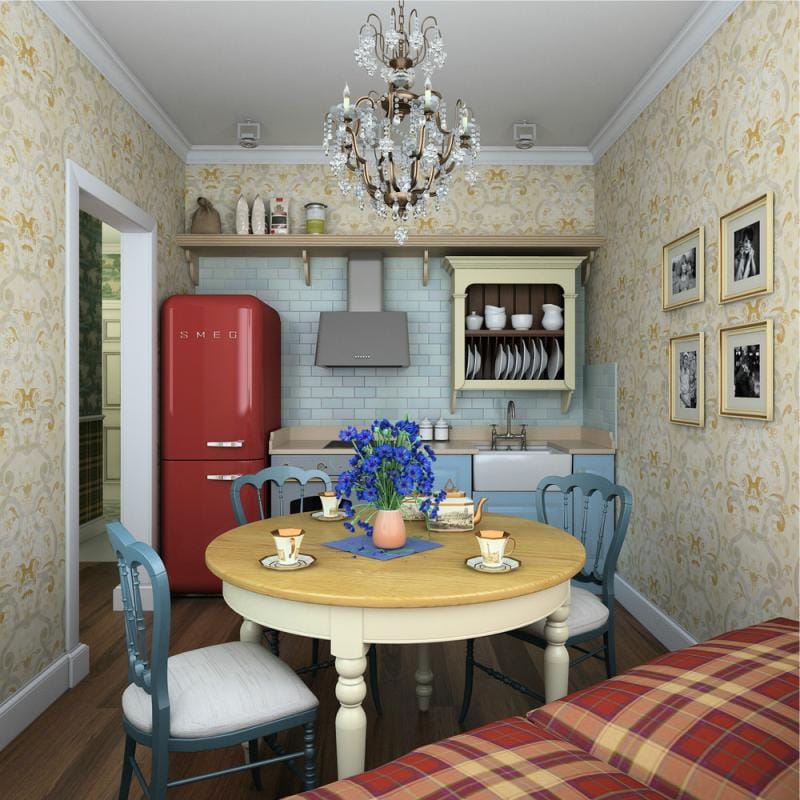 an abundance of kitchen textiles is characteristic – tablecloths, towels, napkins, capes, pillows, etc..
the right country cuisines tend to reflect national identity and folklore motives. For example, in Russian country it can be: gzhel, samovar, nesting dolls, openwork textiles, Zhostovo trays, Soviet service, etc. Take a look at the following photos – it was the samovar that gave the ordinary kitchen with typical furniture from Ikea the soulfulness and flavor of Russian country (scroll to the right).
What you can't fit into country cuisine: glossy, chrome, plastic, shiny surfaces and objects, decor in a modern style, frankly artificial materials.
Things to choose with care: the main feature of country cuisine is lightness, ease, simplicity. The interior should be as if you weren't trying hard, and the whole "rustic kitchen" setting was formed naturally. Avoid unnecessary and / or low-quality props and imitations. For example, the notorious "rough brick wall" should not be painted – it really should be rough, albeit processed and painted. And dried lavender will fit much more organically into the interior of a Provence-style kitchen than an artificial one. But you cannot do without props in a city apartment, and the use of only natural materials in decoration and furniture is not always justified and affordable. Therefore, the "stylization" of rustic cuisine in a city apartment is not a drawback at all, if it is harmonious, and most importantly – you and your family like it..
Country from scratch – finishing basics
As already mentioned, a country-style kitchen should be predominantly decorated with natural materials. But natural materials are not always available and practical. Let's find out what is suitable for interior decoration?
Floor
According to the canon, the floor in the interior of the kitchen is decorated in a rustic style – with natural stone, wooden boards or ceramic tiles. The first two materials are not available to everyone. A parquet board, which, due to the upper wooden layer, does not differ from the "original", can be worthy of replacing the solid wood floor, but it is cheaper. The most budgetary alternatives to wood are laminate and more practical wood-like linoleum – modern coatings of high strength classes look quite nice and serve for a long time. The stone can be replaced with more affordable and practical porcelain stoneware. The tile is suitable for a monochromatic natural tones, with a traditional pattern or classic black and white (for Provence).
If the kitchen is combined with a living room or dining room, then a combination of wood (in the dining area) and ceramic tiles (in the working area) would be appropriate.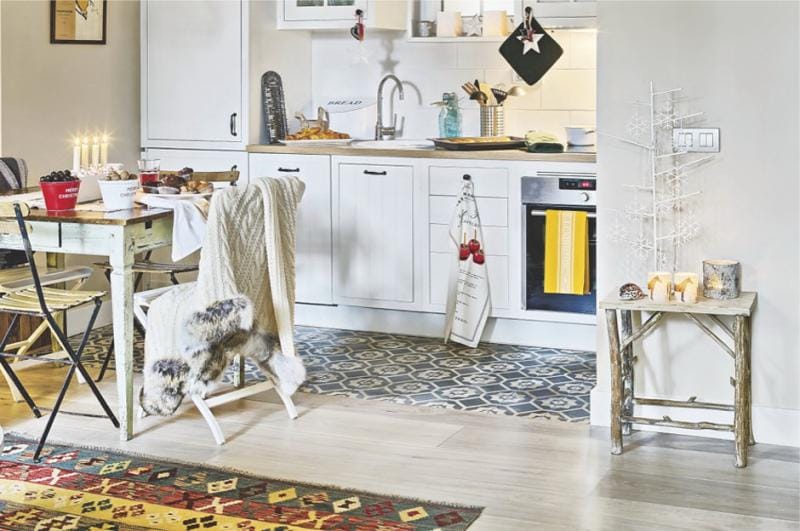 Floor boards can be either painted or varnished or deliberately natural (with minimal processing).
Tip: you can decorate the floor with a small homemade rug: patchwork, knitted, wicker.
Ceiling
There are several options for decorating the ceiling:
Whitewash – the whitewashed ceiling is very authentic. At the same time, the base does not even have to be leveled: the interior in this style welcomes the presence of textured surfaces, rough and homely (as opposed to the ideal smoothness of the lines of modern styles). If over time the plaster begins to crack – do not worry, for country music this is not critical.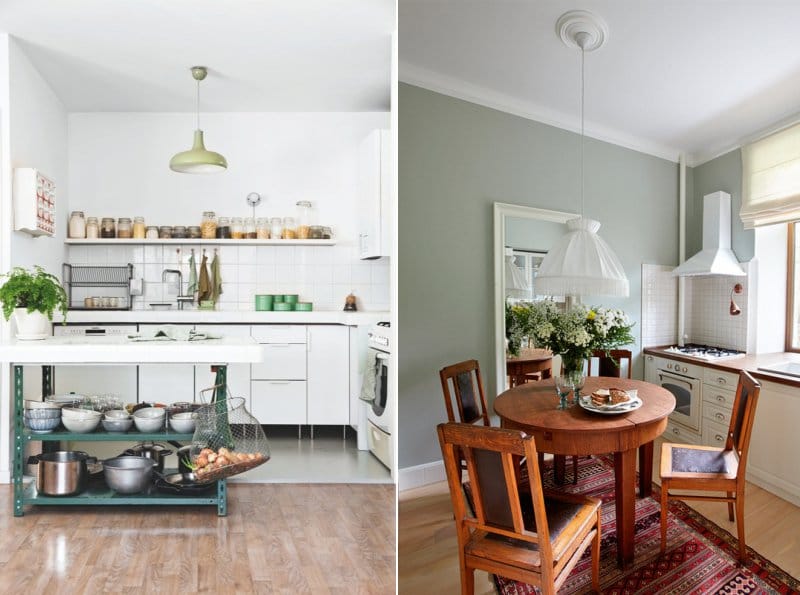 A more practical option – a matte (!) Stretch ceiling – is not afraid of floods, is relatively affordable, will take away only 4 cm in height and, if handled carefully, will last a long time;
Wooden ceiling – this finish will immediately turn your urban kitchen into a rustic or country veranda. But wood in its natural color will visually "lower" the ceiling, so if your kitchen is not high, then think about the white wooden lining, which the Scandinavians love so much;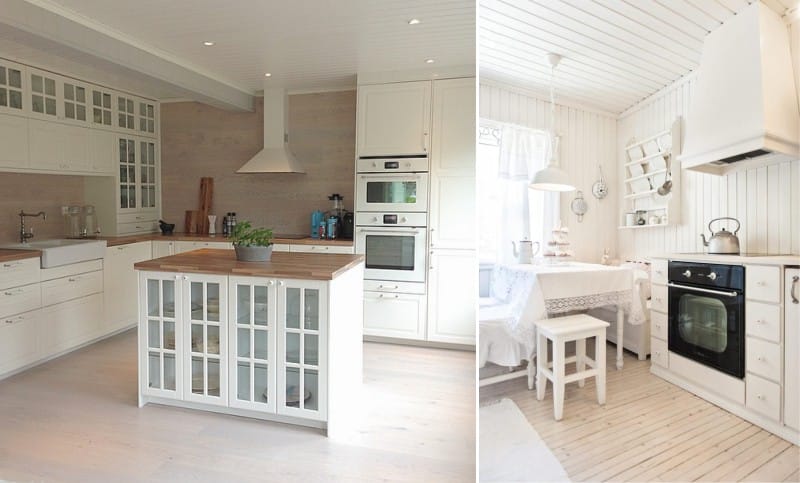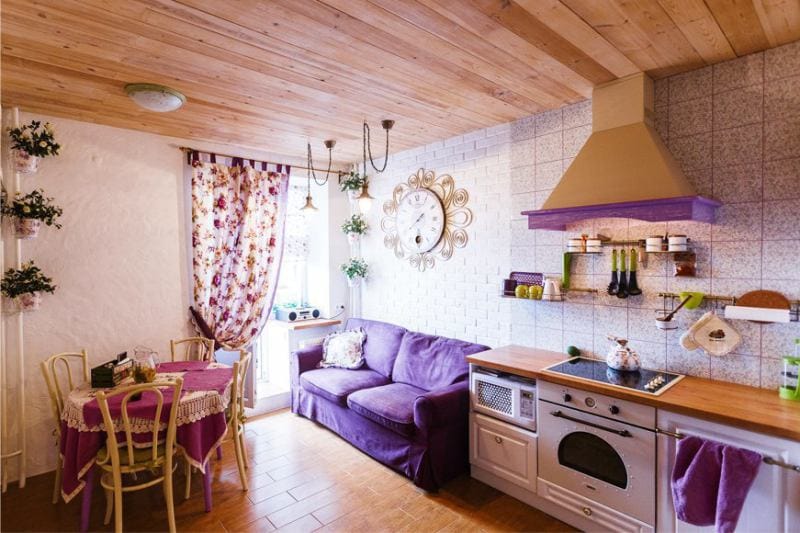 The combination of whitewash and wood – wooden ceiling beams against the background of a freshly whitewashed ceiling will give the interior a habitable look. But this is just that props, which in typical houses is appropriate only in high-quality performance, in moderation and subject to high ceilings.
Walls
The walls in the interior of the country kitchen can also be decorated in a variety of ways:
Coloring: it is worth giving preference to warm shades (beige, cream, natural green, light brown, olive, etc.) or basic ones, for example, white and gray.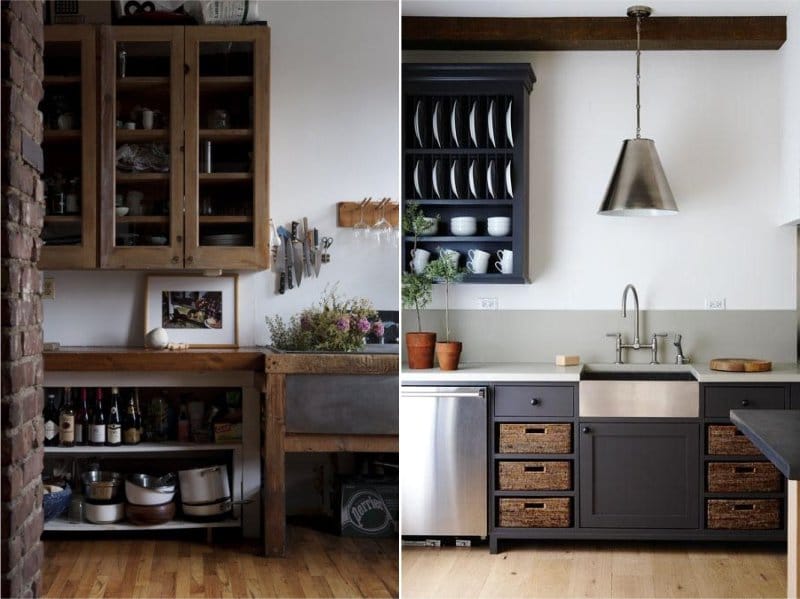 Decorative plaster: the roughness of the walls will emphasize the old-fashioned and simplicity of the style. Feeling like the owners have just made repairs with their own hands.
Wallpaper: suitable wallpaper in a flower, a cage, a strip and with traditional ornaments.
Tiles: ceramic or metlakh tiles are suitable for decorating the work area.
However, you can decorate with tiles not only the apron, but also part of the walls as shown in the photo below.
Wood cladding or wall panels: the interior of the country, if possible, recreates the rural life, so that the decoration of the room with wood will be as successful as possible.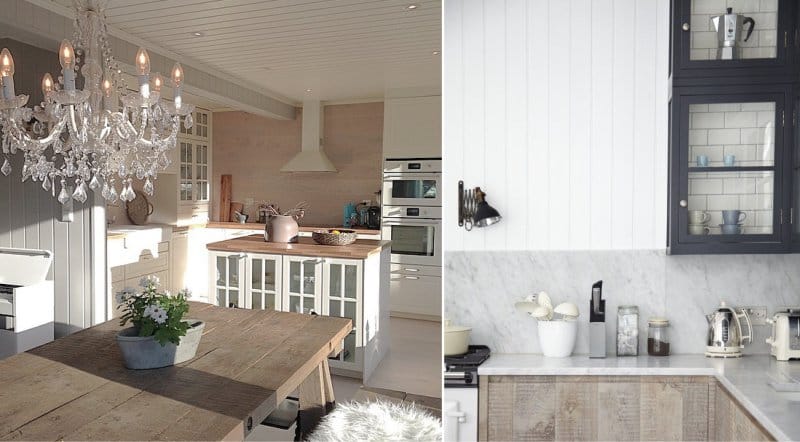 Brick: The brick (or brick-like) finish looks old-fashioned, simple and natural. This option is best combined with painting or wood decoration, as a completely brick kitchen will look small and cramped. In addition, the basis of country is still a tree..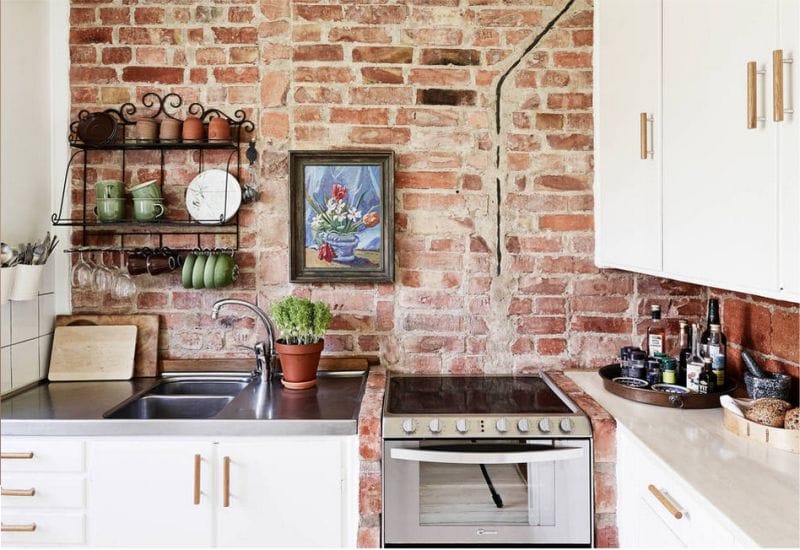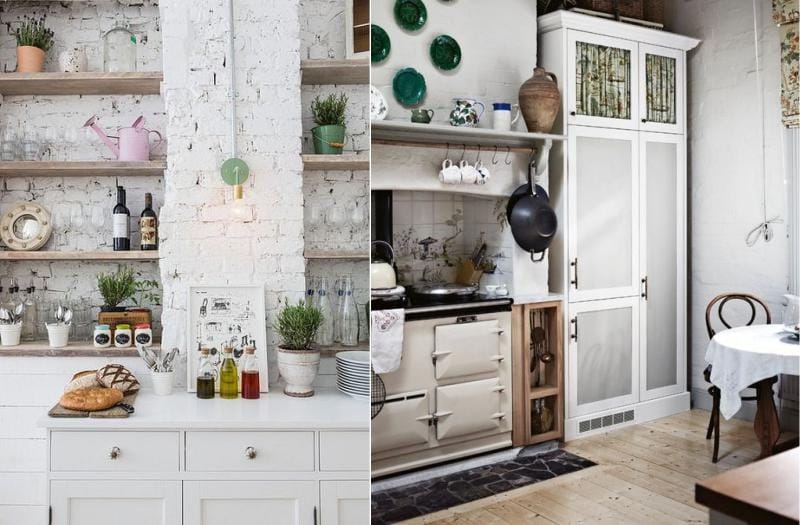 Furniture and appliances
Technique
Country is an old-fashioned style, so what can be hidden behind the blank wood fronts of the kitchen unit, it is better to hide it. "Hiding" are subject to: refrigerator, dishwasher, microwave oven, food processor, etc..
And what cannot be hidden (oven, extractor hood, stove), it is better to choose in a retro style, which today can be easily found in any large hardware store.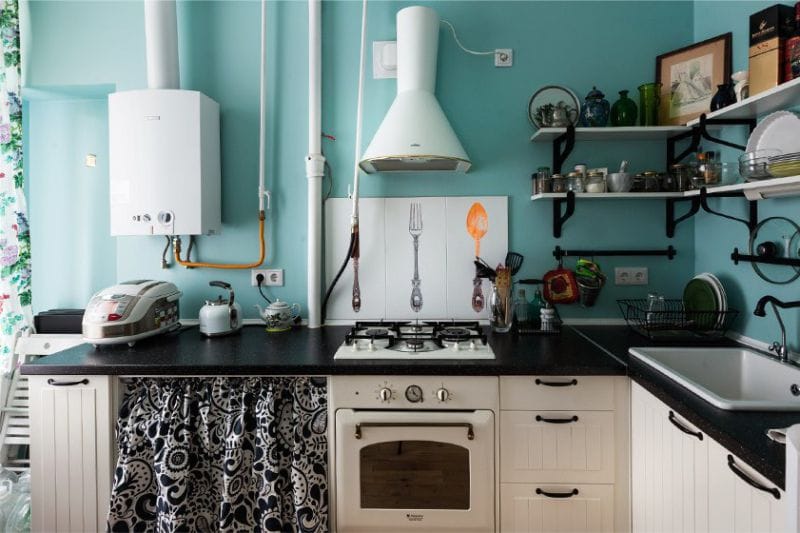 Furniture
What should be the country furniture? Let's figure it out in order.
Kitchen set: wooden or veneered from chipboard / MDF. The facades of the kitchen set can have simple panels, carvings, metal fittings and glass inserts (scroll the photo to the right).
The cabinet can be massive or, on the contrary, lightweight – with open shelves and without upper cabinets – after all, the country-style interior with rustic hospitality flaunts cute jars and clay pots, bunches of herbs and linen bags, tin boxes of tea and vases.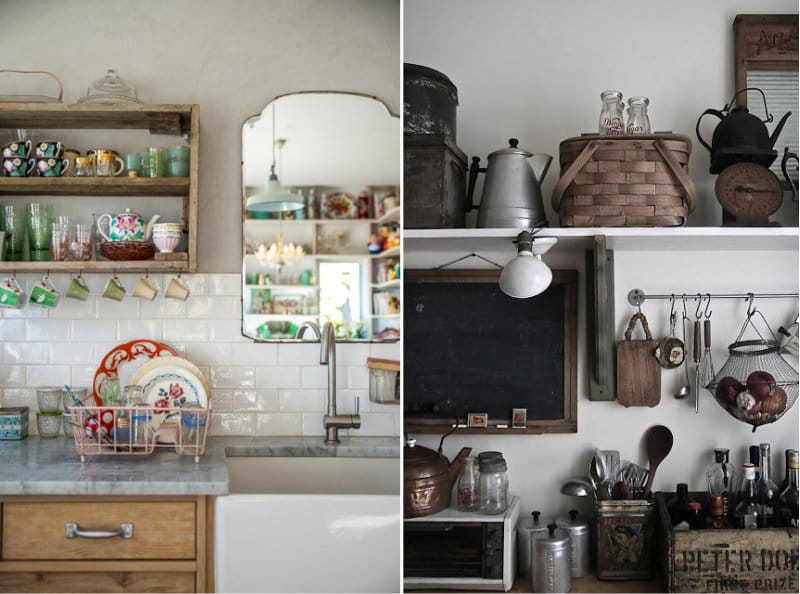 The color of the furniture depends on the size and illumination of the kitchen: a large, light kitchen will not look cluttered even with dark massive furniture; a small kitchen or kitchen with windows facing north will look harmonious if furnished with light furniture (beige, ivory, cream, light gray, etc.).
The table and chairs can be wooden, wicker rattan or forged. Their color should match the color of the kitchen unit, decoration or textiles. Read more about the selection of a dining group. here.
Tip: to enhance the effect of the ease of rural life – make a dining group of chairs of different colors or types.
Instead of ordinary kitchen furniture, you can buy garden furniture, for example, benches and tables with a cross-shaped base, as in the photo below: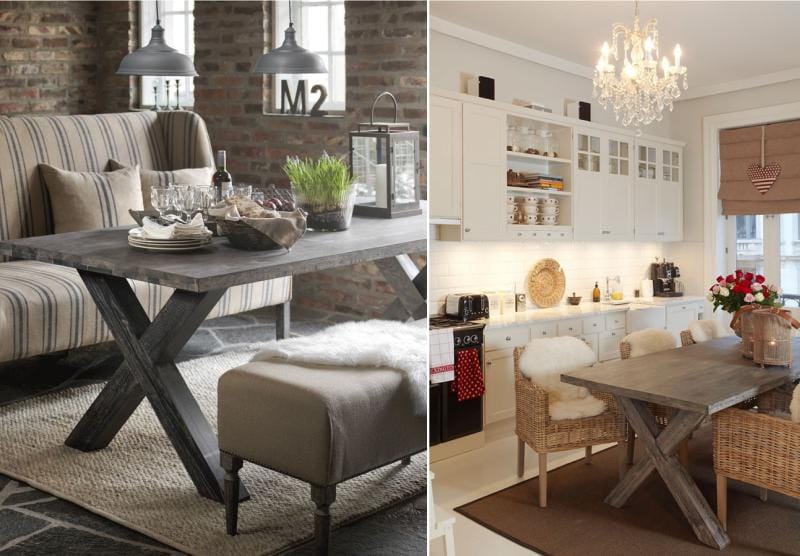 Decor
Curtains
Curtains made of natural materials can be monochromatic, with flowers, peas, cages, with embroidery and lace. As for the style, in addition to traditional curtains, you can choose: fabric roll models, Roman, cafe curtains, tulle. You can also decorate the curtains with a lambrequin. Country means the use of natural colors in textiles: sea blue, sunny yellow, grass green, etc. A wide window sill can be decorated with clay pots or wooden boxes with live plants.
Accessories
You can decorate your kitchen interior with the following accessories:
wicker and iron baskets, chests and boxes, pots and buckets;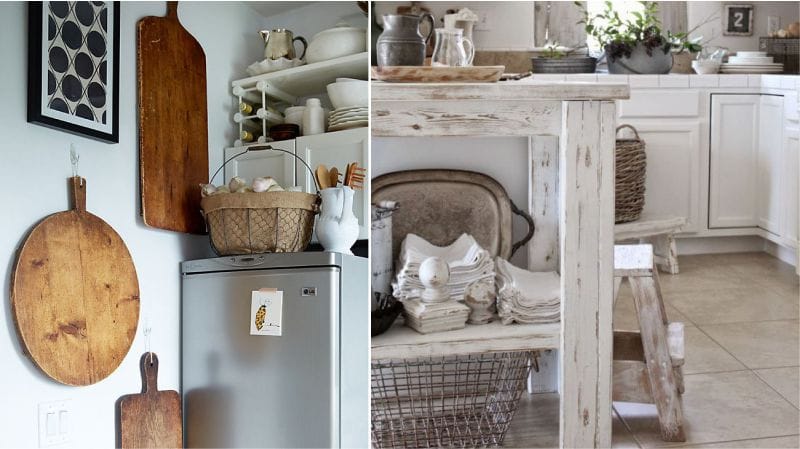 tableware with flowers and borders, decorative clay or wood dishes, as well as decorative plates on the walls that can be easily hung with your own hands;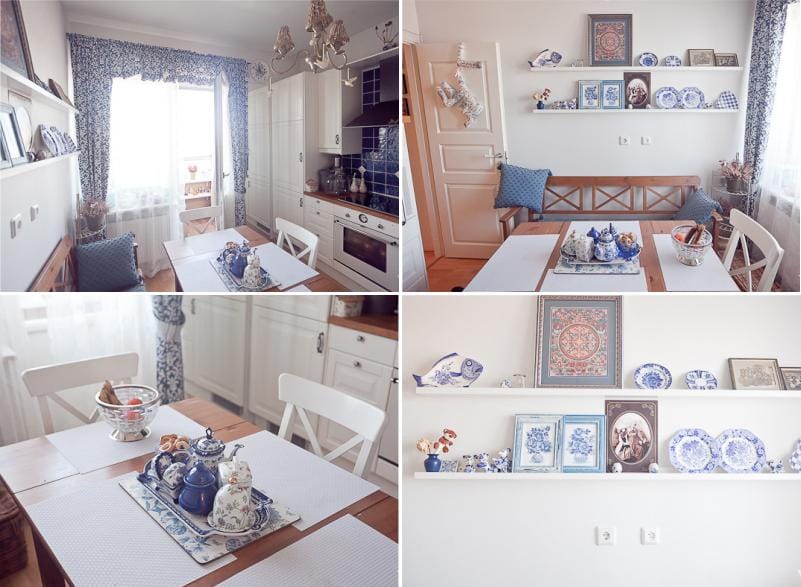 a kerosene lamp, candlesticks in the form of a lantern or candelabra;
handmade embroidery, rag dolls, pillows, capes, runners, homespun napkins and tablecloths, matching in color or pattern with curtains;
carpets and rugs;
do-it-yourself paintings, hoops, watches;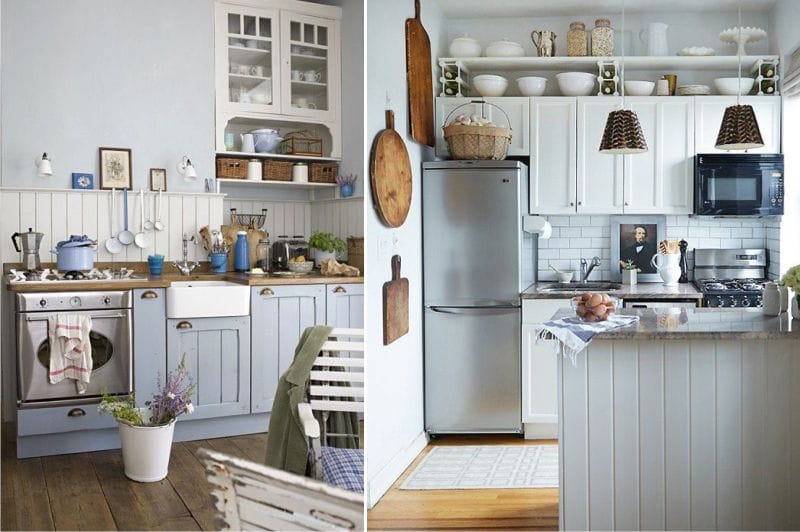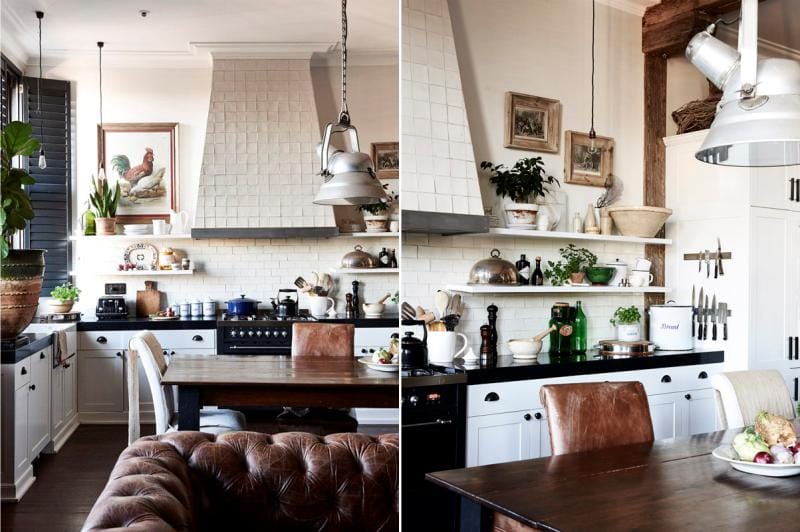 We draw ideas for decorating the interior of a country kitchen in the next selection of photos (scroll to the right).
Lighting
A country-style interior means natural light combined with artificial light. The light from small windows is complemented by lighting in the kitchen unit and a chandelier above the dining table as in the photo below..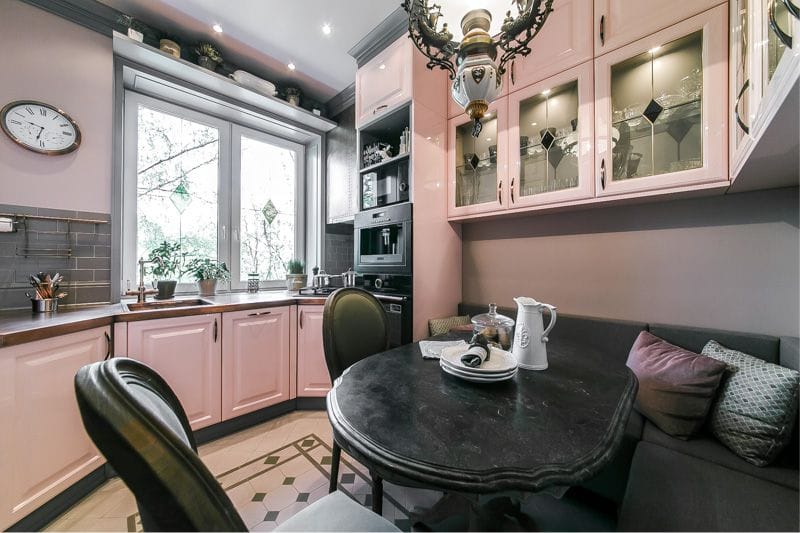 You can highlight the work area, or you can highlight the shelves of the headset with light on which beautiful dishes or other cute accessories are displayed.
There can be several sources of light: a central chandelier, a sconce and even a floor lamp – this is especially necessary if the kitchen is combined with a living room or dining room.
Appropriate chandeliers imitating candelabra with candles, Tiffany chandeliers, rough "barn" lamps, lamps like lanterns and lampshades (especially in Russian design).