How to store sponges and dishcloths – 5 ways and tricks to organize
We will tell you how to store sponges, rags and dishwashing liquid conveniently and neatly.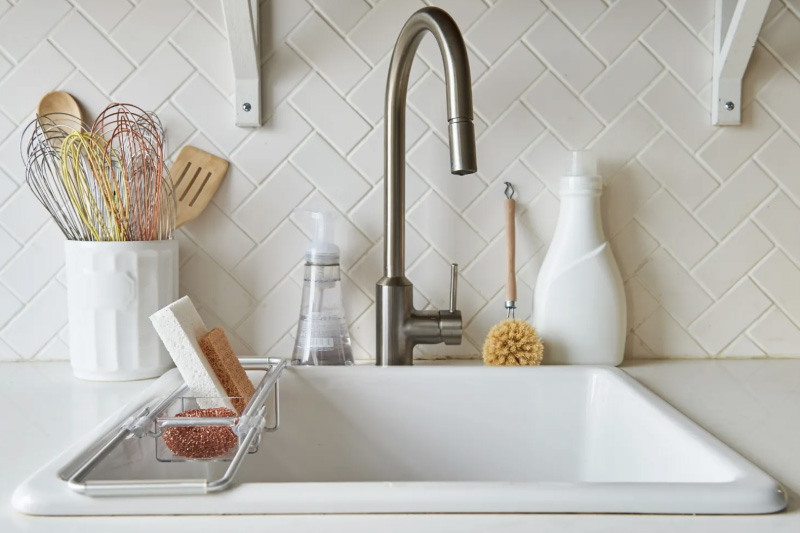 Hints
To reduce visual noise in your kitchen, remove the sticker from the dishwashing liquid bottle;
Remember, nothing spoils the look of your kitchen like dirty rags, sponges, and towels. Try to change them in a timely manner;
It is advisable to choose sponge rags in a neutral color (white, gray, beige, brown) or to match the color scheme of the interior. So the work area will not attract attention and spoil the design of the kitchen;
Don't keep more than one towel, one potholder, one rag and one sponge in the kitchen, otherwise the interior will look cluttered. Moreover, if possible, it is better not to keep all kitchen textiles in plain sight;
If you are just about to equip your kitchen, we advise you to take a closer look at sinks with a built-in dispenser for dishwashing liquid;
Life hack for practical but busy owners: to eliminate kitchen accidents quickly and easily, cut a supply of rags from old T-shirts and use them on the wipe-throw-away principle.
Solution 1: keeping the sink empty
This method is the most aesthetic, but rather suitable only for perfectionists or those who do not cook and clean too often. Nevertheless, we advise everyone to try it, because it is not so difficult to adapt to such a routine. Just every time you wash the dishes, put all the accessories in a small perforated tray (made of plastic or metal) and hide them in a cabinet under the sink or in a cabinet with a dryer under the sink. By the way, this is exactly what the world famous cleaning guru Marie Kondo advises to do..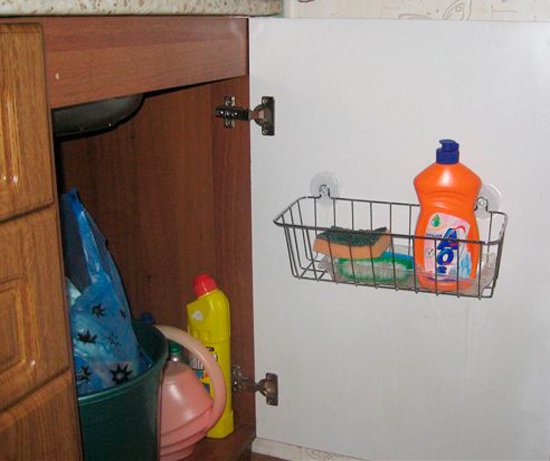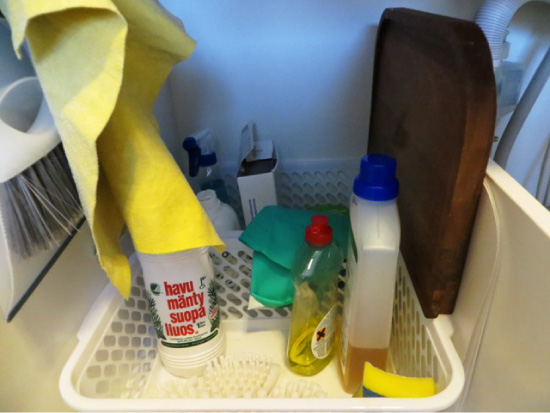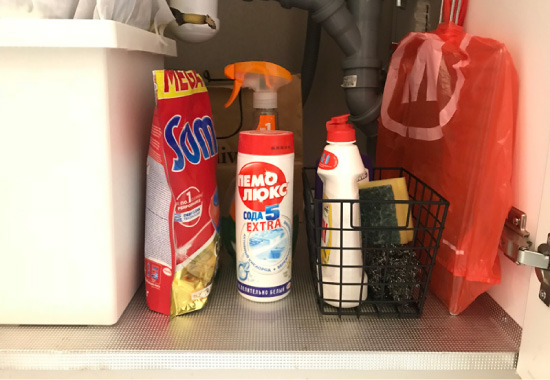 Advice:
Before putting the sponge into the cabinet, it should be squeezed out well. As practice shows, there are no problems;
It is convenient to use hanging accessories for storing sponges, rags and detergents as in the photo below (sold in Ikea, for example).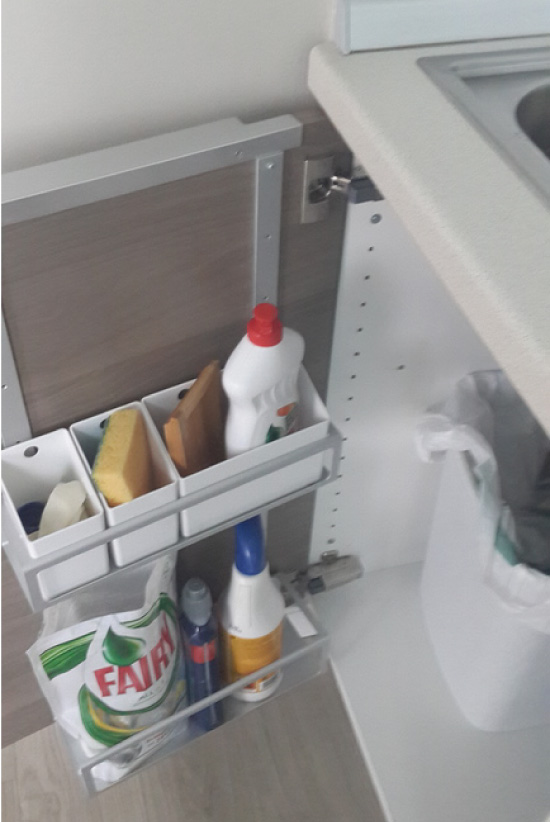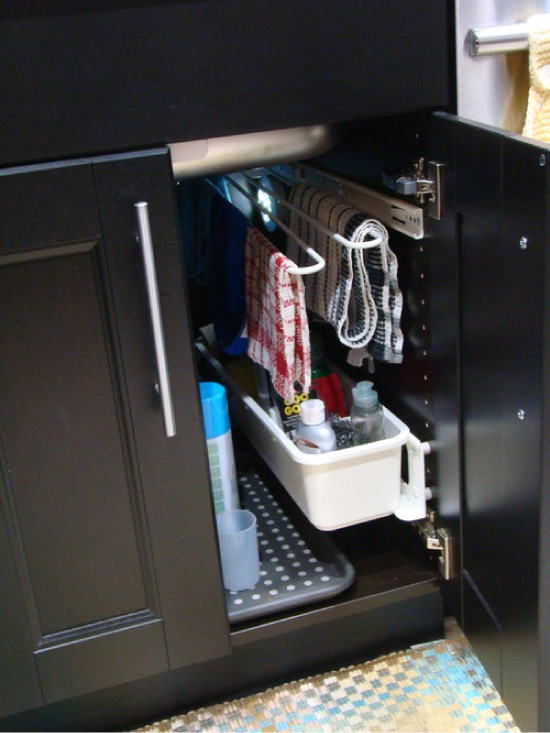 Solution 2: using a cute sink organizer
One of the most popular ways, especially recently. Such organizers can be ordered on Aliexpress or Ozon (we advise you to carefully read the reviews) or look at the hardware store. The price of holders for sponges can range from 100 to 2000 rubles, depending on the configuration and materials.
There are four main types of organizers:
Hanging on a tap – the cheapest and quite convenient, but they do not solve the problem of storing detergent.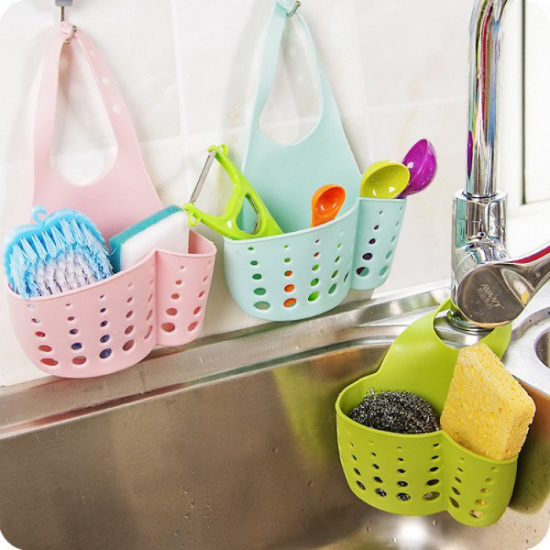 Stationary – they are more expensive, but they look beautiful, provide a "hanger" for drying rags and a stand for dishwashing liquid, however, they themselves require timely cleaning.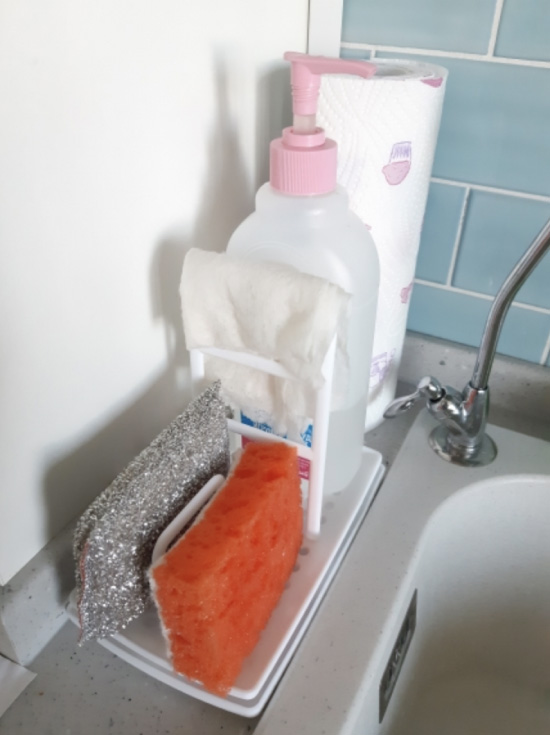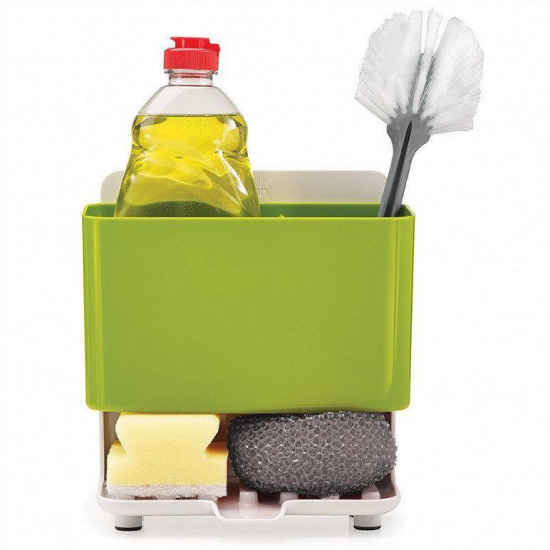 The suction cup holders are good because they are attached to the walls of the sink, and therefore are not too noticeable. By the way, the suckers hold on tight..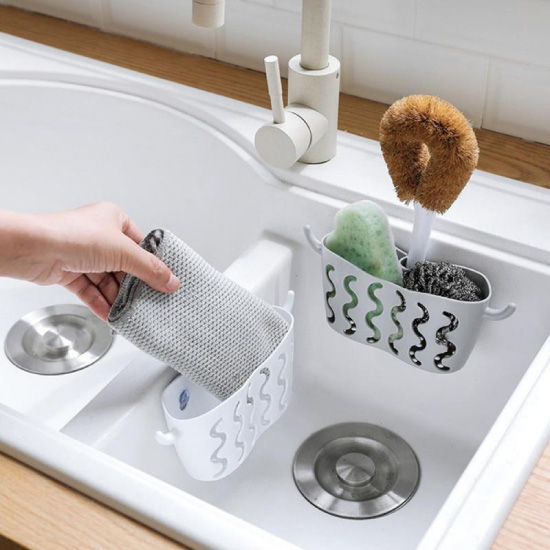 Stands attached to the mixer – everything remains in sight, but the rest of the water is drained directly into the sink;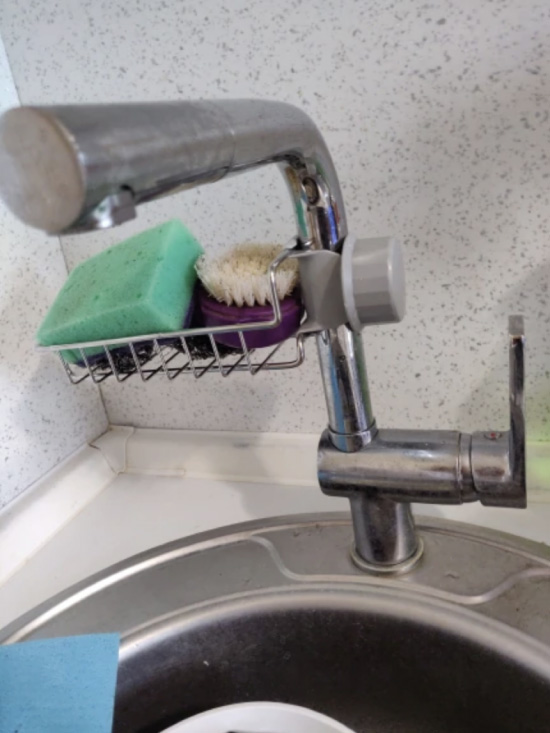 Solution 3. We use beautiful accessories: a bath and a dispenser
Bathroom accessories can be adapted for the kitchen: soap dish and soap dispenser. Ceramic models will look the most beautiful. You can also purchase a dedicated dishwashing liquid dispenser with a sponge holder (sold on Ozon and in the home improvement stores).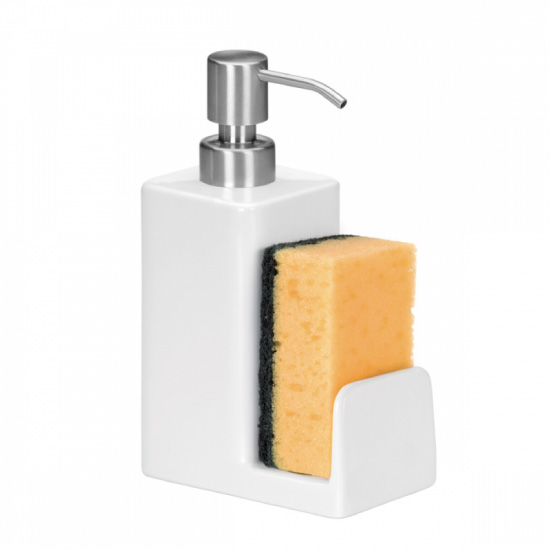 Tip: For a 100% perfect wet area, choose accessories made from natural materials, such as a loofah sponge and a natural bristle brush.
Solution 4. Switch to rags in a roll
Not very aesthetic sponges and rags can be replaced with disposable non-woven napkins in a roll. They can be conveniently hung over the sink or stored in a closet. One roll costs from 200 rubles and is consumed in about six months.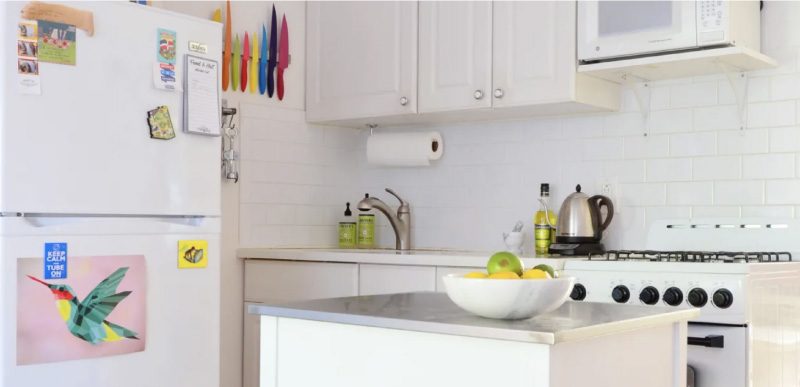 Tip: It is more convenient to wash the dishes with disposable napkins in the following order: first wash the cups, plates and utensils, then wipe the table and countertop, then proceed to the pots and pans and, finally, throw away the used cloth.
Solution 5. Store accessories on the wall
Another popular solution, but not without its drawbacks: working "tools" remain in sight, which obliges them to be kept in order, in addition, water can drain onto the countertop. But wall storage of sponges and detergents allows you to more economically spend space on the countertop.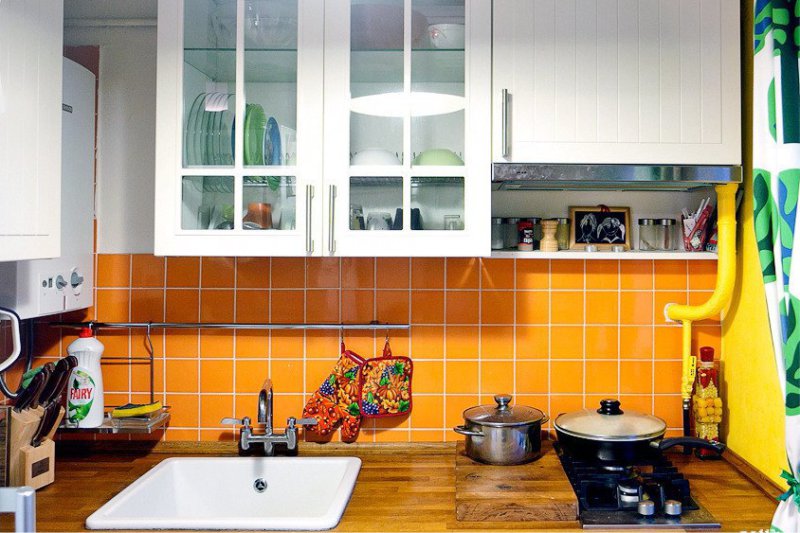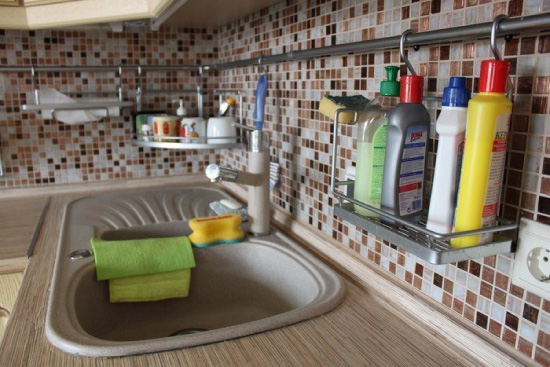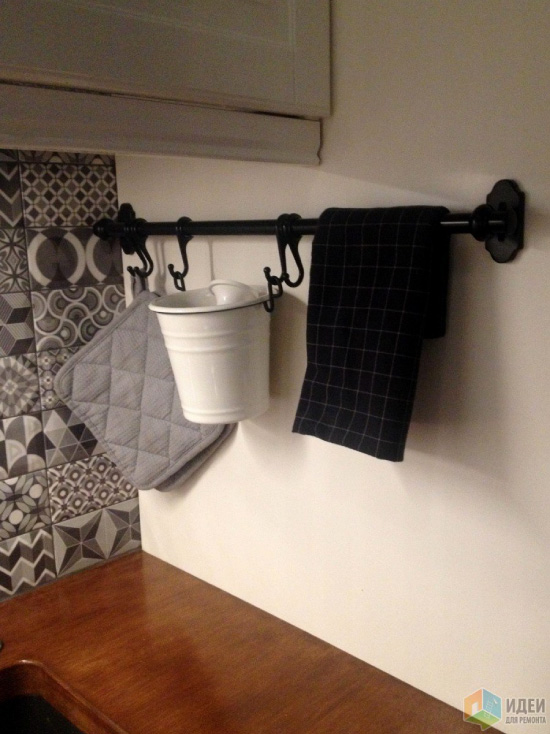 How did you organize the storage of dishwashing items and which of the following methods did you like the most? Share your experience in the comments!