7 steps to design a high-tech kitchen
The high-tech kitchen is good for its minimalism and functionality, making it available for any budget, both for large and small kitchens. The complexity of its arrangement consists only in not overdoing it with chrome and gloss and … to avoid the interior resemblance to an office space. From this material, you will learn how to create a high-tech kitchen from scratch, namely, to draw up its color scheme, choose finishes, furniture, decor and appliances. And here you can get ideas for design and renovation from a selection of 40 photos of modern interiors.
Color spectrum
As a rule, the basis of a high-tech interior is made in neutral cold shades. Win-win basic colors: white, light and dark gray, gray-beige, gray-blue. As accents, you can use any dark colors, as well as deep blue, less often purple, yellow, red and orange.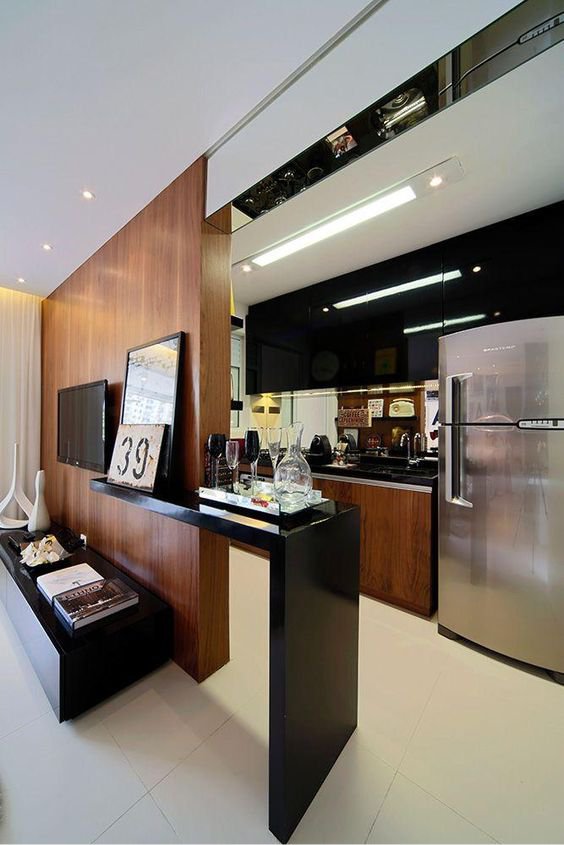 Combined kitchen-living room in high-tech style in black and brown tones
For the high tech style, monochrome or, conversely, contrasting color combinations. For example, black in combination with white as in the interior in the photo below..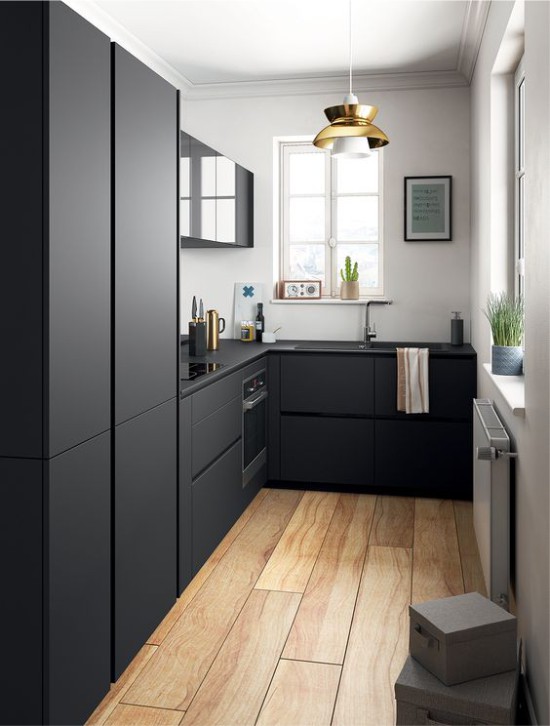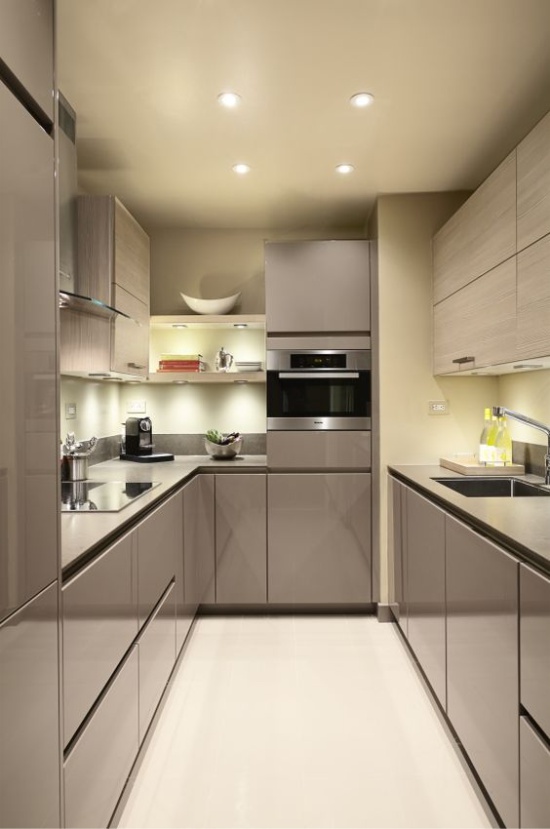 An example of a monochrome color scheme
All metallic shades can also be used as accents: gold, copper, silver, etc..
The ideal color for walls and furniture for a dark, narrow and / or small high-tech kitchen is white. It visually enlarges the space and makes it much lighter..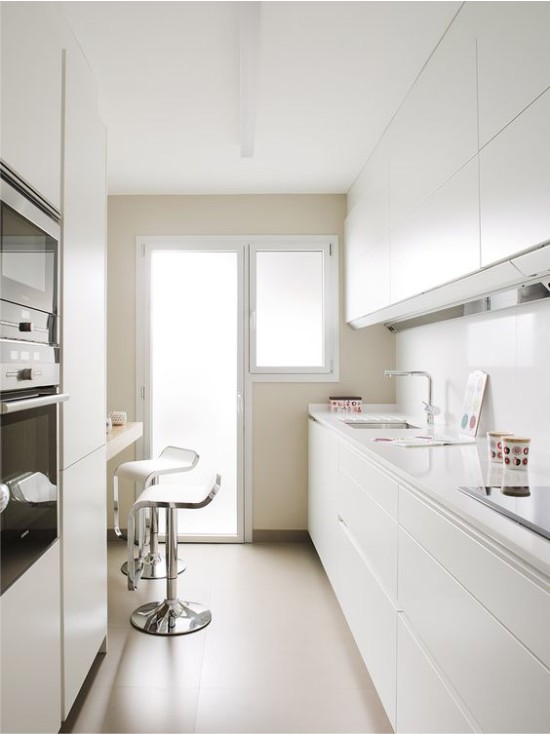 High-tech white kitchen
Finishes and materials
Ceiling
The ceiling should be perfectly flat, so the best finishing option would be a matte PVC canvas stretch ceiling, which is outwardly indistinguishable from a high-quality whitewash.
However, the glossy finish will also look harmonious. Moreover, it reflects light and visually enlarges the space. However, keep in mind that the gloss on the ceiling, coupled with chrome, glass and stone, risks making the interior too shiny..
In the interior of a high-tech kitchen, a multi-level ceiling is also appropriate, for example, a two- or three-tiered one. Hanging structures are good because they can hide various communications, they allow you to hide the curvature of the base, build in spotlights and visually zone the room, say, on the working and dining area or the kitchen and living room. Most often, drywall and the same stretch PVC canvas are used to create a multi-level ceiling..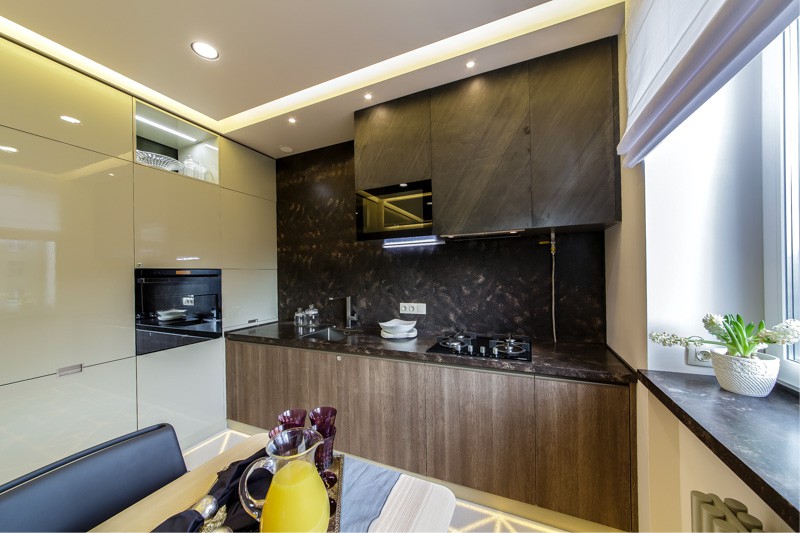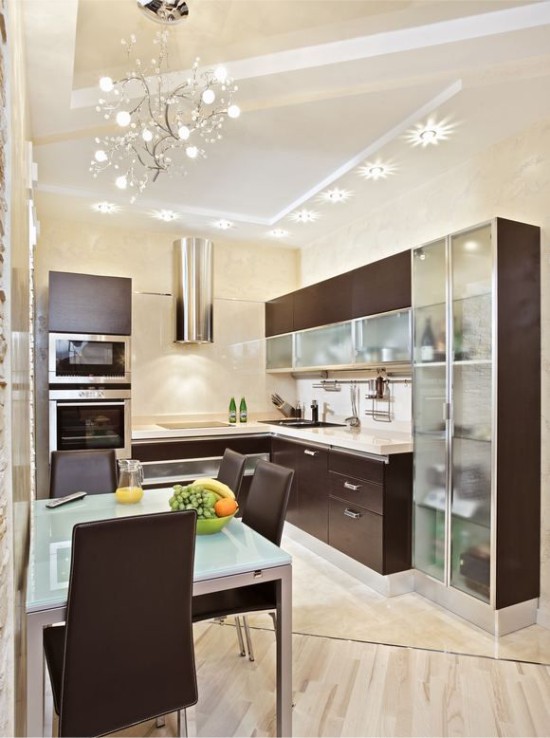 Other options for finishing the high-tech ceiling are: pouring with architectural concrete, stone cladding (most often they use stone tiles) or wood cladding (lining, panels).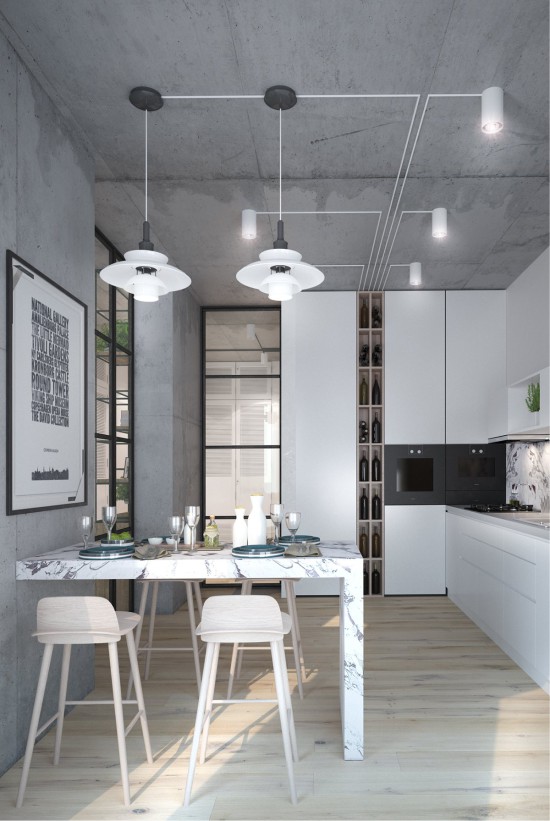 Wall and apron
The safest way to decorate high-tech kitchen walls is to paint in a neutral color, such as white or light gray..
The good thing about painted walls is that they are easier to keep clean. If necessary, the coating can be easily renewed and, unlike walls covered with wallpaper, they have no seams.
However, wallpaper can also become a good background for a "high-tech" kitchen, provided that it is glued properly, the canvases are monotonous or prints are minimalistic..
More original finishes:
Sheathing with wooden panels (most often partially);
Pouring with architectural concrete;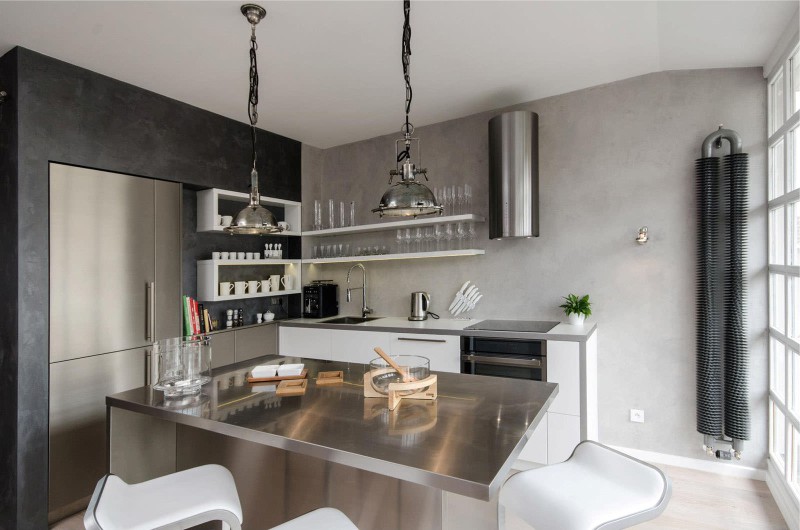 Facing with a stone (most often only one or two walls or some fragment are made out with a stone);
Decoration with mirrors (partially);
Brickwork (if you like a combination of high-tech and loft styles, such as in the interior of the kitchen in the photo below).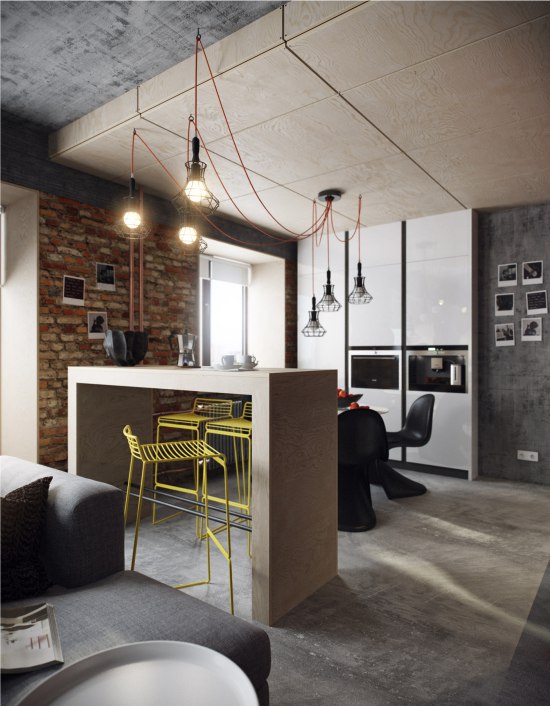 As for the apron, we recommend you arrange it:
Tempered glass or skinned (glass with photo printing);
Mirrors;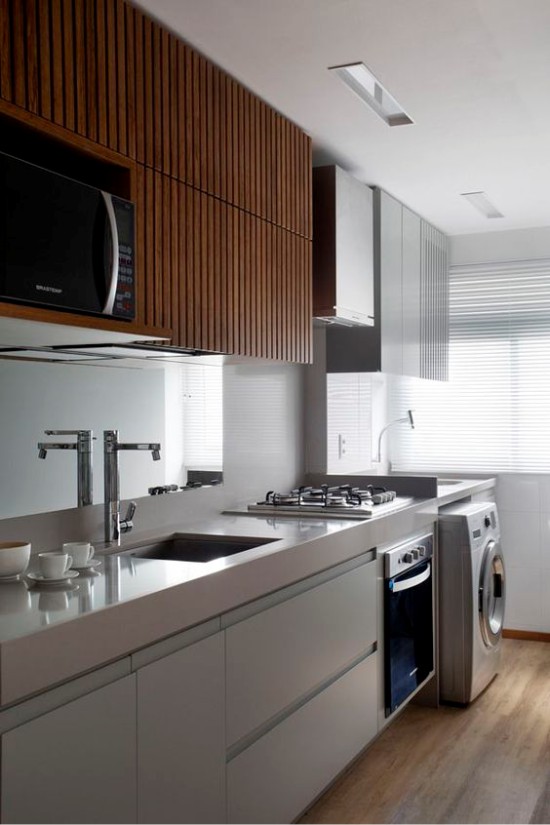 Stainless steel panels;
Architectural concrete;
Porcelain stoneware;
Ceramic tiles (subject to a laconic design);
Stone;
MDF panels.
Floor
The most suitable flooring options:
Wood or its imitation (parquet board, block parquet, laminate);
Ceramic tile;
Porcelain stoneware;
Concrete;
Natural or artificial stone (see photo).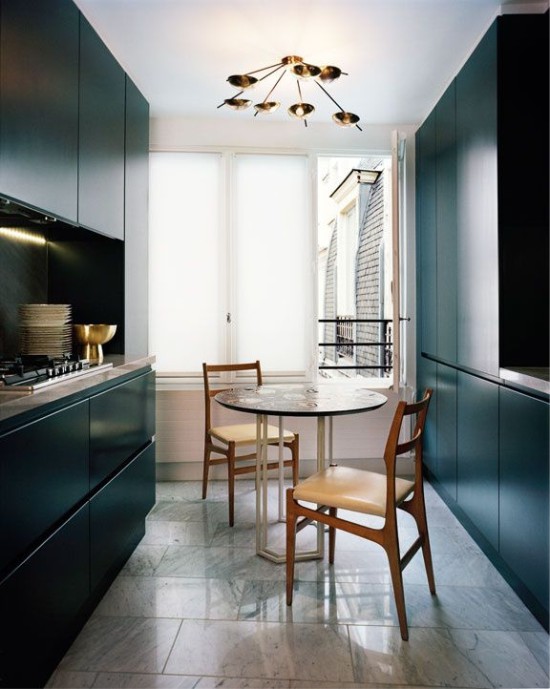 If you decide to finish the floor with tiles, porcelain stoneware, concrete or stone, we recommend that you first install the "warm floor" system. It will warm any cold floor and make your minimalist kitchen more comfortable..
Of course, the floor must be in harmony with the wall and ceiling finishes. As a rule, it either matches them in tone or, conversely, contrasts.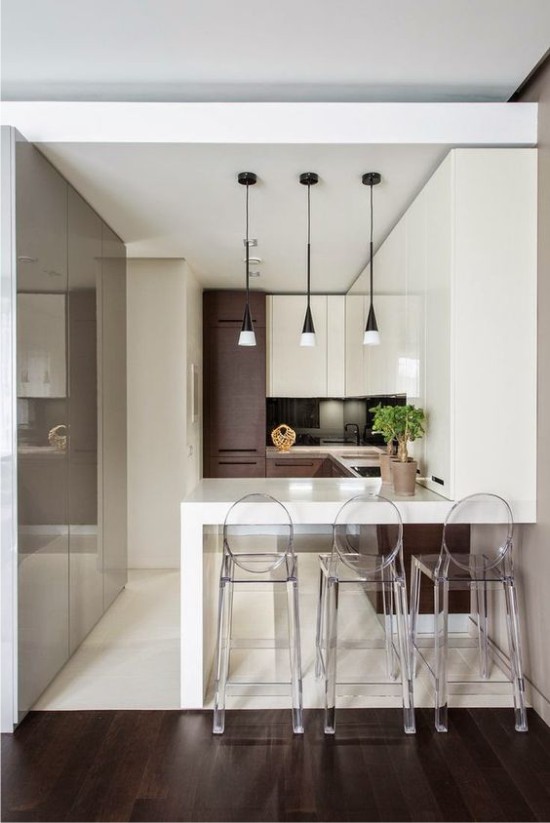 A carpet laid in, say, the dining area will help to add coziness to the high-tech kitchen. The main thing is that it fits into the interior in terms of colors and is practical (for example, made of nylon).
Kitchen set and dining group
High-tech kitchen furniture has a laconic design, straight or, conversely, streamlined lines. As a rule, it has no decor, but it compensates for this with the beauty of the texture or gloss. At the same time, high-tech furniture is super functional and easy to use..
Kitchen set
The ideal kitchen set in a "high-tech" style has solid facades finished with precious wood, stainless steel (see photo), laminated MDF. Glass facades are also appropriate..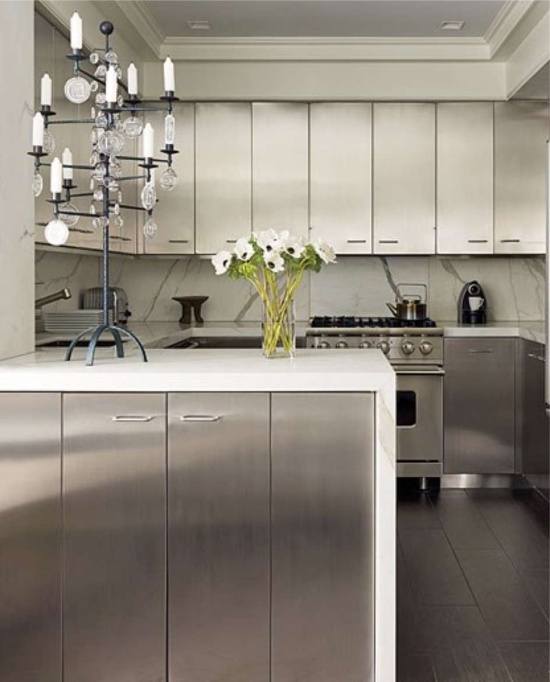 However, a high-tech kitchen should not only look like a "kitchen from the future", but also have interior fittings with the latest technology..
All cabinets and drawers should be opened by light pressing using the built-in push mechanism.
The doors of a modern cabinet should close quietly and smoothly thanks to hinges with closers (stoppers).
Also, "high-tech" hinges can open the doors not to the side, but lift up or lower down.
If the kitchen has an area of ​​more than 18 sq. meters, then the kitchen set should be supplemented with an island table. It can be equipped with at least a bar counter, storage cabinets and a hob and, at most, a sink, wine cabinet, refrigerator.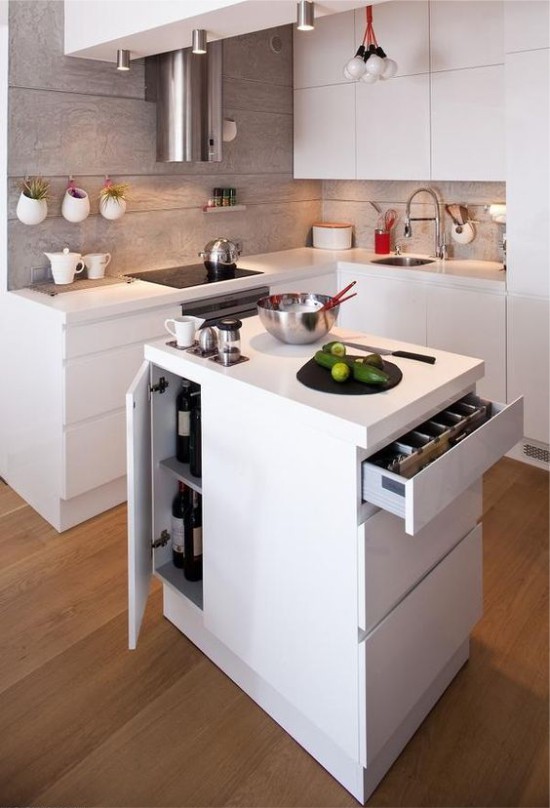 The color scheme of the kitchen set in this style is always with a cold undertone. Suitable colors: black, gray (and all its shades), silver, white, beige, dark brown.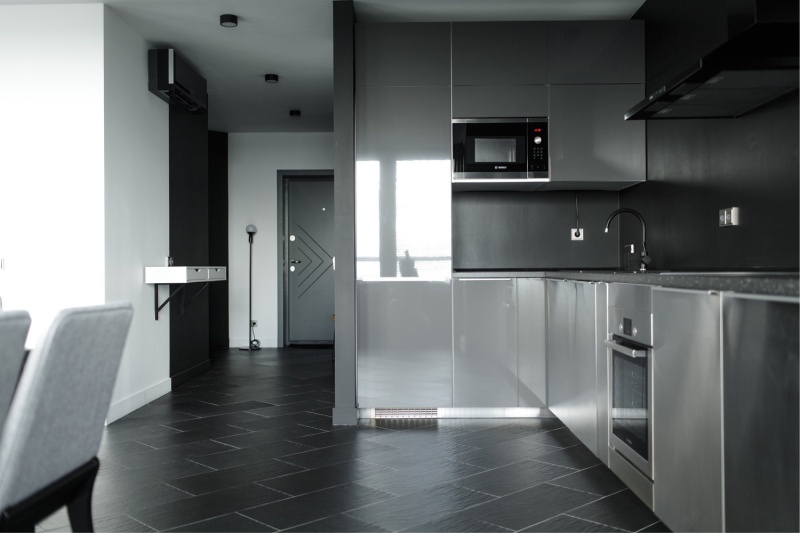 Another important point is that all large household appliances must be built in. This applies to refrigerator, dishwasher / washing machine, oven, microwave oven, hob, wine cabinet.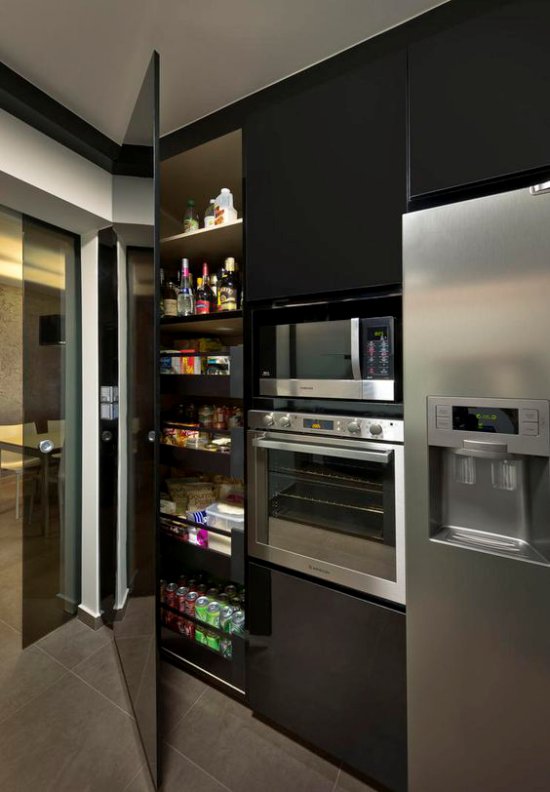 Dining group
For a small kitchen, a bar counter, a compact glass table or a transforming table is ideal, which can turn from a compact two-seater table into a table for 6 people. Chairs can be made of curved plywood, wood, metal, plastic and transparent polycarbonate. The main criteria for choosing furniture for a small high-tech kitchen: laconic design, lightness and versatility of the design.
In the next selection of photos, you can get ideas for arranging a dining area in a small high-tech kitchen.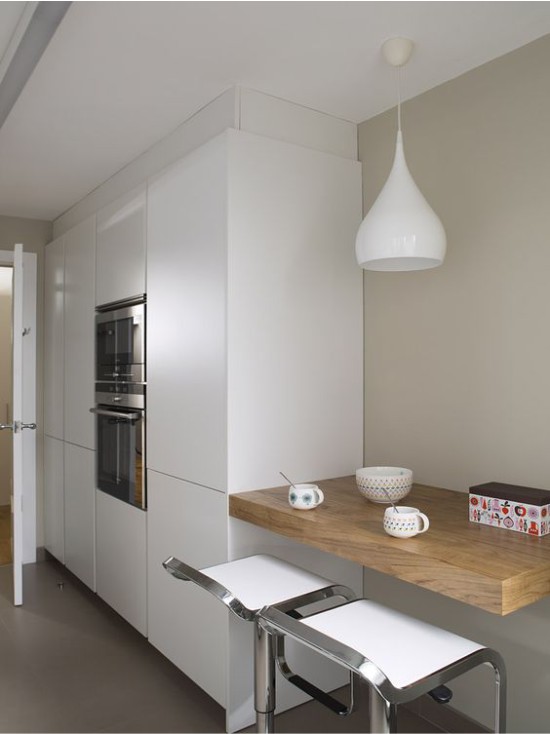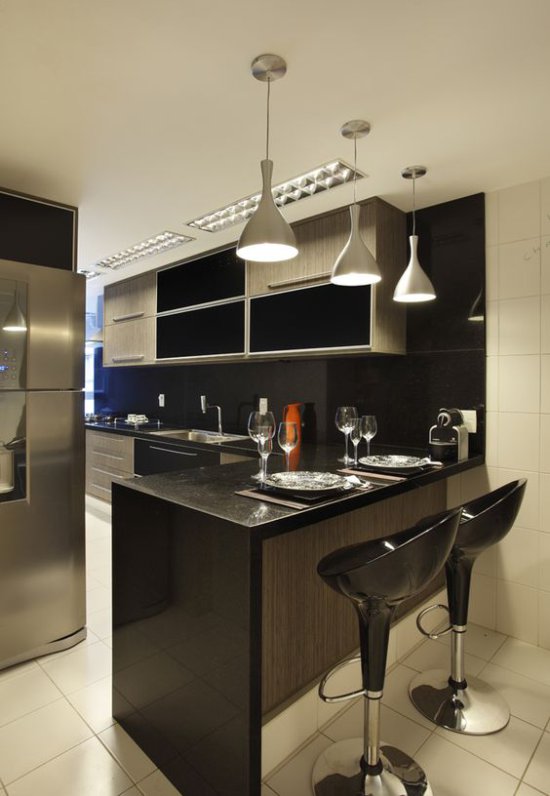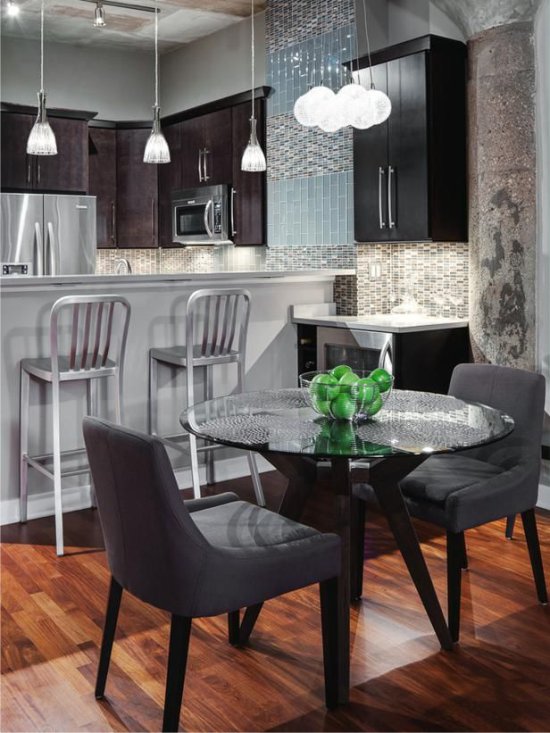 High-tech dining table in a small kitchen-living room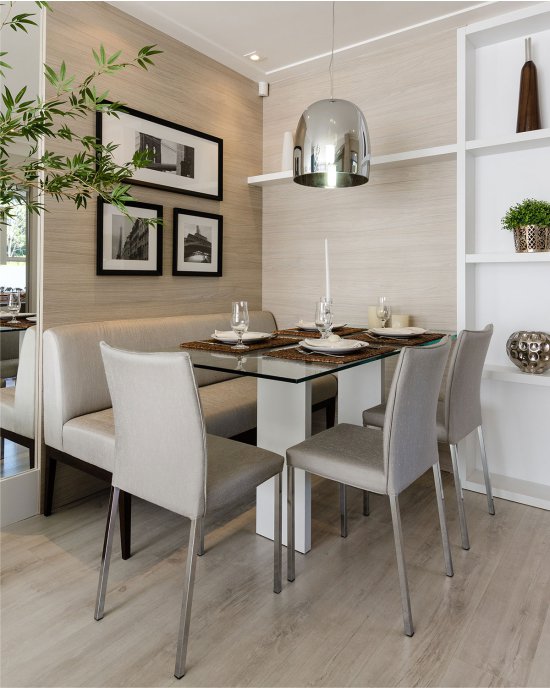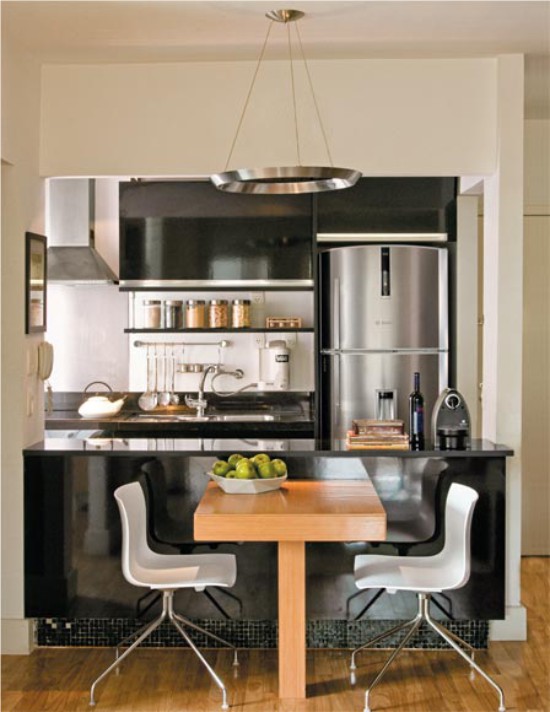 If the kitchen is spacious enough, then you have much more options for arranging the dining area. You can choose a light or, conversely, a very massive table for 4-8 persons and choose comfortable half-chairs with armrests for it. It is good if the main table is complemented by a bar counter for snacks and breakfasts..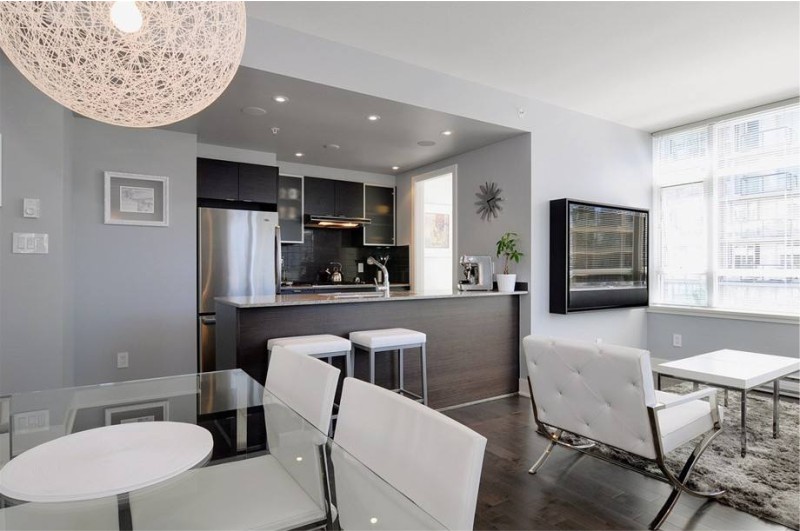 Appliances
Of course, high-tech kitchen design is unimaginable without modern technology. Here are some tips on how to choose and fit it organically into the interior:
All large household appliances must be built into the furniture.
To save space on your work surface, give preference to household appliances with the maximum possible capabilities. For example, a food processor can be purchased with a meat grinder and juicer function., multicooker – with the functions of a bread maker, pressure cooker and double boiler, and an oven – with the capabilities of a microwave oven and grill.
Perhaps, only in a high-tech interior, household appliances have not only a practical function, but also a decorative one. Therefore, it is advisable to select all appliances – from refrigerator to toaster in the same style and color, for example, in a shade of chrome or black gloss.
It is desirable that the equipment be "smart": with the possibility of voice or remote control via a remote control or your smartphone, have touch buttons / sensors (especially important for a mixer) and / or an autostart option.
Curtains
High-tech kitchen curtains should be laconic and functional. The following types of curtains are perfect:
Roller blinds;
Blinds (both horizontal and vertical);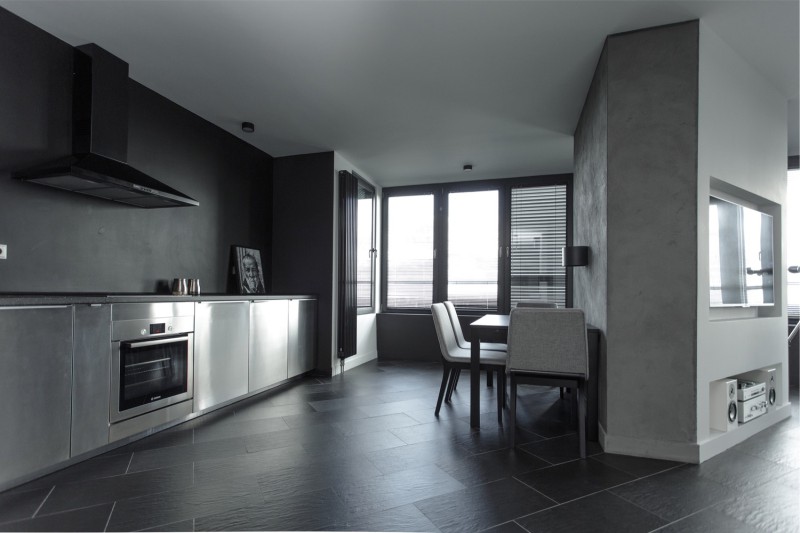 Classic curtains (subject to discreet fabric design, strict drapery and floor length);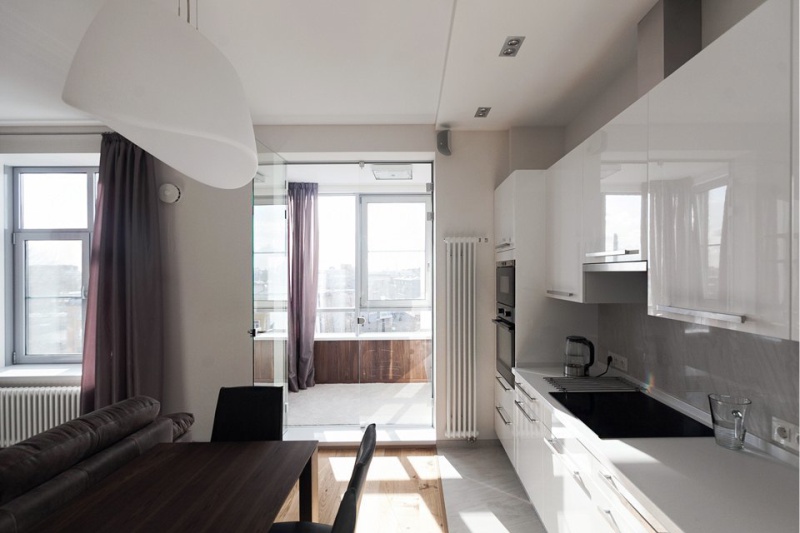 Panel (Japanese);
Roman curtains;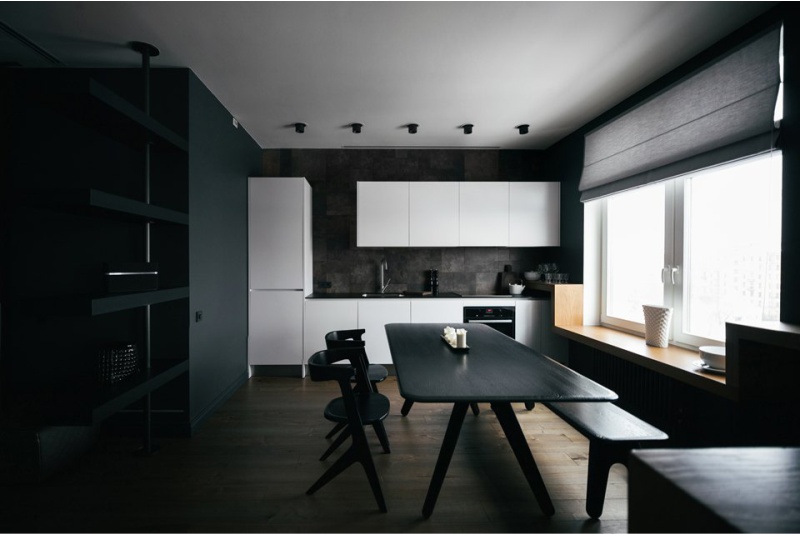 Ideal type of curtain rod – hidden ceiling, motorized and remote controlled.
Lighting
In the design of a high-tech kitchen, it is very important to create the right lighting, otherwise even the most beautiful and well-equipped space will become uncomfortable and uncomfortable. At the same time, it is the light that will help correct some of the imperfections of the interior and bring a sense of comfort to it. Here are some secrets on how to make your high-tech kitchen lighting soft and pleasant:
There should be a lot of natural light in the kitchen during the day, so make sure that nothing interferes with its penetration..
The lighting scheme should be thought out long before the renovation in order to hide all the wires in the grooves, under the false ceiling, floor covering or furniture..
Calculate exactly how powerful the artificial lighting in your kitchen should be. Then, according to the received data, distribute several small light sources around the room. For example, you can install spotlights around the perimeter of the ceiling (with or without a central chandelier) or mount multiple wall sconces..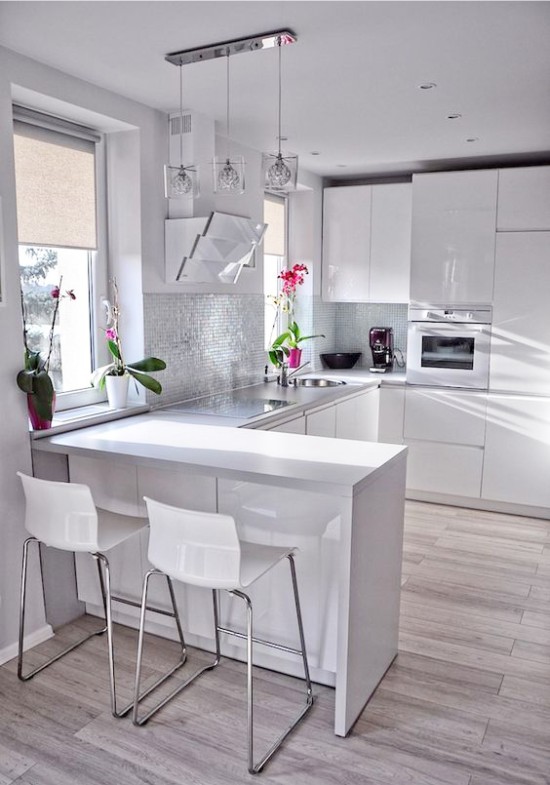 Keep in mind that lighting a kitchen with one central light narrows the space and makes it uncomfortable due to harsh shadows..
The work area must be illuminated furniture LED lighting. However, the lamps can also be installed on the ceiling – directly above the countertop or closer to the inner wall, but not behind it, so that the chef does not block the light with his back during cooking.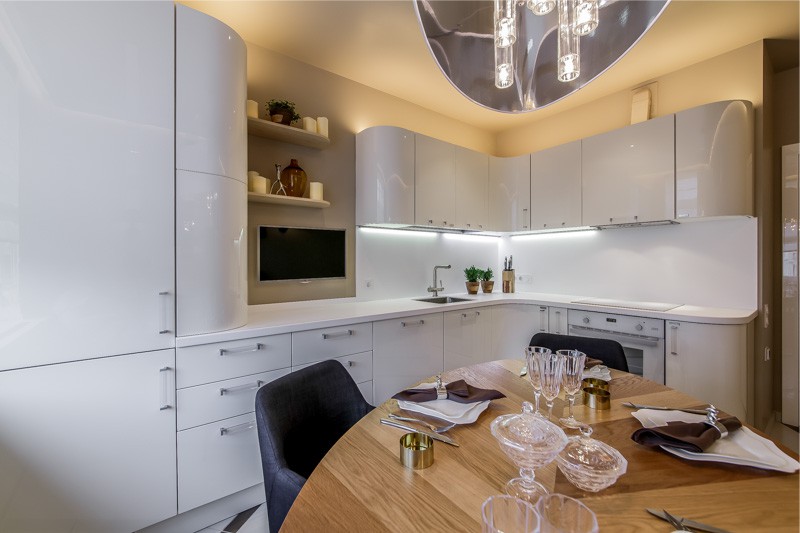 With the help of light, you can zone the space. For example, by hanging a beautiful chandelier or pendants directly above the table, you will separate the dining area from the work area..
With the help of LED lighting, you can create the effect of kitchen furniture floating in the air, as shown in the photo below. To do this, you just need to stretch the LED strip along the base of the headset. You can also illuminate niches, cabinets and shelves with LEDs..
The design of high-tech luminaires should be laconic and simple or emphatically futuristic. The most "high-tech" materials are: glass, wood, metal and plastic.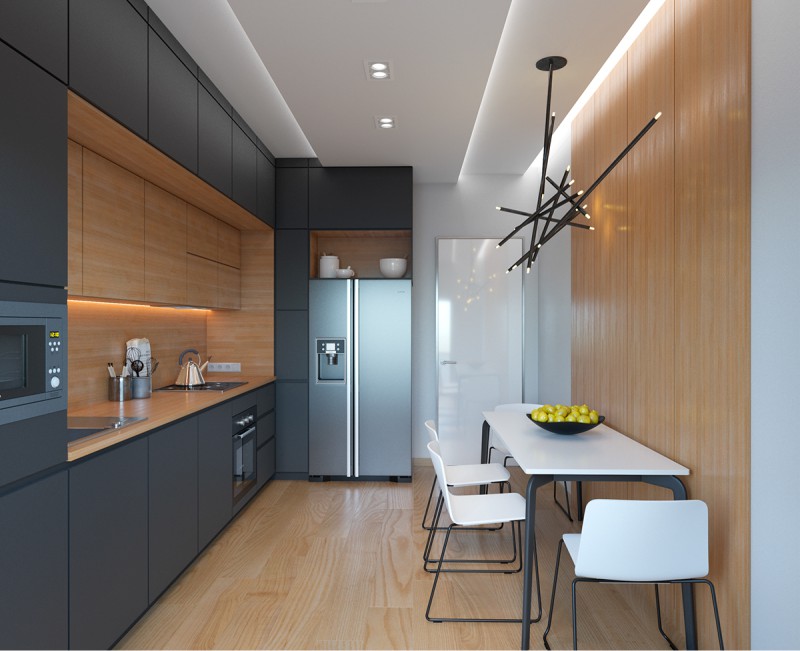 Decor
There is no place for an abundance of decor in a high-tech kitchen, but this does not mean that it should not be at all. Otherwise, the interior will seem uninhabited and boring. Here are some accessories and embellishments that won't spoil the high tech aesthetic, but add a sense of coziness to the environment:
Houseplants and flowers in strict pots. Bamboo, calla lilies, orchids, succulents and other naturally "minimalistic" plants are especially suitable;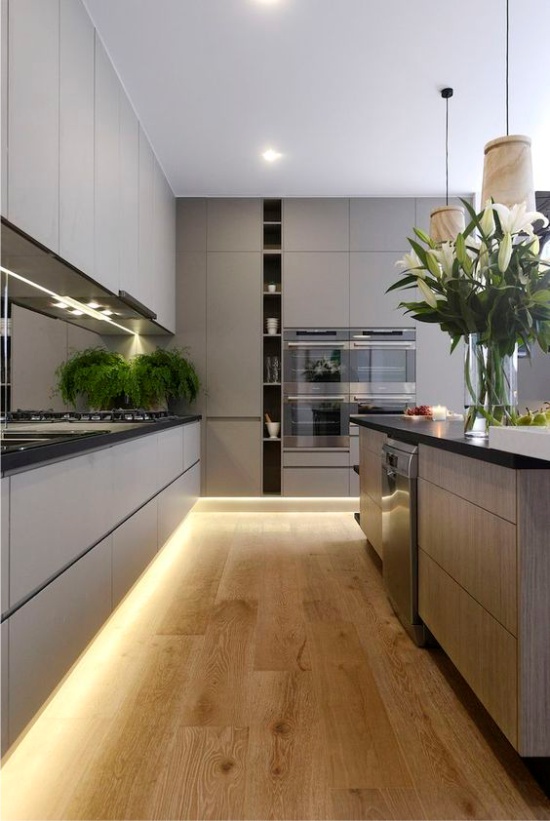 Watch;
Framed black and white photos;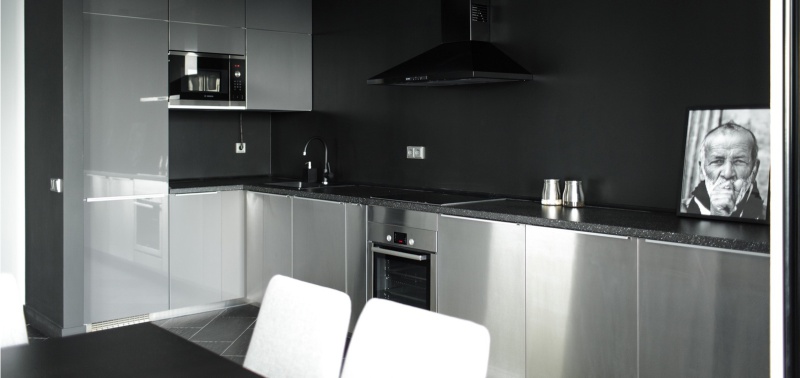 Abstract, graphic and other conceptual paintings and posters;
Compositions from vases, possibly with decorative filling;
Figurines;
Dishes with fruits.