Everything about laminate flooring in the kitchen – from selection to installation
Laminate is often referred to as "laminated parquet" and is an inexpensive alternative to hardwood or solid planks. This is exactly how it was conceived by the manufacturers, and today it can reliably copy tiles. If you want the entire apartment to have the same floor, then you most likely wondered whether it is possible to lay laminate in the kitchen and how practical it will be. Rest assured, modern laminate flooring is able not only to copy ceramics and wood, but also to replace them with dignity in terms of their operational characteristics. The main thing is to choose the right class of wear resistance, type of coating, beautiful and non-marking design, and, of course, put it in high quality with your own hands..
Laminate is a material composed of medium density (HDF) fibreboard and melamine resin impregnated paper on which the pattern is applied..

Composition:
Top layer of acrylic or melamine overlay, no more than 1 mm thick, protects against wear.
Decorative layer – several or one patterned paper impregnated with melamine resins.
Damper – intermediate protective-decorative, sound-absorbing layers that increase impact strength. Most often made from impregnated kraft paperboard.
HDF board – wood fiber base layer 6-8 mm thick.
A stabilizer is a layer of paper impregnated with paraffin or resin that protects against warpage. Prevents the fiberboard from reacting to temperature and humidity changes.
Pros – Cons

The main advantage of the laminate is that it copies expensive materials well, not much inferior to them in durability and practicality, while being cheaper..
The affordable price does not deprive the coating of functionality – a high-quality laminated floor can be laid in the kitchen, since the coating is easy to clean, does not fade under UV rays, and is not afraid of stains, bumps, cracks or scratches. Really high quality material will be resistant to abrasion.
Why is it better than other floor coverings – tiles, linoleum, self-leveling floor, parquet and solid boards?
It is warmer than tiles and less noisy;
Unlike parquet and solid boards, traces of stiletto heels do not remain on the laminate;
There are no dents on the laminate from heavy kitchen furniture, which is characteristic of linoleum;
It can be easily put with your own hands and without a partner – unlike a self-leveling floor, for example;
Laminate is practically the most affordable type of floor finish..
Nevertheless, if in the bedroom and living room the laminate can be called an ideal coating in all respects, then in the specific conditions of the kitchen it still has some disadvantages..

Some types of laminate really cannot (or can, but with caution) be placed in the kitchen, since they cannot withstand high humidity, temperature fluctuations, or spilled coloring liquids such as wine or beetroot juice, and can be deformed from falling heavy and sharp objects. We will tell you how to choose a laminate for the kitchen below;
The disadvantages of laminate flooring include a fairly sonorous sound, which forms a coating when objects step or fall. However, this drawback is more likely a consequence of incorrect installation than a problem of the material itself. The "defect" is eliminated with the help of a special sound-absorbing substrate;
There is an opinion that the laminated coating is not environmentally friendly enough. But manufacturers with a well-deserved reputation in the market refute this misconception by conducting serious tests on the toxic safety of their products. Such tests are confirmed by a hygienic certificate that accompanies each batch of material;
Artificialness – no matter how reliably it imitates the original materials, it still remains a copy and, to one degree or another, loses to them in aesthetic and operational qualities.
How to choose a coating by strength class

How to choose a laminate for your kitchen? First of all, you need to focus on the strength class.
This class is designated by two numbers. For domestic use, coatings of class 21, 22, 23 are intended – in ascending order of durability. According to this classification, you can put class 23 laminate in the kitchen, it is inexpensive, but it will last no more than 4 years, since it consists of only three layers..
In fact, household laminates of class 21 and 22 are no longer on sale in stores. The reason is the lack of demand. The commercial type is more popular in Russia..
The material of commercial classes is considered to be more durable – 31, 32, 33. But the 31st class of wear resistance is more suitable for bedrooms and living rooms, and for the kitchen it is better to choose 32, 33, 34+ classes. Such a floor can last in the kitchen for about 25 years. You can read more about laminate classes at Wikipedia.
Commercial coatings consist of five layers:
Moisture resistant film at the base;
High density wood board;
Decorative layer made of durable paper;
Acrylic resin to protect the decor;
Moisture resistant top film.
Moisture-resistant or water-resistant coating?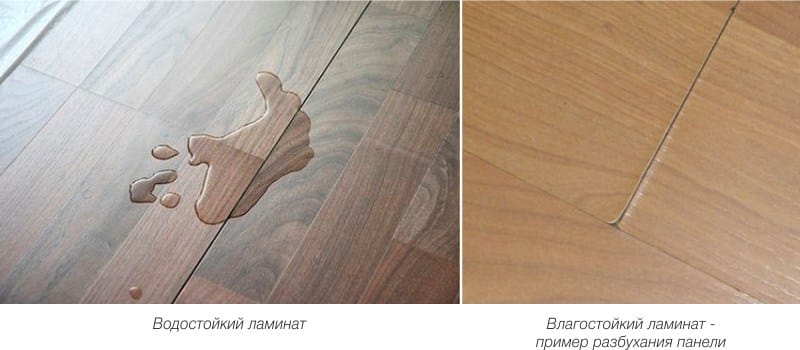 High-quality modern laminated panels are practically not afraid of water – special wax-based water-repellent compounds are applied to them as a protective layer. However, not all manufacturers process the joints between the panels, and therefore these parts of the coating remain susceptible to moisture..
For the kitchen, you can choose:
Moisture-resistant coating – does not react to high humidity in the room, but the base may deform if water gets into the joints. Able to withstand drops, splashes and even small puddles, but the exposure time to the liquid should be no more than 20 minutes. In this case, when laying, sealing of the seams is required..
Waterproof laminate is more expensive but can resist moisture for up to 6 hours. Here, the joints are processed at the factory, so that additional measures to protect them are not required. The most reliable is a laminate with a plastic base, but it is also the most expensive..
Types of decor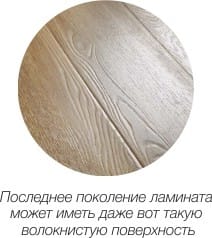 Choosing a laminate for the kitchen, you can get confused – there are a lot of patterns, colors and textures: from copies of a cork floor to imitation of snakeskin. The most popular option is the "wooden" design for a solid board with a 1: 9 or 1: 6 aspect ratio. High-quality laminate is so similar to parquet that it even has a fibrous texture on the surface.
In addition, manufacturers offer a laminate with bevels on its transverse and longitudinal sides, so that it is as similar as possible to wooden parquet boards..


Also, before going to the store, keep in mind that laminate flooring can have one, two, three or many stripes in a die. Think what you like best.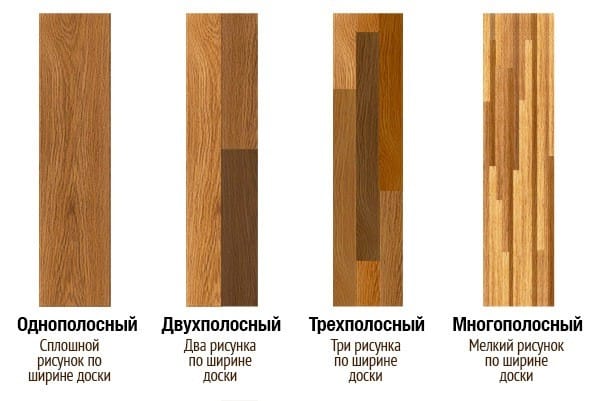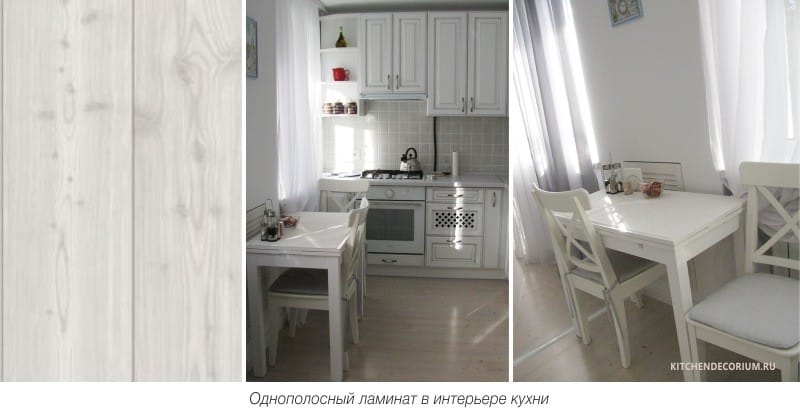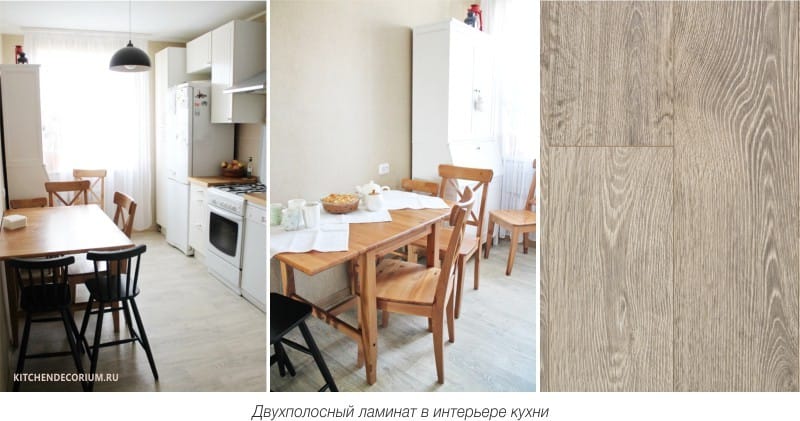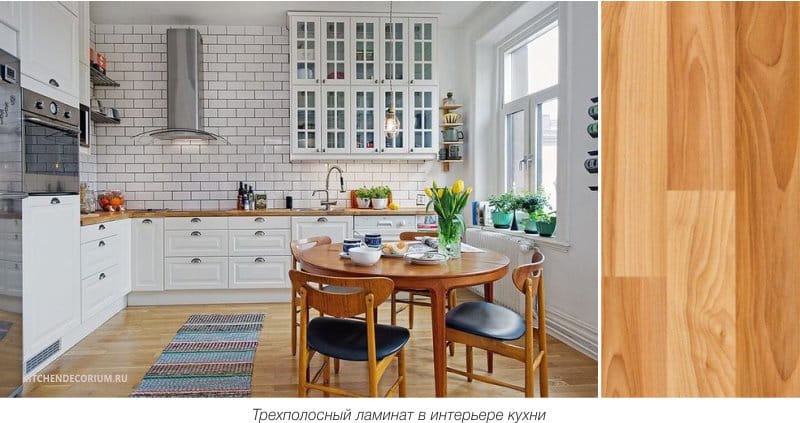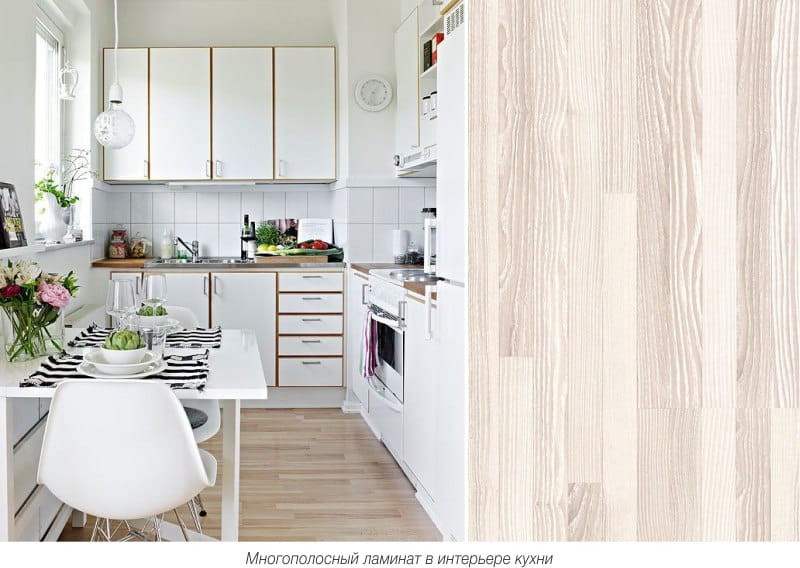 Color, texture, "wood species" should be chosen based on personal preferences and focusing on the color of furniture and flooring in other rooms. In addition, if cold shades prevail in the interior of the kitchen, then it is better to choose a laminate with a cold undertone. In the photo below, the floor design in the "cold" interior of the kitchen was chosen on the basis of this rule..

And in the next photo there is a brown laminate in the interior of the kitchen with the predominant warm colors in the furniture and decoration..

But this recommendation, of course, is not a dogma. Neutral wood shades can harmoniously blend into kitchens of any color and design.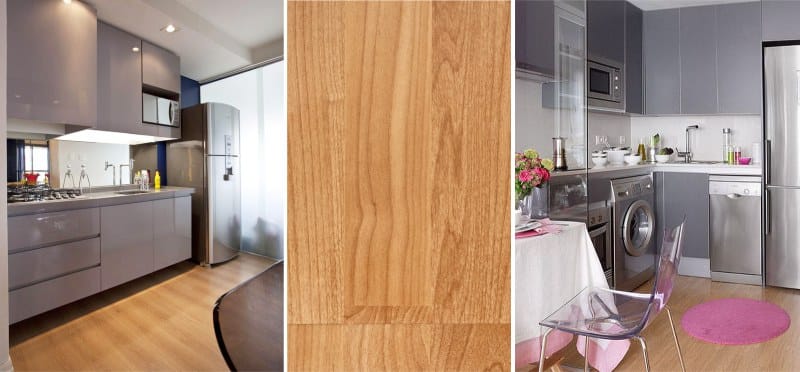 Read more about the combination of colors in the interior of the kitchen here.
Light and dark laminate are not the easiest options to clean. On a dark surface, crumbs, dust, stains, light hair from pets, etc. will be visible. On light coatings, all defects such as chips and swollen joints will be noticeable..
In terms of practicality, the best colors are gray and traditional brown..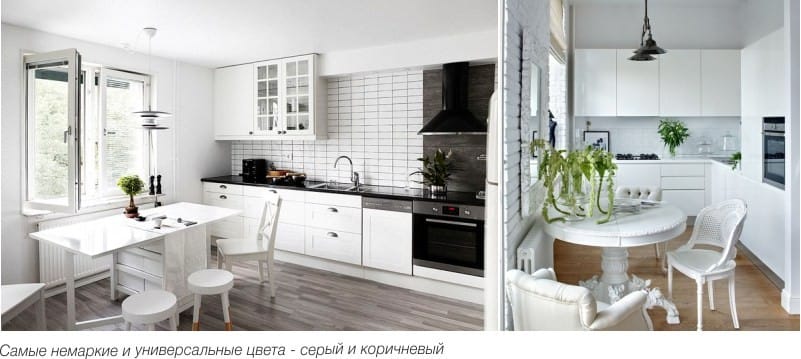 The tile floor also has a similar "ceramic" texture with roughness and porosity, and a shape with an aspect ratio of 1: 3 or 1: 4. But this option is not in great demand, since instead of a "copy of a tile" it is better to use a real tile.
See also: How to join tiles and laminate with and without a threshold – 5 solutions
Laminate laying rules
Covering with a modern locking system is easy to install even for a beginner without any experience. To do this, you need to consider just a few nuances. So, how to lay the laminate with your own hands.
Concrete, wood or even tiles are suitable as a base for such a floor. It is important that the base is even, without cracks and with high-quality waterproofing. Clearances are allowed under the rule no more than 2 mm / rm.
When buying a laminate, you need to purchase material with a 10% margin. Subsequently, this will help to easily carry out local repairs..
Laminate can be installed along or across the room, as well as diagonally. It is believed that the joints will practically not be visible if the floor is laid in the direction of the sun's rays falling from the window..
The laminate installation technology is simple:
The base is leveled. In the case of concrete surfaces, a new screed is poured.
The substrate is mounted, always overlapping the entire surface of the floor.
Flooring is carried out from the corner of the room.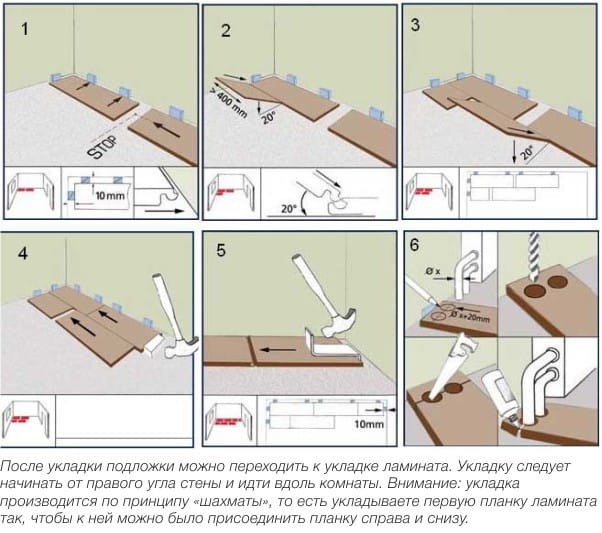 A compensating gap of about 8-10 mm (but not less) must be left near the wall and around the pipes, allowing the material to "float". Subsequently, it is hidden with a baseboard.

The laminate is laid in a staggered manner – so that the transverse joint seam is interrupted.
If the laminate still seems to you not strong enough for the working area, then you can lay ceramic tiles here, as shown in the photo below.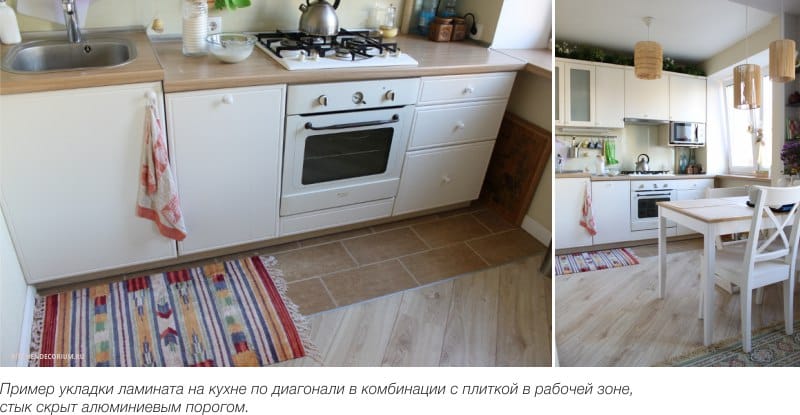 How to properly lay the laminate with your own hands is described in great detail, clearly and professionally in this video: