All about linoleum for the kitchen – compare, choose and lay with our own hands
Linoleum is a floor covering made of 6 layers of polymer material, which is produced in the form of rolls.

In fact, linoleum is also called wall, completely natural and even tile-type coatings, but in this article we will consider exactly the familiar PVC coating and learn how to choose the best linoleum for the kitchen.
Than linoleum is worse / better than tiles and laminate?
There are a number of reasons why it is necessary to put linoleum on the floor in the kitchen, and not tiles or laminate. Among the main advantages of the material:
Durability (linoleum 32 and 33 classes have a service life of 8 to 15 years);
High wear resistance – withstands drops of sharp and heavy objects, suitable for apartments with pets;
Ease of maintenance – it is very easy to wash the PVC cover. In addition, unlike laminate and parquet flooring, it can be easily washed from spilled beetroot juice or red wine;
It has heat and sound insulation properties, it is much warmer than laminate and tile, in addition, this material can be called the quietest;
Wide range of designs – PVC coating can perfectly imitate a wooden floor in both color and relief texture. Today, high-quality linoleum cannot be immediately distinguished from a parquet board or laminate. But wood textures are not the only possible design, there are options for flooring with tiles, leather or stone. The most popular colors and textures can be found later in the photo of linoleum in the interior of the kitchen;

Cost – depending on the manufacturer, type and class of wear resistance, the price varies from 150 to 800 rubles. for 1 sq. m;
In a kitchen, material with a cost of at least 350 rubles / sq.m is acceptable.
Linoleum can be easily, quickly and cleanly put with your own hands, unlike any other flooring;
Also, you can relatively inexpensively entrust the installation to specialists – professional laying of tiles, laminate, parquet boards and pouring a self-leveling floor is much more expensive, and it is more difficult and more troublesome to lay them with your own hands;
Dismantling the linoleum floor is very simple, you can also do it yourself, without a partner and special tools.

And now about the disadvantages:
Heavy furniture can dent;
Artificial material – natural materials are always more valuable and beautiful;
If linoleum is bought at temperatures below + 10 ° C, then you cannot unfold the roll immediately after purchase. It is necessary to let him lie down (rolled up) at room temperature (not lower than +15 C) for 1-2 days. Otherwise, it may crack;
If you lay it incorrectly and not on a leveled base, then it can "float" and wear out faster from this;
When joining several pieces of linoleum, a seam will be visible, but if you dock the drawing correctly, then the junction will not be so noticeable.
5 myths about linoleum
"The floor smells unpleasant for the first time" – modern high-quality material is practically odorless and does not emit harmful substances.
"Over time, dark / light paths appear on the surface in places that are most often walked on" – yes, indeed, after a few years of operation, scuffs may appear on the surface of a household type of linoleum due to frequent cleaning of the floor with aggressive household chemicals, walking in shoes on black rubber, etc. But for coatings of class 31, 32, 33, laid on an even base, this defect is not characteristic.
"The thicker the linoleum, the longer it will last" is not quite a true statement, because now the wear-resistant coatings of commercial and semi-commercial type are thicker than household coatings. But the thickness of the transparent (protective layer) plays an important role, it should be at least 0.5 mm.
"The seams can come apart" – this problem is no longer relevant for new generation linoleum.
"With high humidity, mold forms under the linoleum" – the formation of fungus under the PVC coating, laid correctly, is impossible, since it is made entirely of artificial material, and the upper protective layer absolutely does not allow water to pass through. If a flood occurs, you just need to peel back the raw part of the linoleum and let it dry. In case you are often flooded by neighbors or leaking pipes, it is better to choose a tile.
We go to the store – what you need to know?

So, how to choose linoleum for the kitchen?
Before going to the store, you need to take measurements. Measure:
Maximum floor width;
Maximum floor length;
The length and width of niches and doorways;
You need to add 8 cm (80 mm) to each measurement, so you will take into account the unevenness.
Also, you need to decide on the type of wear resistance, the level of abrasion and the type of coating..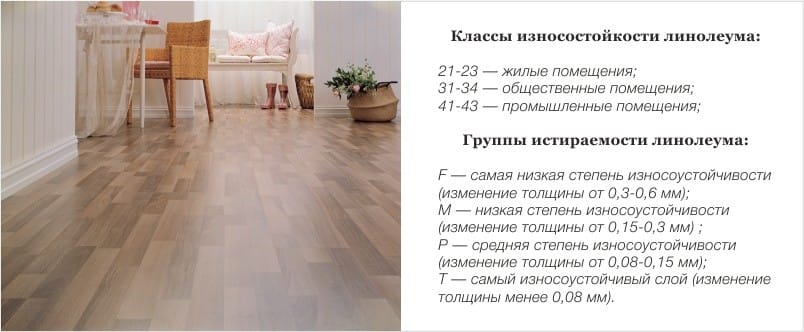 Linoleum is divided into 2 groups:
Homogeneous, i.e. one-layer coating – its thickness is up to 3 mm. Not very popular due to the lack of many colors.
Heterogeneous, multi-layer, up to 6 mm thick. There are several layers in the structure of such linoleum, from durable fiberglass to PVC, plus decorative and protective layers.
The main quality criteria are:
The abrasion class (according to the European certificate EN660-1) is defined as the degree of wear of the upper protective layer after exposure to an abrasive wheel in certain modes. There are four groups: the most durable T (0.08 mm), weakly abraded P (0.15 mm), moderately abraded M (0.3 mm), F – highly abraded (up to 0.6 mm).
Wear resistance level. The European classification EN685 in this case provides for a two-digit marking. The first of them indicates the type of room, and the second shows the level of the ultimate floor load. These are the same wear resistance classes that divide the coating into household, semi-commercial and commercial. For the kitchen, it will be right to choose a coating of at least 23 class, but optimal – 32-33.
Each subsequent increase in position leads to the fact that the floor becomes more expensive by approximately 1.5 times.
In addition, the dimensions of the material also differ – it is supplied in standard rolls with a width of 1.5-4 meters. If you choose a roll width that matches the parameters of the kitchen, then as a result, you can make a floor without seams..
The choice of design and photo in the interior of the kitchen
On the kitchen floor, you can put linoleum with a matte or glossy top layer. It is more advisable to use gloss, since it is easier to clean.
The assortment includes:
Classic beige and brown wood imitations;
Imitation of natural stone or ceramic tiles;
High-quality mosaic or parquet images;
Fantastic textures, patterns;
Single color coatings.
High-quality linoleum imitating parquet will look incredibly authentic. "Wooden" linoleum will fit into any kitchen.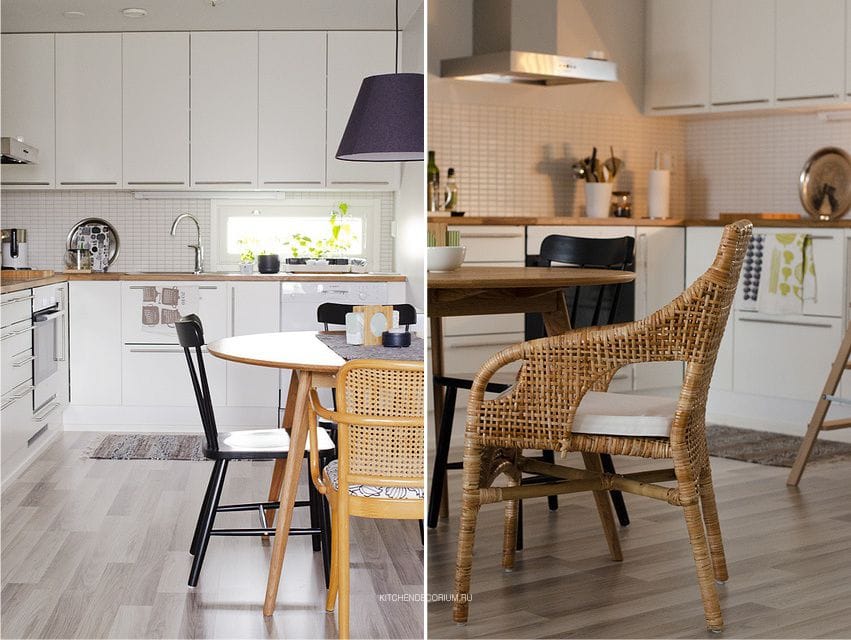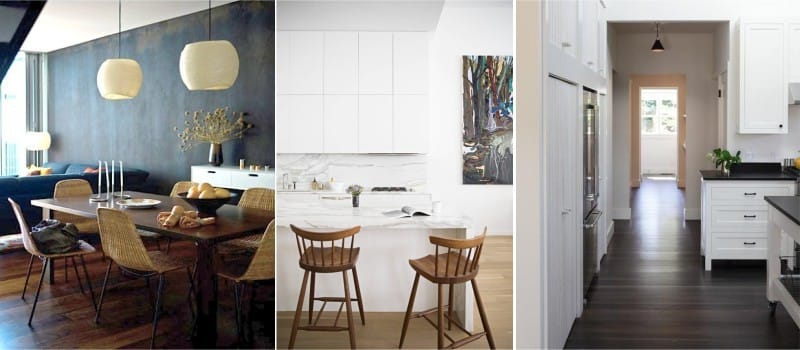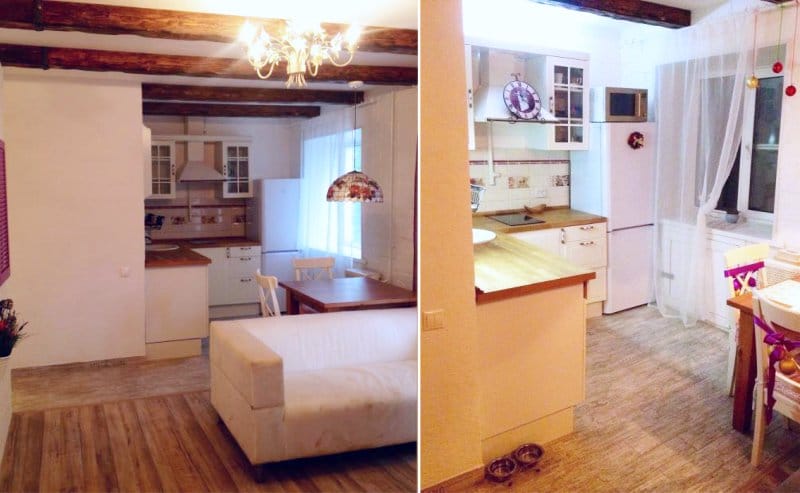 On a dark and too light floor, dust, crumbs, stains are visible. From the point of view of ease of maintenance, it is better to choose brown and gray tones. In addition, the dark color conceals the space, so it can only be used in large and light kitchens..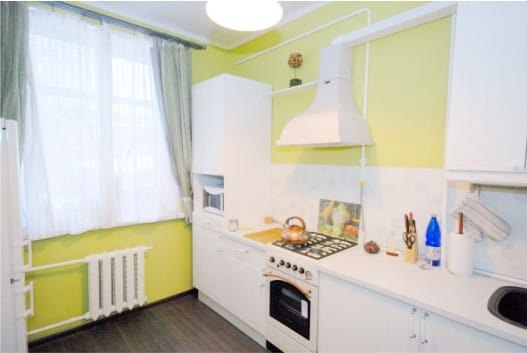 The drawing of an aged board on the floor is now in vogue and will not come out for a long time. Such a floor will decorate the kitchen in a rustic, classic, Scandinavian and loft style (scroll to the right).
For classic interiors, the best solution will be a reliable imitation of ceramics..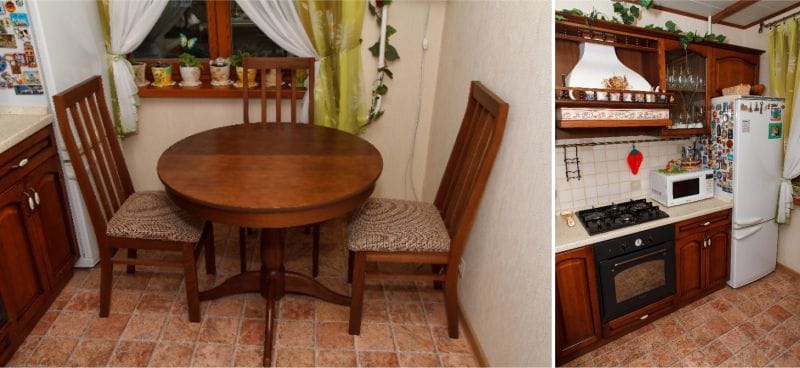 Plain linoleum of cold or contrasting colors is suitable for a high-tech kitchen and minimalism.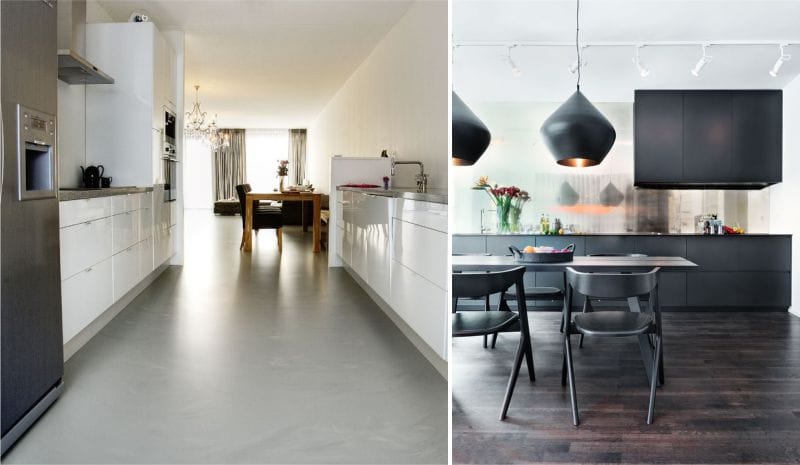 If the footage allows, you can choose solutions of the brightest colors, with volumetric geometric patterns – it will be appropriate in the styles of eclecticism, pop art, Scandinavian.

To visually increase the space of the kitchen, light linoleum of cold tones is laid on the floor..
At the same time, remember the well-known rule: transverse stripes visually expand kitchens, and vertical stripes lengthen.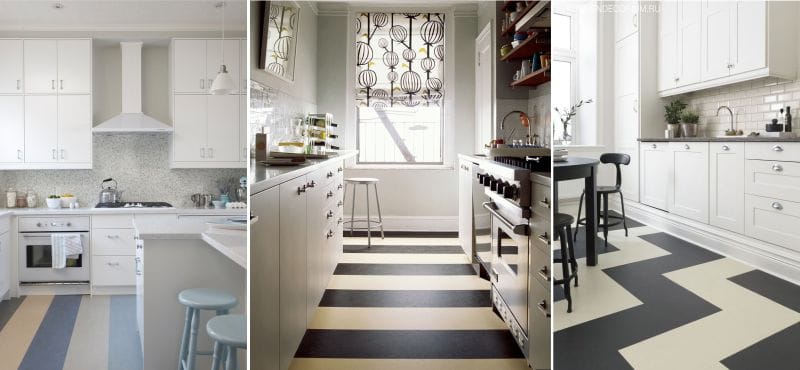 Warm flooring colors will make the kitchen cozier, and bright contrasting solutions will add dynamism to the room..
Linoleum laying rules

Putting linoleum on the floor with your own hands is so easy that even a beginner can handle it. After dismantling the old floor, you can start working.

The main difficulty is leveling the subfloor and sealing cracks (after which all construction debris and dust are removed very carefully), but this stage is necessary for the installation of any type of floor covering.
If you plan to level the base with your own hands, then a self-leveling self-leveling mixture is best suited for this. Of course, linoleum is not laid until the screed is completely dry..
So, how to lay linoleum with your own hands?
After the base is ready, the rolled roll is brought into the room (at a temperature above + 15 ° C) and left for "acclimatization" for 1-2 days. After leveling the linoleum, it is cut off. To do this with your own hands, you need a very sharp construction knife. It is cut easily and evenly, thanks to the markings on the reverse side along and across. However, when trimming, you will need to leave a technological gap between the coating and the wall – 5 mm. This is necessary for the free movement of the material during shrinkage..
Now you need to fix the linoleum well. For strength, it is glued over the entire area..
Express way: you can only stick it around the perimeter with double-sided tape. After that, the material is carefully pressed with baseboards..
In this video, you can learn more about how to choose linoleum for the kitchen and how to lay it with your own hands on glue: