Choosing a pan for universal use: comparison of 7 types, 6 tips and 1 video
In many ways, the quality of the dish and the ease of its preparation depends on the correct choice of the pan. Let's compare the 7 main types of saucepans and find out which type of saucepan can be called the most versatile and best..
7 types of pots – compare and arrange on the shelves
Enamelled casserole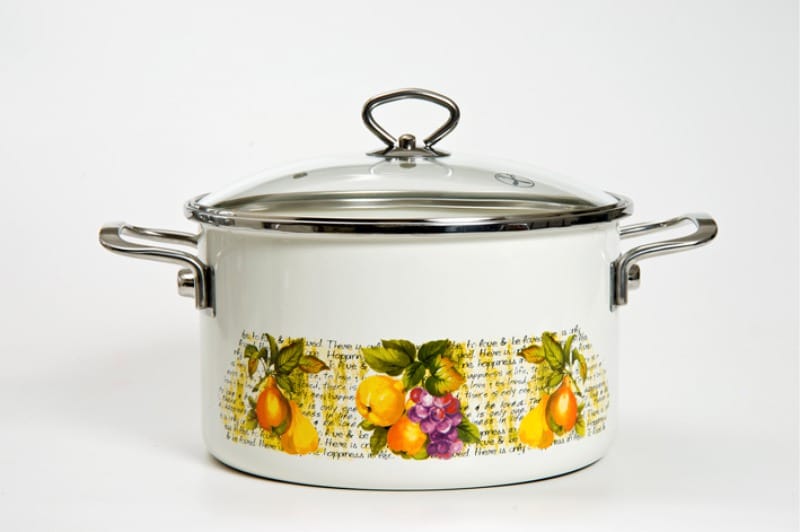 Pros: light, beautiful, water quickly boils in it. And you can also store food in the refrigerator, as the enamel protects it from oxidation and exposure to metal salts.
Best for: cooking soups, stewed fruit, side dishes.
Cons: enamel – the coating is fragile, and therefore – temporary and requires careful handling. It cannot be rubbed with abrasives and washed with acidic solutions, such as vinegar and citric acid, so as not to ruin the enamel..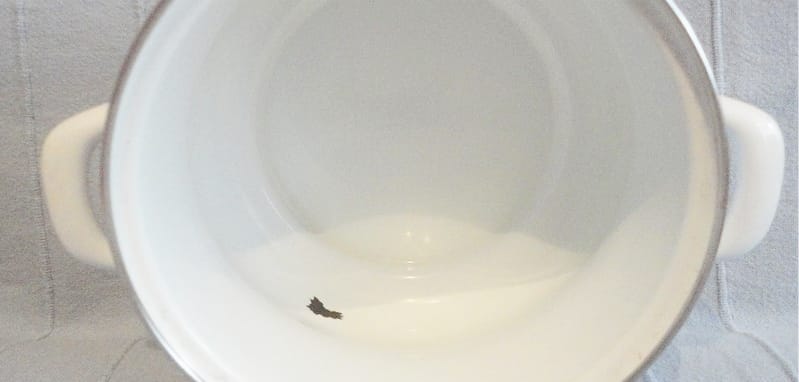 As soon as the enamel has rubbed off or has gone astray, as in the photo above, the dishes become unusable, since the open metal will begin to "give away" to the food unhealthy salts.
Poor For: Cooking syrups and preserves.
How to choose an enamel pot: Enamel pots can be coated in two ways: by dipping or spraying. Today, many modern manufacturers apply enamel to dishes by spraying, but such a coating is thin and short-lived. Therefore, look for a Russian-made enamel pan, which is made using dipping technology. The method of coating is easy to determine, you just need to find 2-4 dark spots on the outside of the dishes – these are the places to which fasteners were installed before enamel coating as shown in the photo below.

Another important point is the color of the enamel inside the pot. If from the outside it can be anything, then inside it is only: black (but not brown), white, cream (but not yellow), gray-blue and blue. Enamel of any color is toxic. Also check the pan for chips and gaps on the walls and remember, the thicker the enamel, the longer it will last..
Casserole aluminum uncoated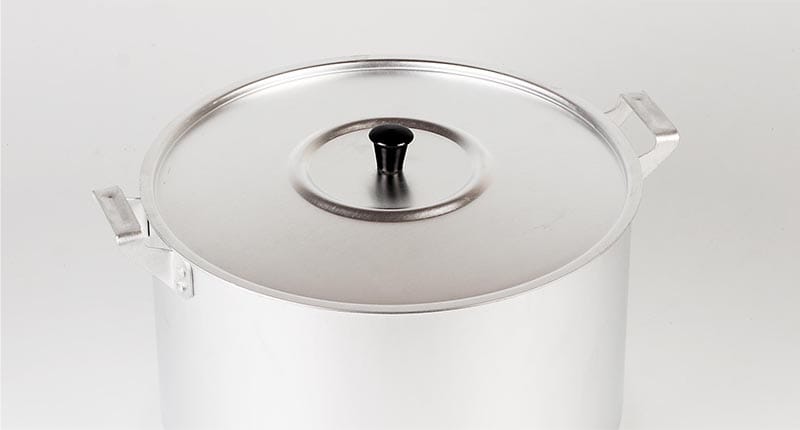 Pros: Lightweight, cheap, heats up quickly.
Best for: boiling milk, boiling eggs, dumplings and pasta.
Cons: easily deformed and darkens over time, aluminum dishes can change the taste of food due to the property of aluminum to react with acids and alkalis, release toxic metal salts in very small doses that accumulate in the body over time.
Poor for: Cooking children's and dietary meals, complex dishes such as pilaf, and acidic foods.
How to choose a pan made of aluminum: choose pans with a flat and thick bottom (more than 3 mm), thick walls (more than 1.5 mm) and a tight-fitting lid. Also pay attention to the handles – they should not be welded, but screwed onto the bolts as shown in the photo above.
Cast iron pan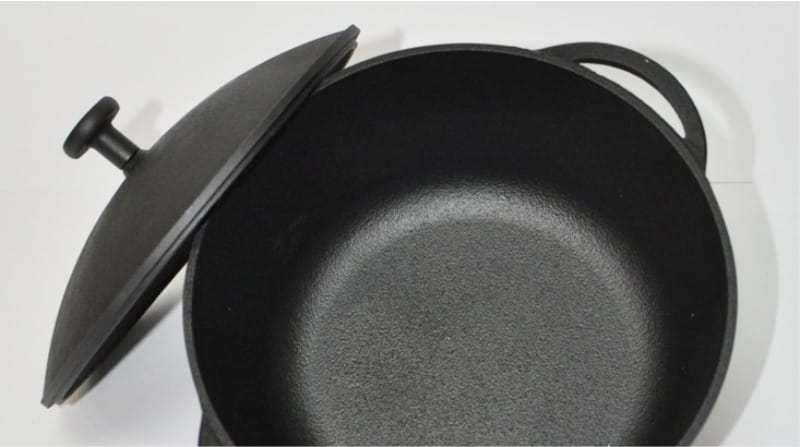 Pros: cast iron – durable, not afraid of scratches, safe and even beneficial to health, as it "gives" small doses of iron. Another advantage is that cast iron has a natural "non-stick coating" that is formed from oil absorbed into the porous bottom of the cast iron. A cast iron pan cools down for a long time, and the dishes in it are the most delicious due to the same porosity.
Suitable: for stewing, and for cooking, and for frying, and for baking dishes in the oven. Of course, pilaf and meat dishes are especially tasty in cast-iron dishes..
Cons: cast iron pots are the heaviest, they cannot be washed in the dishwasher, they heat up for a long time, which increases the cooking time, it is also undesirable to store food in them and leave water for a long time, since cast iron is prone to rust.
How to choose a cast iron pan: the darker, more porous and heavier the cast iron, the better it is. A sign of poor-quality cast-iron cookware is the smoothness of the surface and relative lightness (a good cast-iron saucepan with a volume of 3 liters should weigh more than 4 kg).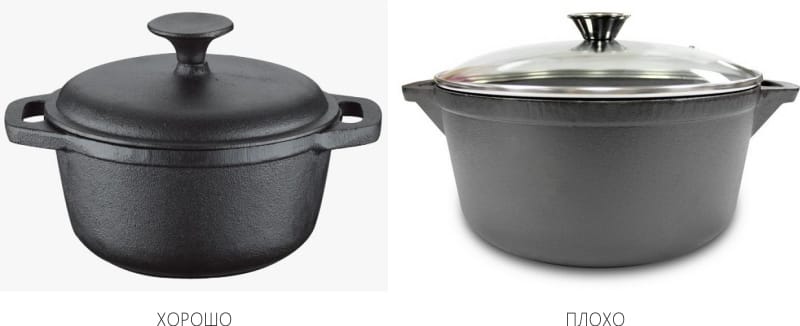 Non-stick Teflon Coated Pot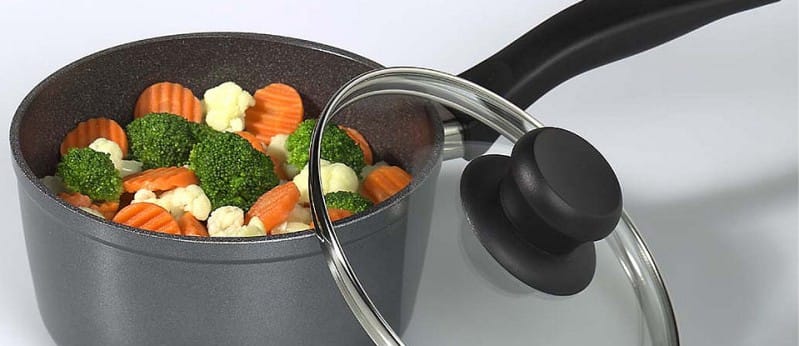 Pros: heats up quickly, and most importantly – practically does not require the use of oil.
Better for: making dietary meals.
Cons: As soon as the Teflon coating is damaged, the dishes become unhealthy, since the food will be filled with carcinogenic toxic gases during the cooking process. Teflon coating, even with careful use, can last only 1 year.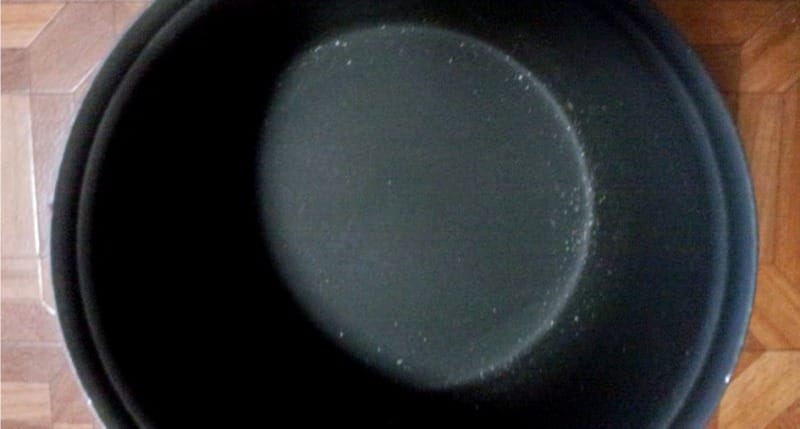 How to Choose a Teflon Coated Pot: The more layered the Teflon, the longer it will last. The number of layers is indicated on the package. Before buying cookware, make sure that the non-stick coating is perfectly smooth (the photo above is an example of how it should not be). Keep in mind that choosing a pan made of stainless steel with a Teflon coating will not be justified, since such models are expensive and do not last long, because Teflon, even multilayer, will sooner or later "peel off".
Heat Resistant / Refractory Ceramic Pot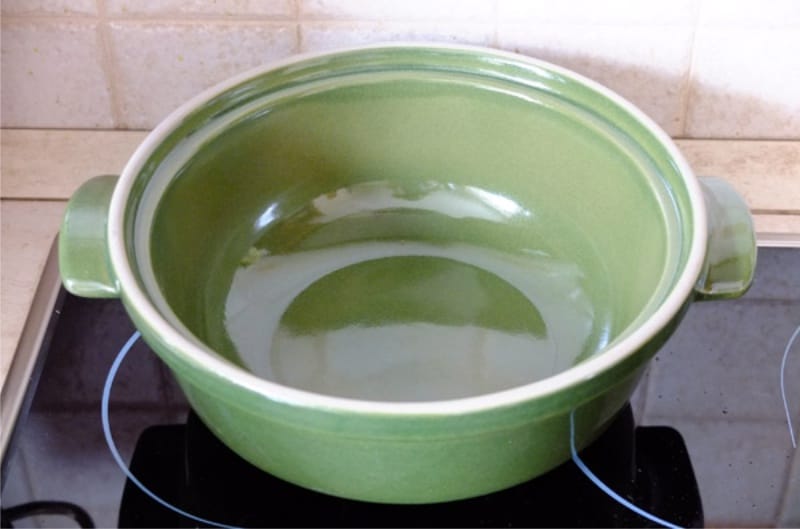 Pros: it is environmentally friendly and absolutely safe for health, and therefore it is good to store food in the refrigerator in it, it also does not affect the taste of food, does not tend to burn (until the glaze of the ceramics is rubbed off) and retains heat for a long time.
Better for: stewing vegetables, cooking stews and roasts, game, it can also bake food in the oven.
Cons: Requires a flame diffuser, is heavier than aluminum pans, and is more expensive. Ceramics can crack from falling, they are afraid of scratches from metal devices and washing with abrasives. As soon as the frosting at the bottom is frayed, the food will start to burn and the pan will absorb the grease, which makes it difficult to clean. Remember that you cannot immerse the ceramic pot in cold water immediately after cooking or put dishes that have just been taken out of the refrigerator on the fire, as they may crack or burst from a sudden temperature drop. Also, in order to avoid splitting the container, it is impossible to allow the water to completely boil away during the cooking process..
Tips for choosing: a good saucepan should have a bottom thickness of 4-7 mm and, accordingly, a large weight, for example, a three-liter dish should weigh more than 2 kg.
Fireproof / heat resistant glass pan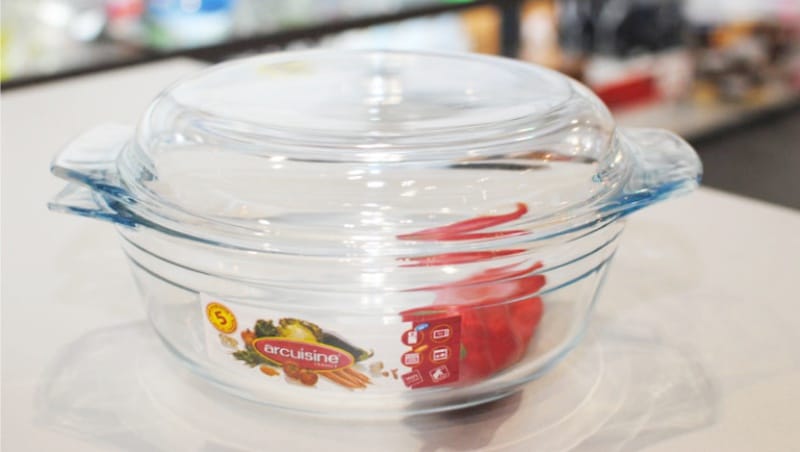 Pros: the glass pan can be immediately placed on the table, as it looks good, is safe for health, does not tend to burn, is easy to clean and can be washed in the dishwasher, well suited for baking dishes in the oven and storing dishes in the refrigerator, for a long time keeps warm;
Best for: boiling side dishes, soups, compotes, cereals.
Cons: you cannot put on a gas burner without a fire divider (photo below), it can break from a fall and a sharp temperature drop.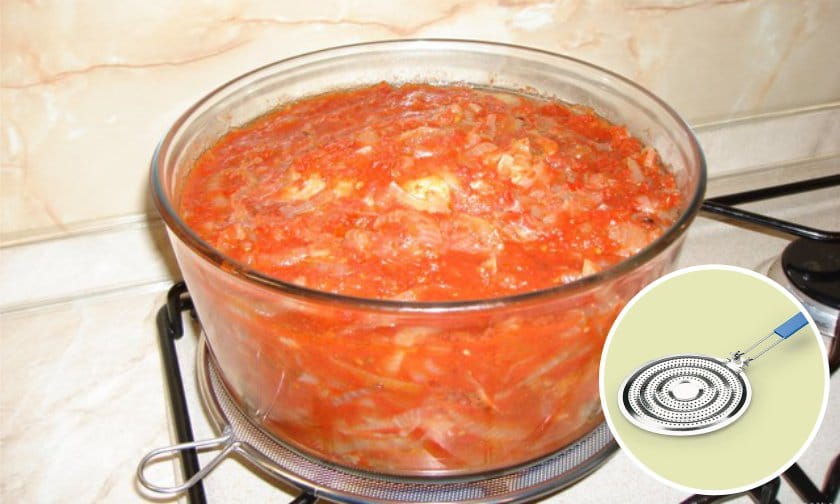 Poor For: Braising and Frying.
Tips for choosing: see all the dishes in the light – the walls must be free of air bubbles, otherwise it may burst during the cooking process. It is important that the glass is not cloudy and opaque. A good glass pot should have a bluish, turquoise tint..
Steel pan (stainless and medical steel)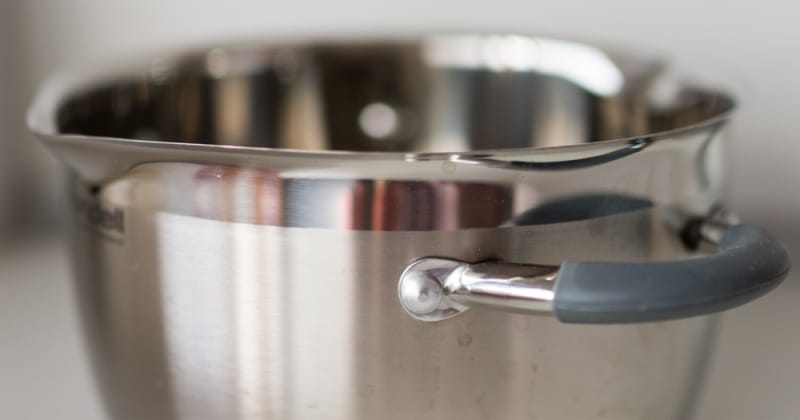 Pros: almost ideal kitchen utensils – stainless steel pans are shock-resistant, wear-resistant, durable, not afraid of scratches from knives, forks and whisks, they evenly warm up. Also, stainless steel pots are easy to clean – they can be cleaned with metal sponges and scrapers. Professional chefs most often cook in stainless steel cookware.
Better For: Versatile, but more suitable for boiling and stewing than roasting food.
Cons: a good saucepan with a thick bottom is expensive, tarnishes over time, permanent stains and streaks appear on the bottom, heats up more slowly than aluminum pans.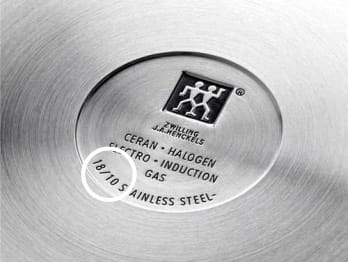 How to choose a stainless steel pot: Look for markings on the package or bottom of the cookware with numbers: 18/10, 08/13, 12/13, or 12/18. The first number is an indication of the chromium content of the stainless steel alloy, and the second is the nickel content. The higher the first value, the higher the quality of the dishes, respectively, the 18/10 stainless steel is the best, and it is this alloy that is called medical steel. The thicker the bottom and walls of the dishes (the bottom is more than 3 mm, the walls are more than 0.5 mm in thickness), the more even the heating will be, and the food will not burn when frying and stewing dishes. Ideally, choose a double or triple bottom pan. But the labeling declared by the manufacturer is not a guarantee of quality..
We offer you to watch the following plot of the "Test Purchase" on how to choose the right stainless steel pan with a glass lid and how to recognize a fake, etc..
6 main recommendations
No matter what material the dishes are made of, choosing from two models of the same type, choose the one that has thicker walls and a bottom, as well as more layers of non-stick coating (if any);
For a good saucepan, the handles should be screwed on, not welded;

Always check the cookware for defects;
The lid should "sit" tightly on the dishes and not fall off when it is tilted;
The bottom must be flat and stable;
It is better not to buy cookware as a whole set. Make a set of containers of different sizes, but also by the type of material. For example, a cast-iron cauldron is indispensable for cooking pilaf and meat dishes, a ceramic saucepan is useful for stewing vegetables, an enamel saucepan for cooking soups, purchase a Teflon model for cooking dietary meals, an aluminum small ladle will do for quick cooking of eggs, and, of course, do not forget to purchase a universal kitchen utensils – a stainless steel pan. It should be of the highest quality, because it is in it that you will most often cook. Read about dish sizes below.
How much pot to choose?
What is the optimal pot size? A medium-sized saucepan with a volume of 3 liters is considered universal. In such a container, you can cook soups, and side dishes, and meat, and compotes. But it is better to have in the kitchen a set of several pots of different sizes, shapes and types..
For cooking soups and compotes: the volume of a saucepan for cooking soups and compotes is selected at the rate of 1 liter per family member. That is, for a small family of 3 people, it is quite enough to acquire a 3-liter tableware. If you like to cook soups with a margin, then choose a larger saucepan..
For boiling eggs, vegetables, side dishes: a small saucepan with a volume of 1-2 liters.
For cooking porridge for 1-2 servings and sauces: pots with a volume of less than 1 liter.