Kitchen styles and their features
Choosing the style of your kitchen is a real pleasure! In this room, you will daily conjure over dishes, eat, communicate and meet guests..
What to look for when choosing a style, in addition to your very first associations and thoughts:
For lighting. If there is a lack of natural light in the kitchen, then southern styles, say, Mediterranean, should be chosen carefully. The fact is that in dim northern lighting, "southern" interior details can look like theatrical scenery..
On the relevance of the details. When choosing a kitchen style, you can focus on the style of the house. So the interior will be a natural continuation of the exterior of the building. If you live in a house of classical architecture, for example, in stalinka, then it is worth choosing some kind of traditional style, for example, art deco or neoclassical. But the kitchen in a new building is best equipped in some modern style, for example, Scandinavian.
On the size of the room. Decorative techniques inherent in some styles can visually expand the kitchen, while others, on the contrary, will "steal meters".
Now let's take a look at the 14 main areas of interior design. To find out more information about a particular style and see more photos, click on the links with details..
Classic kitchen
Classics in design are chosen by people, as a rule, accomplished people who prefer a measured lifestyle and elegance in everything. Key characteristics of the classic style: symmetry in architecture and decor, strict forms, muted colors, natural and high quality materials, the presence of stucco, gilding, patina and other traditional decorations.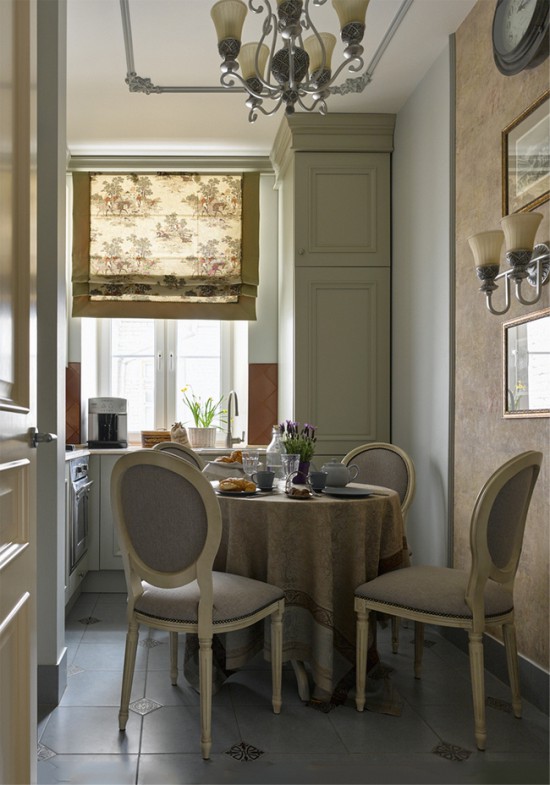 "Noble" is the right word in this case: wood, marble, well-groomed parquet flooring form a picture of the kitchen design of a lover of classic motives
For more details, see the material: 10 principles of kitchen design in a classic style
Scandinavian style kitchen
It is no coincidence that the Scandinavian style is popular in Russia, because it is so suitable for our small apartments with a lack of sunlight. In addition, the Scandinavian interior is quite simply created with the help of Ikea and Soviet furniture..
The main color is white. Complementary colors can be any – both very bright and restrained, natural.
Furniture and utensils are not smart, but emphasized simple, functional, light.
An abundance of textiles (including fur) and at the same time minimalism in the design of windows (you can refuse curtains to let in more light).
Natural materials (especially textured wood).
Combining modern furniture with vintage or retro decor.
For more details, see the material: Scandinavian-style kitchen from A to Z
American style kitchen
American style is the same classic, only simplified and more practical. In the "American" kitchen you can often see: a kitchen island, a sink by the window, facades with panels, an open space divided into several zones.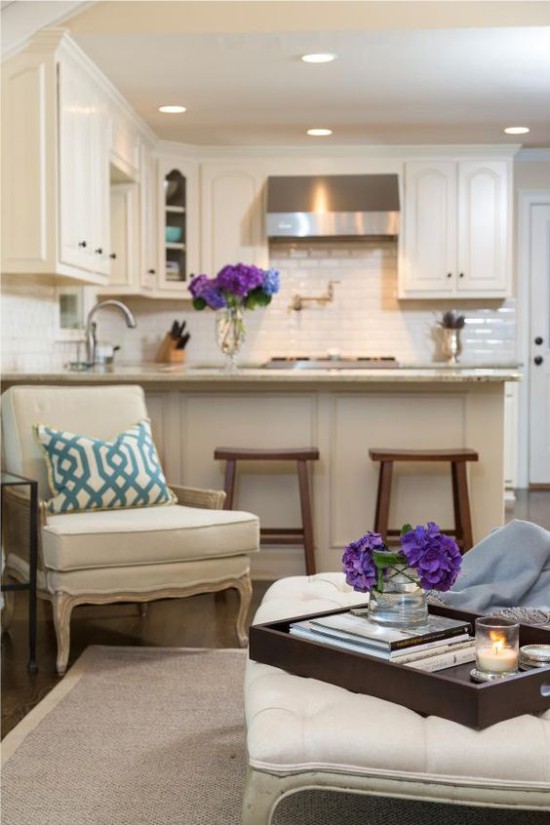 For more details, see the material: American-style kitchen: 20 key design elements
Art Deco kitchen
Art Deco loves symmetry, strict or, conversely, smooth streamlined lines, expensive and exotic materials, animal prints, metals, stone, mirrors, massive chandeliers. Would you like to imagine an Art Deco interior? Remember the movie "The Great Gatsby".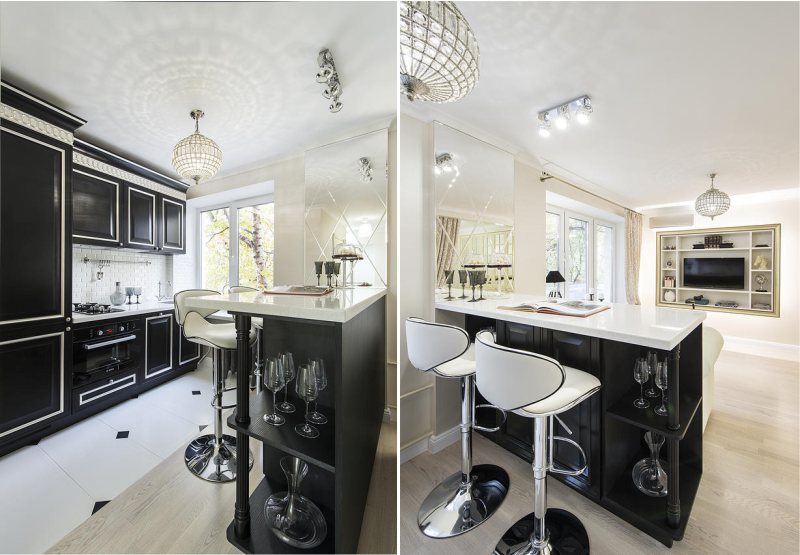 For more details, see the material: All about the Art Deco style in the interior of the kitchen
Provence style kitchen
The Provence style interior is simple and elegant at the same time. How to create the atmosphere of the French province in our apartments?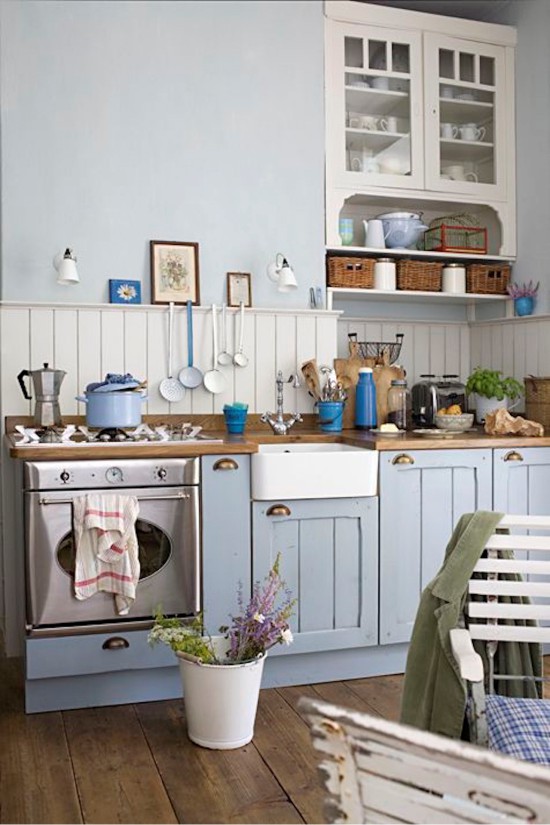 Natural colors;
Rough finish;
Walls, furniture, decor, worn out from time to time or under the influence of the sun;
Abundance of linen and cotton textiles;
Floral prints;
China;
Flowers and plants in clay and porcelain pots.
For more details, see the material: 6 steps of Provence style kitchen design and 55 photos
High-tech kitchen
In contrast to the gentle Provencal motives, it is a step into the future: strict, super-ergonomic, technological and functional. High-tech is unthinkable without clear geometry, built-in technology, an abundance of steel and chrome, silver and dark surfaces, LED backlighting.
For more details, see the material: 7 steps of high-tech kitchen design
Loft style kitchen
For several seasons, the loft has been loved by all fans of modern and photogenic designs reminiscent of factories and warehouses. In this case, we use:
Rough brick of native color or painted with matte paint;
Concrete;
Edison lamps, garlands on black cords;
Beams on the ceiling;
Pipes and wires (you just need to leave them in plain sight);
Glass blocks;
Textured wood;
Metals.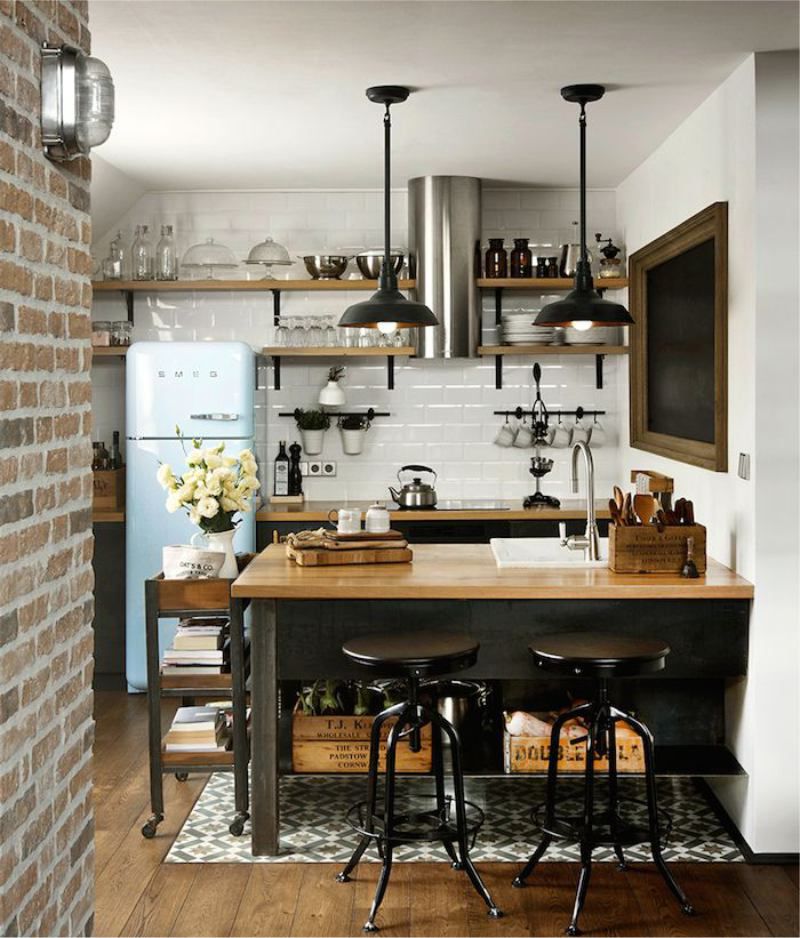 For more details, see the material: Secrets of Loft Style: Ideas for Inspiration and Implementation in the Kitchen
Cafe-style kitchen
Get inspired by your favorite cozy cafes and assemble the kitchen interior in detail:
Chalk wall paint or chalk board;
Panels with imitation masonry;
Framed posters (especially retro posters);
Bar counter and / or coffee table;
Checkerboard floor (if you like the atmosphere of 30s American cafes).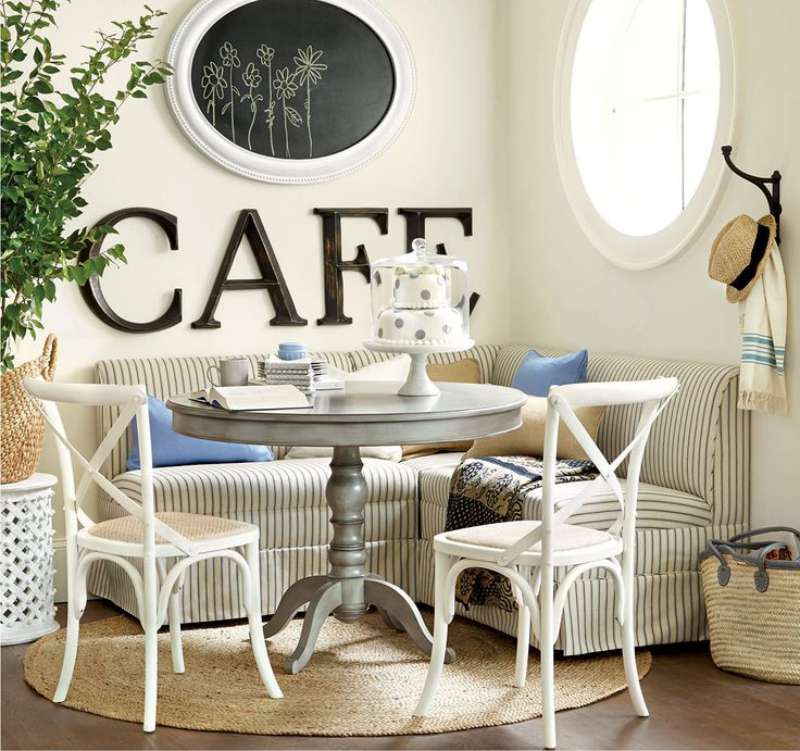 For more details, see the material: A guide to the style of a cafe in the interior of the kitchen
Eco style kitchen
The lack of unity with nature can be filled with interior design. Your kitchen will become a small portal to the forest edge, even if you live in an ordinary urban Khrushchev.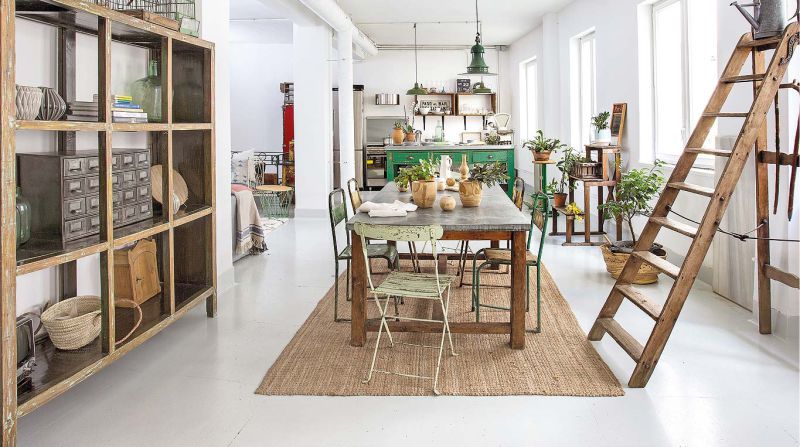 Here's how to do it:
Choose natural materials and light natural shades;
Use wood, natural stone, cork;
Place vertical landscaping panels on the wall: this is an eye-catching and soothing "living picture";
Arrange a small garden or vegetable garden on the windowsill;
Strive for minimalism in the environment;
Use wood cuts, wicker rugs and furniture in the decor.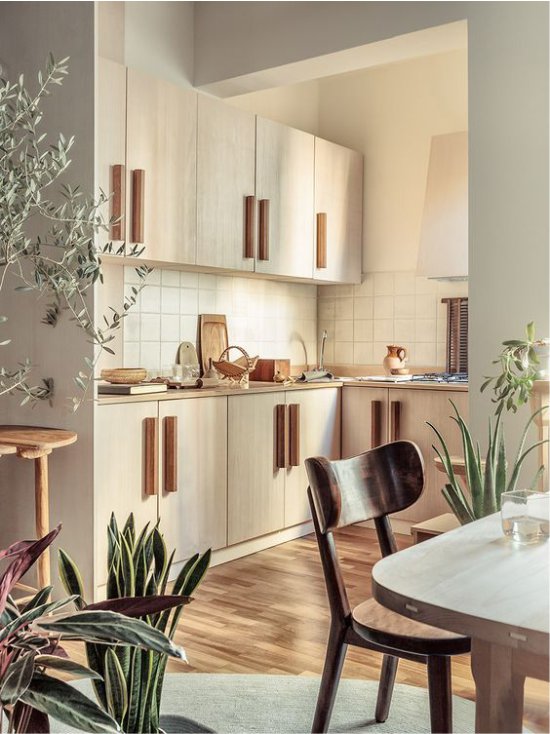 For more details, see the material: All about eco-style kitchen design
Country style kitchen
Country chic will suit those who love the comfort and atmosphere of a country house. The main characteristics of the style:
Roosters, cage, peas, flowers and other pastoral motives;
Lots of textiles;
Warm colors;
Natural materials, the main material is wood;
Ceiling beams;
Shabby furniture and finishes.
For more details, see the material: Country in the city – creating a rustic kitchen from scratch
Shabby chic kitchen
The Shabby chic style (translated as "shabby chic") was invented in the 80s by the Englishwoman Rachel Ashville. The designer has combined Victorian aesthetics, modern practicality and love for furniture from a flea market in the interior..
For more details, see the material: We create a kitchen interior in the Shabby chic style from renovation to decoration
Mediterranean style kitchen
Mediterranean style is best suited for light and sunny kitchens. A corner of Spain or Greece in an apartment is a reason for joy and pride in front of the guests. How to achieve harmony in such a design? We use:
Decorated with colorful tiled tiles, majolica;
For the walls, choose white, beige, olive, terracotta, ocher or blue;
We use recognizable prints in the decor: lemons, olive branches, shells;
We rely on natural materials, we actively use tiles, stone, wood and wicker.
For more details, see the material: Mediterranean-style kitchen: 8 design tips
English style kitchen
Lovers of almost excess comfort and maximum intimacy will love England. In such a kitchen, time seems to stop, and the hands usually freeze at five o'clock, when it comes time to get a delicate elegant service and add milk to tea..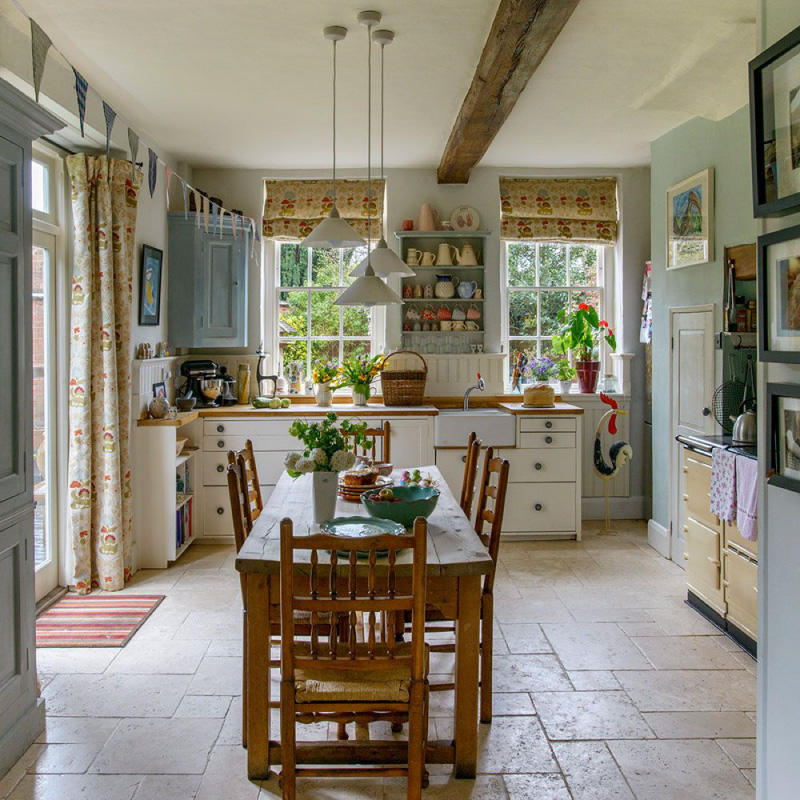 English style markers:
Deliberate crowding and abundance of details;
Checkered or vertical striped wallpaper, heraldic patterns, floral print;
Upholstered furniture, blackout curtains and tablecloths;
Kitchen apron trimmed with hog tiles;
A touch of "family" and traditions in the decor: sets, clocks, engravings, beautiful jars for cereals and tea.
For more details, see the material: Kitchen in the English style – from decoration to decor
Russian style kitchen
Russian style is fresh and interesting! Take a closer look at him and fantasize: collecting allusions to a Russian hut or a noble estate is incredibly curious. A la Russe cuisine is full of abundance, hospitality and some inexplicable sacredness of simplicity. How to achieve this in detail:
Wood: both rough and elaborately carved;
Fabrics: linen, with embroidery or ruffles;
Utensils and details with traditional ornaments: Khokhloma, Gzhel, Zhostovo painting;
Wicker baskets, nesting dolls, samovars, balalaikas, wooden spoons, grips – all this can be played with taste.
For more details, see the material: Russian cuisine in a city apartment
The kitchen is a special place that accumulates the traditions of your family. Create its appearance together, add your recognizable "labels", mix them into iconic styles and do not forget about the functionality.
The comfort of being in the room, the ease of use of furniture and equipment, cleanliness and order are relevant for any of the selected styles, and what exactly it will be – you choose!