How to choose built-in kitchen appliances
Large and small household appliances are the "workhorses" of your kitchen. Buying them usually takes about 9% of the entire kitchen budget, which is quite a bit, considering how much benefit they bring every day and how long they last. Therefore, technology should be treated like an investment and chosen wisely. Our guide will help you prepare for techno-shopping and not go crazy with the number of offers..
Why is it worth buying exactly built-in appliances?
When choosing kitchen appliances, there are two main questions: how it works and how it fits into the interior. It is not difficult to solve the second question – it is enough to choose built-in appliances instead of freestanding ones. It is not much more expensive, but it allows you to create an ideal design without sacrificing functionality and even save precious centimeters. And it is much easier to take care of a kitchen with built-in appliances. Therefore, our good advice that we want to give you is to embed everything that is possible.!
Built-in appliances are especially relevant for small kitchens (the unity of all surfaces visually lightens the cramped space) or interiors, decorated in a classic style, where chrome and metal are not appropriate.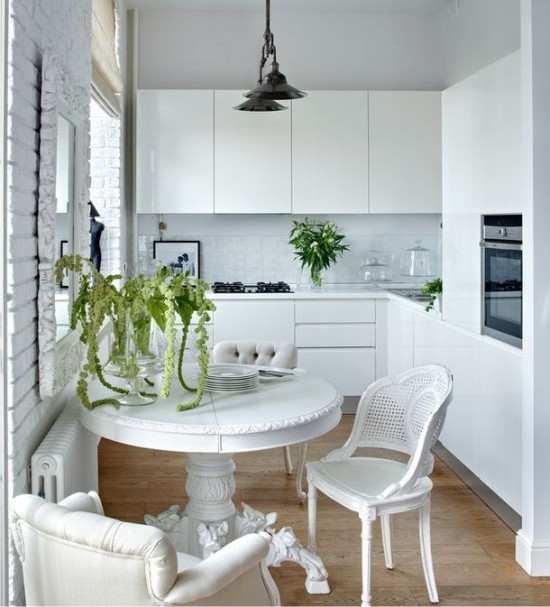 What to buy?
The minimum "vital" set of kitchen appliances includes:
Depending on the needs of the household and the area of ​​the kitchen, you can add to the shopping list:
Hood;
Dishwasher;
Small household appliances (microwave oven, coffee maker, mixer, combine, blender and other appliances).
If the kitchen is small (with an area of ​​5-7 square meters), then, most likely, you will have to limit yourself to the minimum set – a hob, an oven and a refrigerator. However, after playing with the furnishings and layout of the mini-kitchen, you can try to fit in a narrow dishwasher (45 cm wide) and install a built-in recirculation hood with a retractable visor. The latter will save space for the locker. And those who rarely bake can be advised to replace the oven with a microwave oven with convection and grill functions..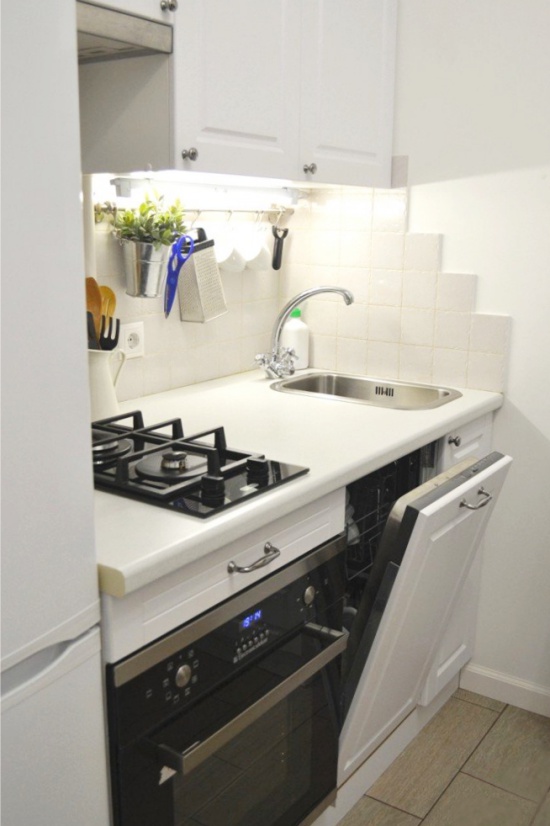 Small kitchen with built-in appliances – a narrow dishwasher and a hob with a hob with two burners
At what stage of the arrangement of the kitchen is it better to buy equipment?
Ideally, you need to choose the technique after designing the kitchen, but before starting the renovation. Knowing the total power, dimensions and future location of all devices, builders will be able to bring communications in the right places and draw up the correct wiring project. Thus, you will not have problems with the lack of outlets and power supply, when the walls are already painted and the headset is assembled..
Read more about how to independently plan an electrician project in the kitchen here and here.
How to choose a refrigerator?
When choosing a refrigerator, first of all, you should take into account its size – it depends on how the device is built into the headset or, if you choose a freestanding model, into the kitchen space.
For kitchenettes up to 7 sq. m fit narrow, but tall models – 45-55 cm wide and up to 2 m high.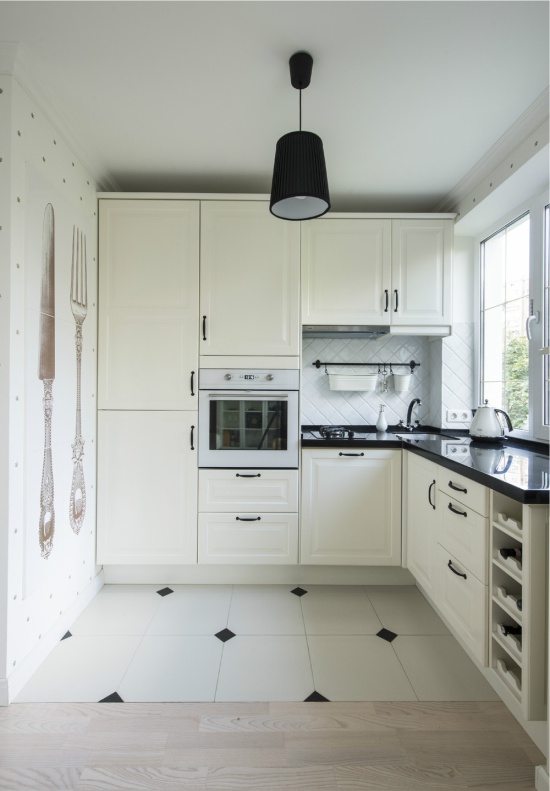 Narrow built-in refrigerator in the interior of a small kitchen in Khrushchev
It also makes sense to take a closer look at small refrigerators built under the countertop..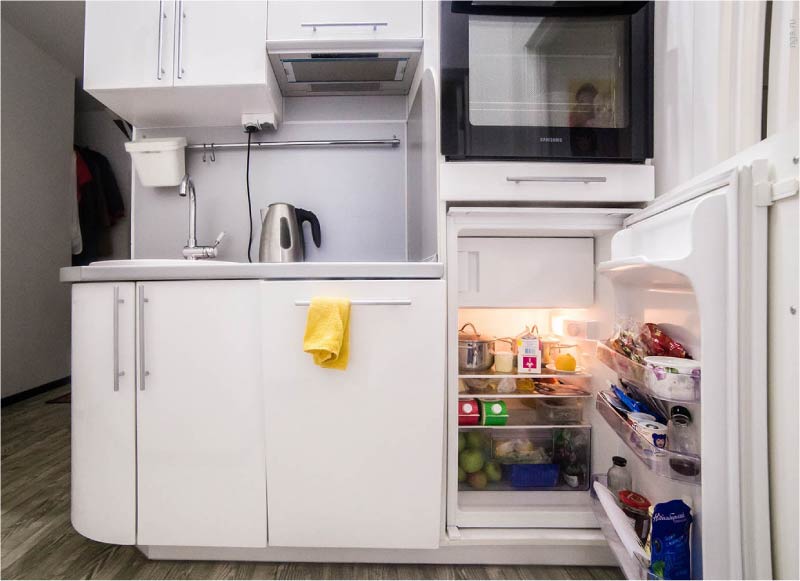 For large kitchens and large families, it is better to choose a side-by-side refrigerator, reminiscent of a wardrobe, in which one chamber is a refrigerator, and the other (smaller) is a freezer.
It is advisable that the refrigerator has a No frost cooling system so as not to worry about the formation of ice. Another positive factor of choice is the presence of a freshness zone, in which, due to the zero temperature, it is good to store chilled meat, soups, etc..
See more:
4 stages of choosing a built-in refrigerator and the nuances of its installation
10 criteria for choosing a refrigerator you need to know before buying
How to position the refrigerator in the kitchen
How to choose a hob?
To choose a hob, first you need to determine what type it should be – gas, electric or induction? If your kitchen is gasified, then the easiest way is not to change anything and install a gas stove. Firstly, it is more convenient to cook on it, secondly, it is more economical, and thirdly, replacing a gas stove with an electric one is simply very troublesome and requires approval..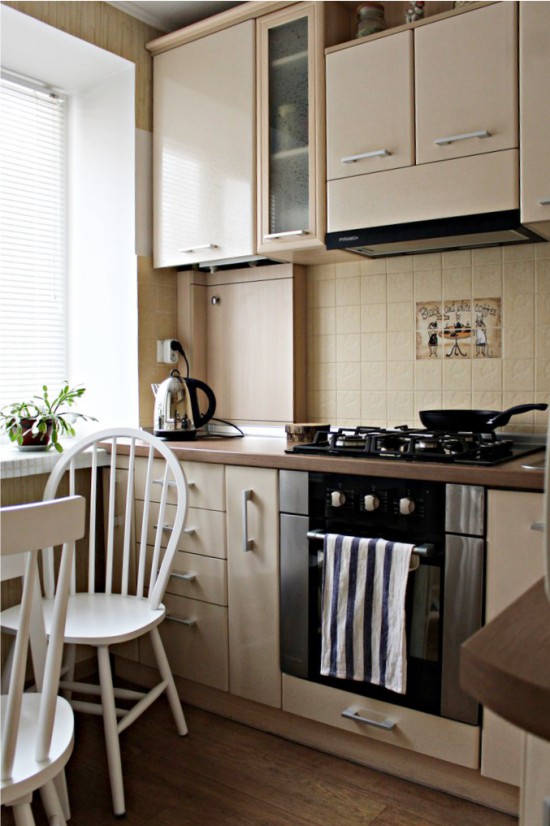 Built-in gas hob with independent oven
Which stove is better – electric or induction? In our opinion, an induction cooker is preferable, although not without drawbacks. Its main advantage is that the cookware heats up super fast and is more energy efficient than an electric hob. So, for example, 5 liters of water on an induction cooker can be boiled in just 5-6 minutes, and on a regular one – in half an hour! Cons: slightly higher cost, less impact resistance of the panel, compatibility only with dishes made of stainless steel, cast iron and aluminum with a ferromagnetic bottom, as well as incompatibility with the oven (it can be placed only next to the panel, but not under it).
By the way, if you wish, you can buy a hob with two induction burners and two conventional.
If the kitchen is small, and the family consists of two or three people, then a model with two or three burners will be very useful..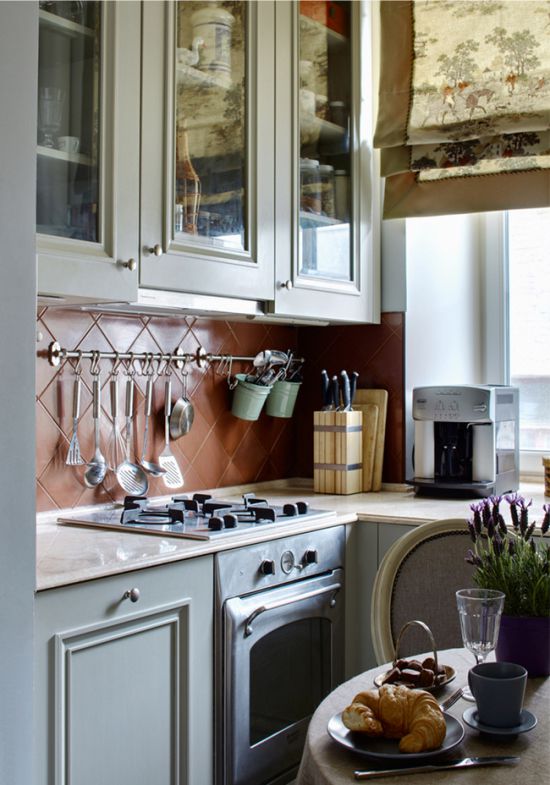 Gas hob for 3 burners in the interior of a small kitchen
The hob may depend on the oven. In this case, both devices have a single control panel and are separated from each other only by the table top. In fact, this is a good old stove, only built-in. Such kits, as a rule, are cheaper, they are more convenient to use and maintain, and simply free from the agony of choice..
See more:
All the nuances of choosing a gas hob
How to choose a hob – 15 questions and answers
How to choose an oven?
The oven can be gas or electric. The latter option is more versatile. It can have not only convection functions (not every model has this function in gas ovens), two-level heating and grilling, but also defrosting of products, as well as a 3D mode, which allows you to cook several dishes at once. In some ovens, you can even reheat food like in a microwave, which is especially important for small kitchens (although, nevertheless, it is not as convenient to do this as in a separate microwave oven).
The oven can be dependent or independent of the hob. We have already said about the addict. What is so good about being independent? It allows you to choose a more convenient and rational place for installation, for example, at eye level, as well as to choose appliances of different sizes. In addition, an independent oven is useful if the hob is gas and you want an electric oven..
See also:
How to choose an oven in 9 steps
Choosing a gas oven – a cheat sheet for the buyer in 7 steps
How to choose a hood? And is she even needed?
On the one hand, the cooker hood is not an essential item, because our parents somehow managed without it. Moreover, it takes up a place in which one could put another locker. On the other hand, the hood helps to protect the whitewashed ceiling from cracks, purify the air (by the way, it is the dirtiest in the kitchen), and remove unpleasant odors and smoke. A hood is especially necessary in the kitchen with a gas stove, in the kitchen-living room or in the kitchen in the studio..
Here are the main principles for choosing:
The hood must match the size of the panel;
The performance of the hood depends on the size of the room. The larger it is, the more powerful the device should be. The hood power must be calculated using a special formula (very simple!), Which can be found in Item No. 4 in our detailed guide to the selection of hoods.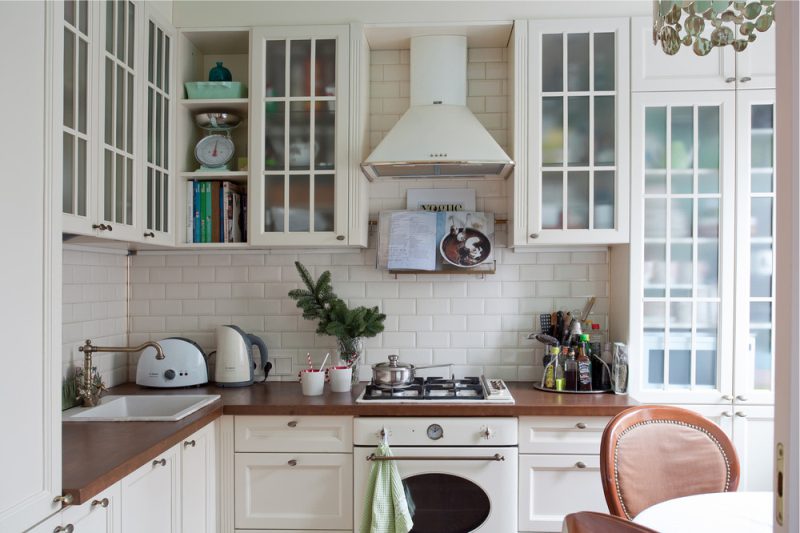 If you choose not a built-in hood, but a domed or inclined hood, then it is very important to choose the right design for it. In a classic kitchen, it is better to install a domed hood (pictured above), and in a modern kitchen, an inclined one (pictured below). True, the latter is not very effective, some experts even call it decorative.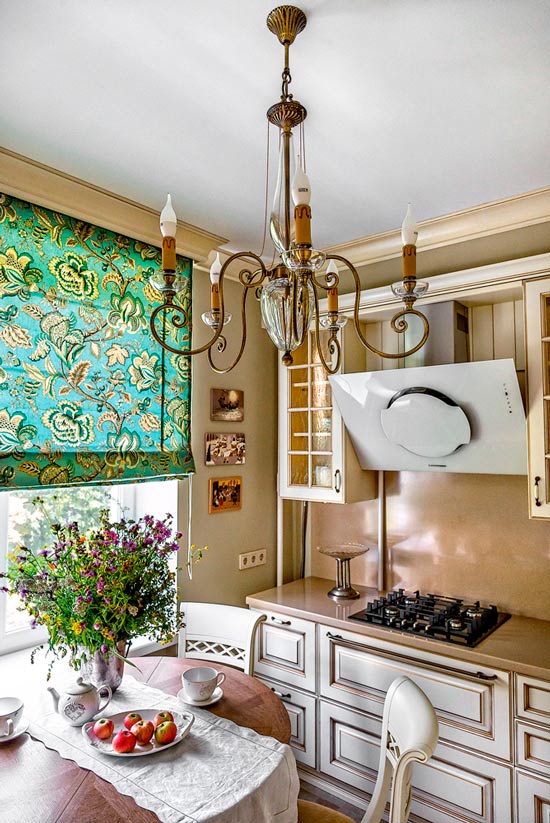 Inclined hood in the interior of the kitchen
To save space in a small kitchen, you can choose a suspended recirculation hood. It does not remove air, but cleans it with filters. Such a hood is compact and allows you to save space for another cabinet..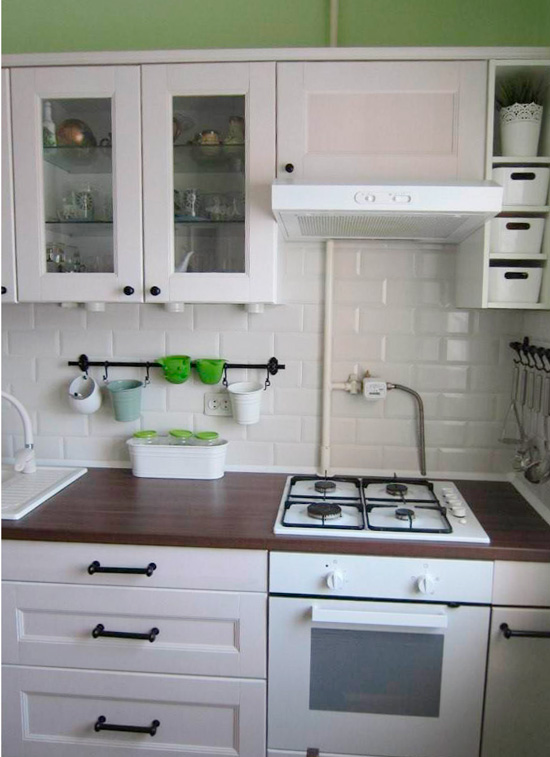 For more details, see the material: 8 steps for choosing a hood for the kitchen and 40 photos
How to choose a dishwasher? And do you need her?
They say that whoever has washed the dishes in the dishwasher at least once will never give it up again, no matter how hard-core a conservative he is. Perhaps we agree with this statement, because it not only saves precious time, but also water. And she also copes with washing dishes much better – with a hundred-year-old layer of fat in a frying pan, she will cut it in one cycle..
At the same time, you can really live without it. If your kitchen is very small, perhaps you can skip the PMM. Although … you can buy a narrow PMM (40-45 cm wide), designed for 10 sets of dishes or a table model for 6 sets.
Slim built-in dishwasher for 10 place settings
How to choose the perfect dishwasher?
It is advisable to buy a model with a capacity 2-3 times larger than the required minimum, so that you can save up dishes and start the device only once a day, and besides, fit pots and pans.
It is good if the machine can work in half load mode, has a turbo drying function, protection against leaks. The optimal number of programs is 5-6.
For more details, see the material: 11 things you need to know before buying a dishwasher
Small household appliances
Small household appliances are often needed in the kitchen no less than the basic "three". Our guides will help you choose the best (click to go to articles).
6 factors to know before buying a microwave oven;
Guide to choosing a multicooker;
How to choose the perfect coffee machine;
Step-by-step guide to choosing a juicer;
Mixer Selection Guide;
12 tips for choosing a bread maker for your home;
Guide to choosing a submersible and stationary blender.
And a couple more general tips
Try to bypass noisy equipment with a noise level of more than 45 dB. The normal noise level for most kitchen appliances is 35-44 dB. It's good if the gadgets are even lower – with a noise level of 25-34 dB.
Energy efficiency class A level is the norm for modern kitchen appliances, moreover, appliances below class A are practically not found in stores. It is desirable that the letter A has pluses or additional letters A.